Iberia's Frequent Flyer scheme is called Iberia Plus, and is currently part of the
OneWorld
Alliance.

Iberia Plus operates a fairly normal points based system. You earn points according to your ticket type, and you can spend them on flights or upgrades.
Joining is easy; it's possible to do it online (although alas Iberia's website has very poor information on the scheme), and after doing so you'll get a card in the post within the next week, even if you are in the UK. It has 1,227,000 members.
The Iberia Plus website is pretty naff, and information on the programme is well hidden. You can track it down by logging on and going into the My Iberia Plus secton, then clicking on the small earning points tab.
Earning Miles
You earn Iberia Plus points for flights on Iberia, Iberia Regional/Air Nostrum, and all the other Oneworld group of airlines.
You also earn miles on SN Brussels, and Mexicana. You do not however any longer earn miles on Air Portugal, or Swiss.
Domestic 40 20 10
inter Balearic 40 20 10
to Balearic 100 50 20
to Puente A&eacutereo 120 60 20
to Canaries 160 80 30

Points for a return
Business Economy Tourist
A minimum of 10 points is earned on reduced economy fares on Spanish domestic flights.
When flying between Spain and the United States or Canada in business, you earn 860 points. Members can earn as many as 1,500 points for first class flights between Europe and South America.
A very nice perk is that Iberia Plus members are also awarded points for flight delays - from 10 to 1,000 points depending on your class of service and the extent of the delay. However, you will need to claim these points back via a complaint to the service centre.

Iberia A340 at Madrid

Points earned during a calendar year expire on the 31st December of the fourth year after earning them if by then they have not been used on any of the programme's services.
Be very wary of booking an Iberia flight, and using the Iberia Plus perk of being able to book Business Class seats, and then at check in changing to another Frequent Flyer card. Most Iberia staff are not able to perform this process, and you will end up with your miles being permanently stuck on an Iberia card.
If you are a member of the BA Executive Club, you want to put miles on this scheme, and travelling in Business, it may be better to book flights under the BA codeshre, to get the class of service bonus.
0-300 40 40 25 5
301-600 70 55 35 10
601-1200 90 75 55 15
1201-2000 150 125 90 25
2001-3000 225 190 150 45
3001-4500 410 340 270 80

Oneworld earning Points
First Business Economy Cheap
Spending Miles
Domestic Spanish flights in Economy begin at 600 points. Redeem 3,150 points for an economy Class flight between Spain and the United States or Canada.
It must be said that there are better Oneworld schemes if you are just using Iberia Plus to earn miles, and spend on other OneWorld airlines.
Iberia Upgrades
Another decent-ish perk of Iberia Plus is that you can use the points to upgrade cabins. The downside is you need to purchase a full-price ticket, and it only works on Iberia operated flights, not the many codeshares.
Spanish domestic upgrades begin at 300 points.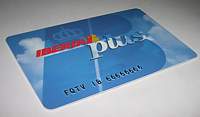 Iberia Plus card

Silver
Premier is equivalent to Oneworld
Ruby
Level. It can be achieved at
1,250
points or 40 paid segments (a minimum of 20 must be with the Iberia group).
Your Iberia Plus card enables you to check in your luggage at any Business Class desk, regardless of the class you are booked in. You also get 10kg additional luggage allowance above the maximum weight permitted in the class you are flying in. And As an Iberia Plus Silver card holder, you will have free insurance with Europ Assistance to deal with any unexpected events that may happen while travelling.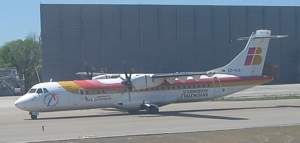 Air Nostrum ATR-72 at Madrid

Gold
Gold is equivalent to Oneworld
Sapphire
Level. It can be achieved at
2,500
points.
As with Silver, your Iberia Plus card enables you to check in at any Business Class desk, and you have 10kg of extra luggage.

Air Nostrum at Madrid

The perk at this level is that your Iberia Plus Gold card provides access for you and one guest to any of the Business Class VIP lounges, regardless of class and whether you are travelling with Iberia or on any oneworld flight. You will also be able to use all the Oneworld Business Class VIP lounges, provide that you are travelling with one of the alliance companies.
As a Iberia Plus Gold cardholder, when you fly with Iberia you get a free car Parking Service at Madrid, Barcelona and Valencia airports.
Even if the flight is fully booked, if you make a booking for a full fare ticket a Iberia try - but not guarantee - a seat in Economy class up to 24 hours prior to the flight. If it can't do this, you get priority on the Business Class waiting list. This can actually be a better perk, but if you aim for the upgrade, there is a danger you'll get left at the airport.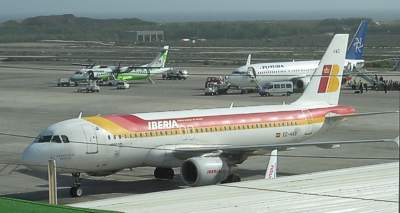 Iberia A320 at Las Palmas Gran Canaria

Platinum
Platinum is equivalent to Oneworld
Emerald
Level. It can be achieved at
6,500
points.
You get all the Gold perks, such as business class check in and access to the lounges.
At Platinum level you can request two free upgrades which you may use on any direct Iberia flight, even long-haul. This is quite a nice perk, although to get to this level you'll spend so much time on the plane you may not like feel like using it.
You get 20% extra gift points every time you fly with Iberia or Iberia Regional/Air Nostrum.
Your Iberia Plus Platinum card also allows you to enjoy a limousine service for your journeys between the airport and the city centre in Barcelona, Madrid and Santiago de Chile. This is perhaps not such a good treat - you'll actually just end up in an uprated taxi.