Operational Upgrades
One of the common questions is "How do I get an upgrade on Iberia to Business or Club class?". Alas, getting upgraded to business class on Iberia really isn't that easy. The airline has the Western, rather than American, model for upgrades longhaul. Which is to say you'll only get an upgrade if your paid for class is full, and then upgrades are processed accordingly to a pecking order of elite frequent flyer status. You are very unlikely to ever get an upgrade unless you are at least an Emerald oneWorld member.
To start with, make sure you are a frequent flyer, and you do fly frequently: after all, if Iberia are going to upgrade anyone, they will upgrade those passengers who fly with them pretty regularly, and hence will enjoy the upgrade enough to put more business Iberia's way. Then if the flight is full in economy, and someone needs to be moved up, the check in staff will first look at Gold members, and then Silver level, and then at other Oneworld members at the equivalent levels (Emerald, and then Saphire). Another thing that Iberia look at is how much you paid for your ticket: it's much more likely to happen with a full fare ticket (although occasionally you can get lucky with a discounted economy ticket).
As always, my advice on dressing properly in the pages on how to get an upgrade applies.
Iberia website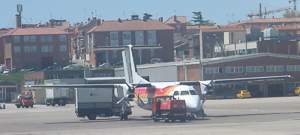 Air Nostrum ATR-72 at Madrid

Iberia's website is pretty clear and good. It is rather slow loading, so it can be a problem making a booking on dialup. The website will show you the cheapest fares for each flight when you get to the booking stage - but only if you are in economy. Finding a cheap business class fare can require a lot of trial and error.
A major bug is that the website will not remember the language you visited it with. You will need to select the English and then the United Kingdom option each time.
US version: www.Iberia.com
UK version: http://www.Iberia.com/gb
Alternate UK version: http://www.Iberia.co.uk/qenglish/index.html
Onboard economy menu
Iberia Madrid lounges virtual tour