NEWS: Delta Air Lines has agreed to purchase a 49% stake in Virgin Atlantic, which was previously owned by Singapore Airlines, making the airline almost half US owned. At the same time Virgin Atlantic have started Domestic flights within the United Kingdom, under the LittleRed brand. These take the place of feeder flights which were previously operated by the defunct airline bmi. LittleRed flights are operated by AerLingus.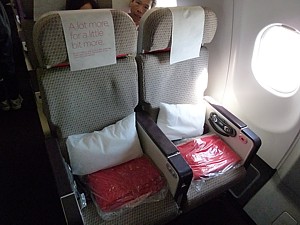 Virgin Atlantic A340 Extra Legroom Seat
Virgin Atlantic sell themselves as a young trendy airline which will fly you across the Atlantic in a style that you don't get with with other airlines.
Alas reviews and opinions about Virgin Atlantic are mixed - for a simple reason. Virgin believe in style over substance. If you love a lot of fancy adverts and slogans, but don't fly enough to compare VA with other airlines, you may love them: other passengers avoid Virgin for exactly the same reason, and it has been said that Virgin Atlantic will get you there, but in a low cost style. Virgin Atlantic's seats and cabin.
Although technically a full-service airline, the quality can bit a bit hit or miss: certainly in premium classes, other airlines serve better food, but the lounges are second to none. In economy the onboard drinks are great, but the soft product - such as the food and the service - can be truly woeful. The hard product - the planes & seats - can equally be a bit random in economy: often there is no way of knowing if you'll get a new plane with all the frills, or an older version with dodgy seats and entertainment. Read more about Virgin Atlantic seatback TV.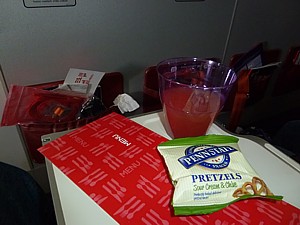 Economy drinks and menu on longhaul
Virgin Atlantic reviews show it inspires curious brand loyalty: some passengers will never fly on anything else, and other passengers will avoid the airline if possible: it seems the funky branding causes as much annoyance and a "stay away" factor as it generates. Your reviews of Virgin Atlantic flights.
Virgin Atlantic Clubhouse reviews are however always very good indeed. There is one thing the airline has done really well, and that is the Business Class lounges: they have great food, and an amazing bar. It's rather like being invited to a cult inner city restaurant. Read more about Virgin Atlantic Business Class lounges.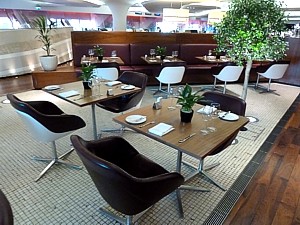 Virgin Clubhouse at London Heathrow
Virgin Atlantic are "never short of a news line", and some of the travel magazines fawn over VA as if it is the only airline worth considering (or taking advertising from), while at the same point Virgin has generated news coverage from something as simple as the worse airline meal ever to generate a complaint letter. Certainly reviews indicate that some of the service and quality is downright ropey, old, and tired. Food is at best average, inflight entertainment gives eyestrain, while the drink service is decidedly rationed. All this at what is sometimes more than other airlines' fares.
The fleet of just 41 planes may seems small, however all of those are longhaul (except the four on loan from Aer Lingus), giving it just 34 destinations around the world. The Virgin a340 Heathrow Airport crash landing gave the airline a bit of bad PR, but it soon recovered and Virgin Atlantic is certainly well worth trying if you're a bit bored with what other airlines offer. ... read more about Virgin Atlantics aircraft, seats & fleet.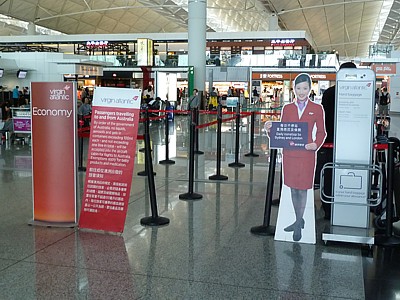 Virgin Atlantic Hong Kong check in
Virgin Atlantic has also started operating domestic flights in the UK, under the Little Red brand - although make no mistake, these are no Virgin Atlantic flights, and indeed the four A320 in the fleet are operated by Aer Lingus. They take the place of the former feeder flights which were operated by bmi, before BA took it over. The only flights are from London to Aberdeen, Edinburgh and Manchester.
Virgin Atlantic has several distant cousins that also trade under the Virgin brand. Virgin Australia used to be a low-cost Australian airline, which is now rapidly becoming a full-service one, and it also operates long-haul routes to two destinations, while Virgin America operates services in the US.
In short Virgin Atlantic is a well respected safe airline, on the quality side of getting aloft, rather than in a rush to the bottom. It does it's job quite well, but at the end of the day, it's just an airline. It's good - but not the best thing ever.