American Airlines and US Airways have announced merger plans, creating the largest airline in the world. It is little more than a thinly disguised takeover, with American Airlines owning 72% of the joint company, which will carry the American Airlines name and branding, which, along with United Airlines and Delta Air Lines, will control three-quarters of the US market.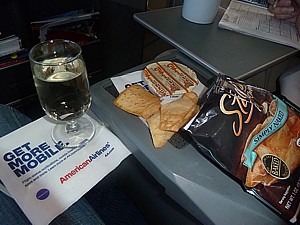 American Airlines Snacks are the only option in First
American Airlines is a goliath, grandfather airline located, as you might expect in the United States. American Airlines Reviews always note that in the past few years it has become notorious for outdated equipment, underwhelming seating and meals, poor on board quality, lack of frills, and mediocre lounges compared to other international carriers, it is only when you travel on domestic flights around the US do you realise just how far American Airlines has dashed in a rush to the bottom.
For example in First Class there are very old fashioned recliner seats with 39" of pitch, manual recline, and no footrests. There is no seatback TV or inflight entertainment of any kind and only a standard red blanket (no pillows). There is at least a free bar, and on flights over 2.5 hours within meal times, there is a free snack. The exception the American Flagship Service on east-west coast flights, where there is seatback TV.
American Airlines is however big: really big. With a fleet of 605 aircraft, and 260 destinations, on many routes it is hard to avoid AA – which is a shame, as some American Airlines reviews can be truly appalling. The airline operates an extensive domestic network, with scheduled flights to most cities in the US, although the international network is much more basic. American Airlines hub is the seemingly out of the way Dallas/Fort Worth International Airport (where it has 85% of the traffic) – which is why so many international flights transit here.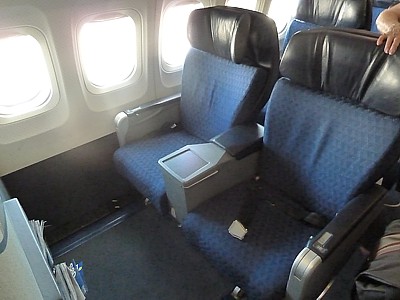 American Airlines First Class Seats on an AA MD-80
In a move reminiscent of style over substance, American Airlines has introduced a new livery (the same colours, but a stylised logo), a new slogan ("The new American is arriving") and a vast array of new advertising. Sadly this has coincided with a downgrade of many facilities such as the Heathrow lounge, and the airline is now little more than a low cost carrier.
American Airlines was one of the first to experiment with Premium Economy a decade back, with a class called "More Room Throughout Coach", however as Business Class on American Airlines is like little more than Premium Economy on European airlines, it was scrapped. AA has now brought it back. American Airlines Premium Economy is now called Main Cabin Extra, with 36 inches of pitch; it is a freebie to anyone with AAdvantage or oneworld elite status, or you can buy it. Make no mistake however – it is a much cheaper product than Qantas, BA or Cathay Pacific's premium economy.
American Airlines puts Ryanair to shame when it comes to fees for 'extras', be it checked in bags or buying spirits in the business class lounge. American Airlines even charges for items like headphones on long haul flights, although it has now reintroduced a free beer or glass of wine with the meals in economy on flights over seven hours.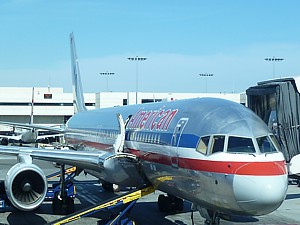 American Airlines Boeing 737 at LAX
The frequent flyer programme of American Airlines, AAdvantage, does however remain amazingly popular, particularly in parts of Europe and parts of Australasia. The reason is simple: it is one of the easiest oneworld programmes to obtain status with: just 50,000 miles gives you oneworld Sapphire, and lounge access. An accelerator route known as the AA Challenge grants a one-time "short cut" to AAdvantage Platinum elite status if you fly 10,000 Elite Qualifying Points in a three month period and is highly popular in the UK, as AA codeshare flights count, and it then gives access to British Airway's First Class lounges for nearly two years, if you carry out the challenge at the right time. This is an unpublished benefit; there is nothing written publicly about it.
American Airline's lounges are called the AA Admirals Club , and are noted for their poor quality and outdated facilities: sometimes staying in the airport bar is preferable. There is no access with a First Class ticket, except if you fly internationally, instead you have to buy access either on the day or for a full year, or with Frequent Flyer status. A much better lounge is the AA Flagship Lounge, at just three locations in the US (ORD, JFK & LAX) plus Heathrow. The Admirals Club has a much better bar, and even free hot food, similar to the Qantas Club or a European outstation Business Class lounge at BA.
An American Airlines review tends to use the words Mediocre a lot when talking about AA in every class of travel: AA is well worth avoiding transatlantic and transpacific. However AA will get you there, and with relatively low fare on domestic sectors, it is often worthwhile upgrading to First on these, just so you can have at least some perks when you fly.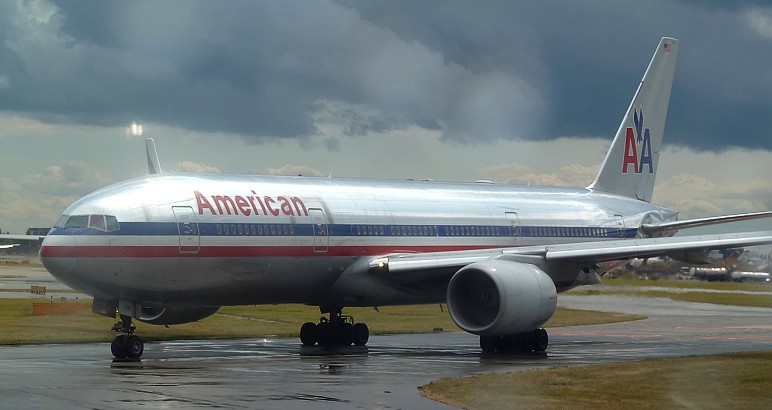 American Airlines Boeing 777 At London Heathrow LHR, an American Airlines Boeing 777 prepares for take off to Dallas in the rain