Emirates Airline passenger reviews
NEWS: Emirates has axed most flights from Australia to New Zealand, and most Auckland flights are direct. It has now removed the second meal service on flights of less than eight hours, such as London Heathrow to Dubai.
Emirates Airlines reviews are generally good: very good for some of their longer flights. However it all tends to fall down in economy. Emirates Boeing 777s have notoriously cramp seating in economy. Business Class on the A380 is a different ballgame, with a great inflight bar. And in First there is the gimmick of inflight showers. Check out the Emirates A380 Seating plan.
Indeed, The new upstart from the UAE, Emirates have come from scratch to build a clean, efficient, world class airline. With a hub at Dubai in the UAE, it has worldwide connections, but also has an obsession about flying Brits to Australia and Auckland, where it has a second hub. Justly famous for its food (which is hard to beat) and inflight drinks, it also has pretty good inflight entertainment, and private cabins in First Class. Ticket prices are quite low if you book at short notice, however Emirates do not offer a significant discount if you book a long time ahead. Emirates routes.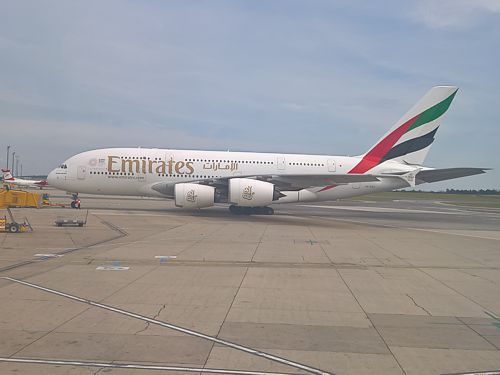 Emirates A380 At Vienna
Emirates is a full-service airline, but Emirates Airlines reviews show the quality can bit a bit hit or miss: certainly in premium classes, there are some better airlines, but in economy it can come in cheaper than most. Reviews and opinions are decidedly mixed about Emirates economy, possibly because it's may great for passengers who don't fly that often, with lots of trivial perks, but the hard product has narrower seats than many other airlines (albeit longer ones: the pitch seems good, but that is only half the story). Emirates seats, fleet and planes.
Indeed, Emirates has a real problem with its cramped, uncomfortable seating in economy (which has recently got worse), and it has the short-hop mentality, which can mean a flight from the UK to New Zealand involves changing planes 4 times, and spending 3 days doing so. Emirates has also started early morning flights from Sydney, leaving at 6am, which connect in Dubai and means you can fly from Australia to the UK in just one day.
However while you are doing this, you can enjoy the Emirates Lounges, which are really very good. Food in Emirates Lounges is really unbeatable, and even the most obscure location has Sparkling Wine. However the lounges are very corporate - identical all over the world - and are also complete with Dubai bling. Subtle they are not. Emirates Lounges
Emirates Airlines | Fleet | Seats | Lounges | Food
Emirates' Frequent Flier scheme, Skywards, was once very good, but it does have some very high redemption rates, particularly for premium seats, and has recently had some sharp cutbacks to perks. In particular tier levels for Skywards, which used to be OK, are now rather pointless. At Silver there are virtually no benefits, and even as a gold you can't take guests into lounges any more. It seem they were just too popular. Emirates Frequent Flyer.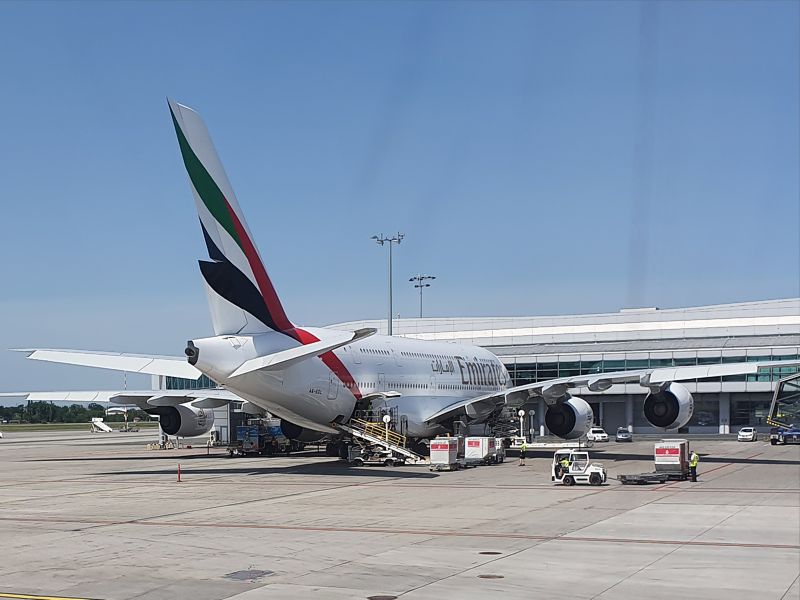 Emirates A380 At Prague
The airline has a great reputation for its Emirates Inflight Entertainment System, or ICE for short. Here, it is hard to fault Emirates. It has large screens, and a huge amount of content. The only issues that passengers mention in Emirates Reviews is the way in which the content is very US orientated, with a vast number of Hollywood Movies that you never knew you wanted to watch. Emirates IFE
Your Emirates Airline Experience can be a little mixed, but Emirates is big (it is now the seventh largest in the world), with a fleet of 204 aircraft. It flies to 95 countries. For many passengers it is now THE airline on the kangaroo route from the UK to Australia. The company slogan "Fly Emirates. To over Six Continents" almost does mean that, however the epithet that some passengers say ("Fly Emirates, become incontinent") is probably as a result of experiencing Emirates' overcrowded ultra-long haul economy flights.
The result is a new airline, which despite some notable faults, has now joined the world class, however Emirates Airlines reviews show it is not one that passengers always recommend whole-heartedly.
Next page: Emirates Airline seat reviews >>>
REVIEW
All images and content copyright airreview.com