Emirates Boeing 777 seating plan - Boeing 777 Long Haul cabin layout - pictures of every seat & colour interactive Emirates Boeing 777-300 seating plan. Emirates 777 seat plan and review of best seats in economy and business class.

Seat map: Emirates Boeing 777 seat plan
This seat map is for the Boeing 777-300 as flown by Emirates. It is the earlier model with very narrow seating in economy, and only basic recliners in business and first class: it has a reputation for not being the best aircraft, and should be avoided in preference for the Emirates A380.
.
Twelve Emirates Boeing 777 are in the fleet configured 18F/42J/320Y typically flown from Dubai to Colombo, London, Bangkok, and Dehli.
►Hover mousepointer over any seat for Emirates Boeing 777-300 seat pictures, and a Emirates Boeing 777 seat review.

Food: Emirates Airlines have a great reputation for inflight food, and serve complementary drinks (Free beer, wine and spirits).
Details: food wine & beer»
Entertainment:
Seatback TVs in all classes on Emirates A380, with ICE AVOD (start,stop,pause) showing 100 films & 180 TV programmes.
Details: IFE, films»
Seat prebooking: You can book your seat on Emirates Boeing 777 before the flight.
Online Checkin: Emirates Airlines have full online check-in from 24 hours before the flight.
Emirates Boeing 777-300
overall rating:

in total

364 seats with 423 photos

.
There are twelve Boeing 777-300 in Emirates fleet. This Emirates 777-300 seat plan applies to registrations A6-EMM, A6-EMN, A6-EMO, A6-EMP, A6-EMQ, A6-EMR, A6-EMS, A6-EMT, A6-EMU, A6-EMV,A6-EMW, A6-EMX.
A Emirates Boeing 777 economy class review shows the best seats are normally regarded as 22A & 22K, however they are blighted by lightspill from the bathrooms, and the door slide infront. Many couples prefer the seats 37A and 37K, which are have only a small galley ahead of you.
Emirates B773: Emirates fly the Boeing 777-300 on routes including from Dubai to Ahmedabad, Amman, Bahrain, Bangalore, Bangkok, Beirut, Cairo, Chennai, Colombo, Male, Dammam, Delhi, Dhaka and Doha.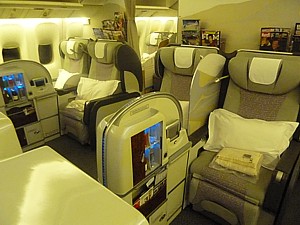 Emirates Boeing 777 First Class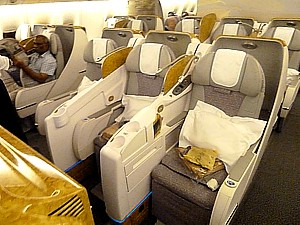 Emirates Boeing 777 Business Class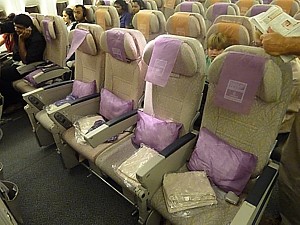 Emirates Boeing 777 Economy Class bulkhead seat