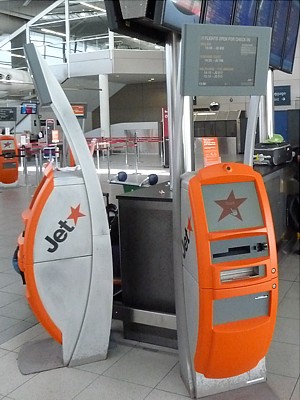 Jetstar Automatic checkin kiosk Sydney
NEWS: For Jetstar, Qantas has ordered 110 Airbus A320 aircraft, consisting of 32 A320s and 78 A320neos. These will be used by the various Jetstar-branded airlines, including Jetstar Airways in Australia.
Jetstar is the original low cost offshoot from a mainstream airline success story. Indeed, with Jetstar the question is, where did Qantas get it right?
Jetstar is a subsidiary of Qantas, and operates a vast network of low-cost flights around Australia, as well as a growing list of international services. Jetstar was created in response to the threat posed by then start-up Virgin Australia.
Jetstar reviews are generally complementary about the Jetstar Fleet: it is pretty new. However Jetstar reviews hate the seat pitch (how close the seats are to one another) : a tiny 28 inches, the smallest legally permitted.
On almost all domestic flights you'll be on an Airbus A320, particularly domestic, although there are six of the longer A321, packing in no less than 220 passengers, with an extra inch of legroom taking it to a still cramp 29 inches.
All domestic and trans-Tasman routes have a buy on board single class service offering food and drinks for purchase: Sandwiches start at AU$7, and beer at AU$6 for a can of VB. There is no inflight entertainment of any kind.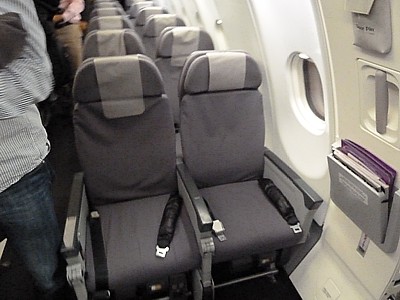 Jetstar International economy class seating on the A330
International routes however are different, if they use the widebody A330, where Jetstar offers a two-class service. Jetstar A330 Economy Class is the same, but with a pitch of 31 inches: Jetstar seatback TV doesn't exist, but there are a few overhead TV screens along the aisles showing films and TV programmes. You need to buy headsets on board. You can also hire a Jetstar IFE entertainment unit with a headset to watch films and TV shows, at AU$18 (AU$12 Trans-tasman). There is the same buy on board menu, but you can also buy pre-purchased meals when you buy your ticket if you buy a plus or max ticket (which also includes bags).
Jetstar A330 Business Class is the game changer: a low cost business class cabin for low cost flights. The Jetstar Business Class cabin has leather seats in a 2-3-2 seating plan. There are free baggage to 30kg, the same meals as you can buy in economy but for free, and if you buy the full priced Business Max fare there is also access to the Qantas Club lounge and Qantas Frequent Flyer points.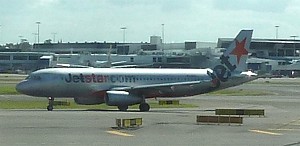 Jetstar A320 at Sydney
There was even, briefly, one lone solitary Jetstar lounge in the rather out of the way location of the Gold Coast airport. Jetstar, being primarily a low cost carrier, had no need of Business Class lounges for many years, until it started running longhaul, and then it could always use the Qantas Club: however the old Qantasclub at the Gold Coast closed years back: hence, the airline had its own dedicated Jetstar Gold Coast lounge for a very brief period; with tight access conditions only a few people used it a year, and so within months when Qantas resumed flights to the Gold Coast, it turned into a normal Qantas Club again.
Jetstar reviews generally note the low-cost with style impression given by the airline: it is no Ryanair, and instead tries to have a little bit of quality, while at the same time sticking to its low cost roots, which means no free meals on board, no free checked bags, and high penalties if you miss the flight.
Despite its low-cost ethos, Jetstar currently offers a limited number of connecting services and through checked bags for domestic flights connecting with international flights. Equally, sticking with the low cost plans, it is part of no airline alliance, however Jetstar has started some co-operation with the oneworld alliance, allowing people booking an itinerary with a full oneworld member to include a Jetstar flight in the itinerary. But the flight must be sold via Jetstar's corporate parent Qantas, under a QF flight number.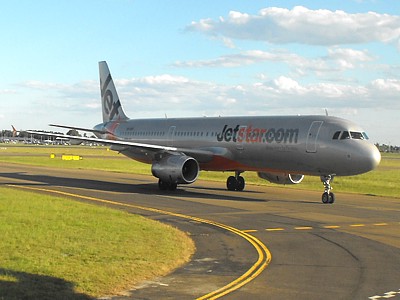 Jetstar A321 at Melbourne
As such, you'll get no oneworld Frequent Flyer miles on a Jetstar flight, but you might get some Qantas Frequent Flyer miles if you pay the full priced Business Max fare.
And now that Qantas kicked off Jetstar, so Jetstar has created low cost imitations of itself, with sister companies Jetstar Asia Airways in Singapore, Jetstar Pacific Airlines inVietnam and new start-ups, Jetstar Japan and Jetstar Hong Kong.
Will Jetstar get you there? Definitely. Will you get there comfortably? With a 28 inch seat pitch, no frill on board, or on the ground, and with an out of the way airport… there are times when it is worth paying a little more for Qantas.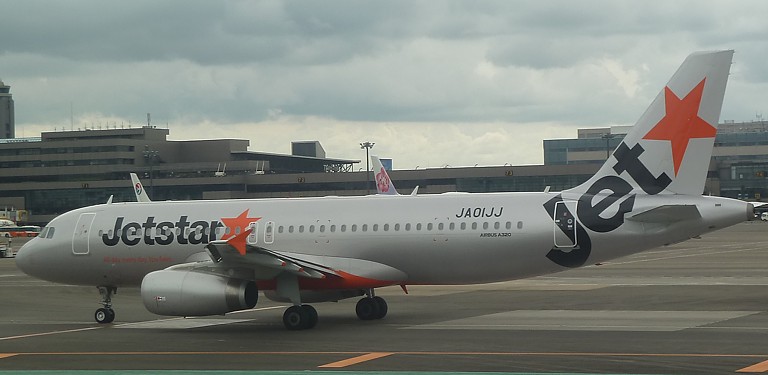 Jetstar Airbus A320 at Toyko Narita, Japan.