Etihad Airbus A340 seating plan - Airbus A340 Long Haul cabin layout - pictures of every seat & colour interactive Etihad Airbus A340-600 seating plan. Etihad A340 seat plan and review of best seats in economy and business class.

Seat map: Etihad Airbus A340 seat plan
This seat map is for the Airbus A340-600 as flown by Etihad. The EY A346 is new, comfortable, and modern, and at launch was the longest aircraft in the sky. All aircraft have now been reconfigured without a First Class lounge, and with three rows in the rear business cabin. It alternates on some routes with the Etihad A330.
Got the right plane? Etihad has two types of A340. This is the largest A340-600 variant. See also the three class A340-300.
Seven Etihad Airbus A340 are in the fleet configured 12F/32J/248Y. Typical routes for the Etihad A346 Abu Dhabi to London Heathrow, Sydney, Paris, New York, Seoul, Munich, Milan, and Melbourne.
All Etihad A340 have three classes. There is a good First Class section in the nose, then two separate Business Class cabins - the rear cabin is generally quieter except at boarding when Economy walks through it.

The Etihad Airbus A340 seating plan has a good modern Economy Class, with decent modern seats, and a large flatscreen seatback TV.
►Hover mousepointer over any seat for Etihad Airbus A340-600 seat pictures, and a Etihad Airbus A340 seat review.

Food: Etihad Airlines have a great reputation for inflight food, and serve complementary drinks (Free beer, wine and spirits).
Details: food wine & beer»
Entertainment:
Seatback TVs in all classes on Etihad A340, with E-Box AVOD (start,stop,pause) showing 100 films & 180 TV programmes.
Details: IFE, films»
Seat prebooking: You can book your seat on Etihad Airbus A340 before the flight.
Online Checkin: Etihad Airlines have full online check-in from 24 hours before the flight.
Etihad Airbus A340-600
overall rating:

in total

292 seats with 423 photos

.
There are seven Airbus A340-600 in Etihad fleet. This Etihad A340-600 seat plan applies to registrations A6-EHE, A6-EHF, A6EHH, A6-EHI, A6-EHJ, A6-EHK, A6-EHL.
A Etihad Airbus A340 economy class review shows the best seats are normally regarded as 34A and 34K, however they are blighted by lightspill from the bathrooms, and the door slide infront. Many couples prefer the seats 16A & 16K, which have plenty of room - but not such a great view out of the window. Knowledgeable travellers take row 20 at any costs - it has much more legroom, but no door.
Etihad A340: Etihad fly the Airbus A340-600 on routes including from Abu Dhabi to London Heathrow and Sydney, but may also be found on flights to Paris, New York, Seoul, Munich, Milan, and Melbourne.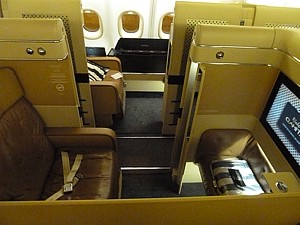 Etihad Airbus A340 First Class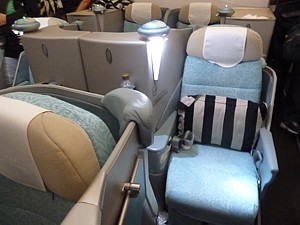 Etihad Airbus A340 Business Class seat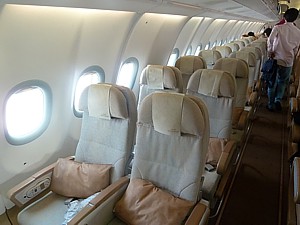 Etihad Airbus A340 Economy Class bulkhead seat