NEWS: Iberia as an independent company no longer exists: it is now part of the International Airlines Group.
Iberia, Compañía Aérea de Transportes started in 1927, as a result of the Treaty of Versailles. This prevented German from flying over France, so to gain access to Africa and South America, Deutsche Lufthansa on behalf of
Iberia A340 at Madrid

German government formed the first links between Madrid and Barcelona. By 1928 it was flying to Berlin, and then a seaplan was added, flying between Cádiz and the Canary Islands to test the viability of a postal route to South America, by extending the route via Cape Verde Islands.
The company had close ties with Lufthansa, which during World War II caused considerable difficulties to maintain the fleet as the import of fuel and spare parts was infrequent. In addition the Allies refused cooperation with the

Air Nostrum at Ibiza

company until connections with Germany were severed. In 1946, it became the first airline to fly between Europe and South America using a Douglas DC-4 on the Madrid to Buenos Aires and Montevideo routes. The lucrative market to South America was helped by the families separated by the Spanish Civil War. However, there was intense competition from Air France, KLM and British South American Airways. Transatlantic flights between Spain and the United States started in 1954.

Iberia MD87 at Madrid

By the 1960s, Iberia had accumulated a fleet of Douglas DC-8s and Boeing 707s. The busiest route was Madrid to Buenos Aires. In early 1970s, the company bought Douglas DC-9s and Boeing 747s as it expanded routes to Central America, Warsaw, Athens and Istanbul.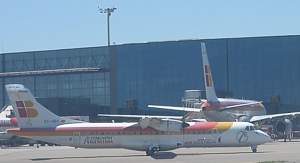 Air Nostrum ATR-72 at Madrid

On January 7, 1972 a Caravelle 6-R, crashed into Mont San Jose on approach to Ibiza Airport killing all 104 on board . Sixty-eight people were killed when an Iberia Douglas DC-9, flying from Palma to London, collided in midair with a chartered Coronado 990 aircraft 8,000m above Nantes, in western France. The accident occurred during a French air traffic controllers strike.
In 1974, it launched Europe's first walk-on shuttle service, linking Madrid and Barcelona. In 1977 Iberia bought Boeing 727s boosting Boeing's flagging production line. In the early 1990s Iberia planned a major fleet renewal with the McDonnell Douglas MD-87, Airbus A320 and Airbus A340, ordered to replace the Douglas DC-9, Boeing 727 and Douglas DC-10s. Significant numbers of the Boeing 757 were also bought, which are still with the airline today.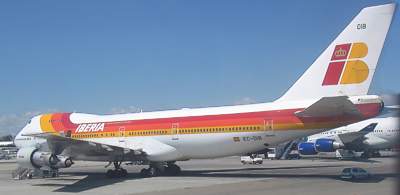 Iberia 747-200 at Madrid

On December 7, 1983, an Iberia Boeing 727 collided with an Aviaco Douglas DC-9 in intense fog when the two airliners taxied down the runway at Madrid Airport. All on the Aviaco flight perished and there was a total of 85 deaths. On February 19, 1985, an Iberia Boeing 727 crashed after hitting a television antenna installed on the summit of Monte Oiz while landing in Bilbao, killing another 148 people.
In 1991, Iberia set up Europe's first international airline frequent-flyer programme, Iberia Plus. The company ordered 76 aircraft from Airbus in February 1998, which was largest single consignment of Airbus ordered. Iberia is allied with American Airlines and Iberia, and in September 1999, joined the oneworld alliance. In 2001 Iberia was privatised - BA owned 9% of its share capital.
In 2006 the new Terminal 4 at Madrid Barajas was handed over to Iberia and the Oneworld alliance members. Iberia alone is responsible for around 60% of Madrid Barajas traffic.

Iberia 747-200 at Madrid. Iberia no longer have this type of aircraft.

In 2007, in one of the most serious accidents in Iberia's recent history, the airline managed to write off one of its virtually new largest of long haul aircraft, an Airbus A340-600 which was badly damaged when it skidded off the runway while landing at Ecuador's Quito International Airport in heavy rain. Two engines were ripped off the wing, and the landing gear destroyed, however all 333 passengers escaped with only minor injuries. Despite being only a few months old, the nearly new aircraft was cut up on site.
In another major move, in 2008, British Airways, Iberia, and American Airlines announced a complex merger plan that would result in the airlines being able to fix fares, routes, and schedules together. The US government held up the merger for nearly two years, but in April 2010 it was completed, creating the International Airlines Group, although the airlines will continue to operate under their current brands. BA shareholders are left with a 55% stake in the new company, which is headquartered in London, with the remainder being owned by Iberia.