Finnair passenger reviews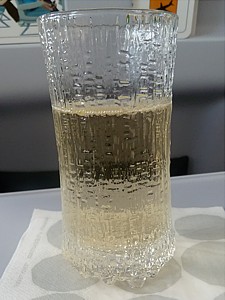 Wine glass Finnair Business Class
Finnair is a small international carrier from the top end of Europe, which always seems to punch above its weight, particularly long haul to Asia. Finnair is the national face of the least visible of the Scandinavian countries, Finland. All the others, of course, have SAS as their national airline, however the Finns have gone it alone.
Clean, neat, and tidy, offering a cut-down full service, Finnair reviews tend to be a bit of a mixed bag, mainly due to a variable, not to say inconsistent service and some surprisingly odd route and service decisions. It's best to describe it as an airline, but not one you're used to. It's not as small as you may think either; admittedly the fleet of 13 long-haul aircraft is a bit of a tiddler in world aviation, and if is for this reason many passengers just don't consider. Finnair's seats and cabin.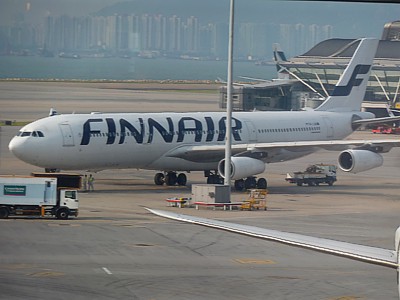 Finnair A340 at Hong Kong
Part of this is due to Finnair's fleet. Short haul, you'll almost certainly end up on a narrow body Airbus, an A320 or its derivatives. Totally unremarkable, with no IFE, and with rather dull food in business. Behind the curtain things are worse. You'll have to buy your own food and beer. And that's in case you don't end up on the routes that have been farmed out to Flybe Nordic, (codeshares with Finnair). Here, the aircraft are small ATRs or Embraers. There's no business class. And you don't get Frequent Flyer miles on oneworld cards either. There are far better alternatives. Finnair inflight experience.
Reviews of Finnair longhaul are decidedly mixed too. There are some lovely brand new Airbus A330 aircraft with great new seats in both classes, and some older ones too with old fashioned recliners in Business. And that's if you avoid the dreaded ex-Air France A340s which are simply woeful: with Spartan meals and limited IFE, business is on a par with premium economy on better airlines, while longhaul Finnair economy reviews aren't great. For example you get a free beer or wine you're your meal, but you have to pay for other drinks and snacks on board (except for the longest 12 hours flights to Singapore and Hong Kong). This doesn't endear some passengers to Finnair. Mind you, the legroom is a pretty decent 32", and the free hot food is better than the cold snacks you may get elsewhere. Finnair inflight meals.
Finnair Reviews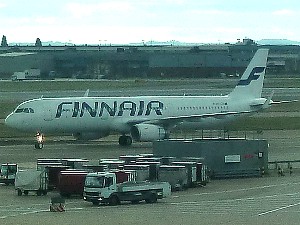 Finnair A320 at London Heathrow
The question then is, why do some passengers beat a path to Finnair's door, especially when Helsinki seems like an unlikely destination for a stopover? Ticket prices, quite simply. Economy can be marginally cheaper than some other carriers flying direct, but in business class there are bargains to be had, particularly if you add on the cost of the Finnair codeshares to other parts of Australasia. If you book early enough you can score a business class flight from the UK to Down Under for less than half the price of other carriers, even when the codeshare is on that carrier. Move your origin point to an obscure European airport, and the price plunges even further. It's a really good dea, so long as (and this is the proviso) you're prepared to put up with Finnair's sub-par on board service, an extra stopover, and some decidedly non-time friendly connections in Asia. Your reviews of Finnair flights.
Finnair Airlines | Fleet | Seats | Lounges | Food
In the other direction from Australia, taking the price down even further are the famous Finnair mixed class to Europe fares. Booking these is however a nightmare, as they can only be done on the phone, and indeed Finnair's online booking engine and website isn't one to tangle with if you want your sanity intact. Tips on how to book mixed class fares on Finnair.
Business Class Lounge Helsinki
Finnair's Business Class lounges take this cut price almost-full-service but lacking panache a step further. There are two good lounges at the Helsinki Hub, but the removal of all the perks such as the spa and pre-flight dining (while not putting full meals back on the aircrafts themselves) hasn't been well received by regular passengers. Finnair Business Class Lounges.
Finnair inflight entertainment is decidedly cut price too. On newer planes there is AVOD, but the content can seem to have been fished from a remainder bin, with a few sunk without trace US films and some movies that have been hanging around for a year or too. There is TV too, but much of it is again based around US tastes. For this reason perhaps Finnair don't put their IFE selection online, unlike virtually every other airline. Finnair seatback TV details.
Finnair's main international hub is at Helsinki, which is great with light bright clean Scandinavian lines, and the 40 minute connection time is amazing, unless you have to fly Schengen to non-Schengen and back, in which case the stress-inducing run up the terminal from passport control isn't the calm experience travel agents often promise.

Boeing 757 Las Palmas de Gran Canaria Airport
Route-wise, though Finland is not really on the route to anywhere much, unless you need to get from Northern Europe to Asia. As a result, although there is one headline route to New York, a seasonal holiday route to Canada, and all the rest of the long haul destinations are geared to getting business people to Japan or Singapore, and Finnish backpackers to Bangkok or Hong Kong. Finnair's slogan of "The fast airline between Europe and Asia" really means that. There is a separate mid-haul flagship route - when the long northern winter drags along in Finland, there is also a regular shuttle of Finns flying south to the Canary Islands, which is very popular for depressed residents of Helsinki to have second homes. Finnair routes & destinations.
Finnair inflight meals can also take some getting used to. Reindeer is a staple of many Finnair meals, and there are normally no alternatives on a take it or leave it basis.

Finnair has a proud history: it is the fifth oldest airline in the world and also safe, with zero hull-loss accidents since 1963. It is still nationalised (the Government of Finland is the controlling shareholder with 57% of the company).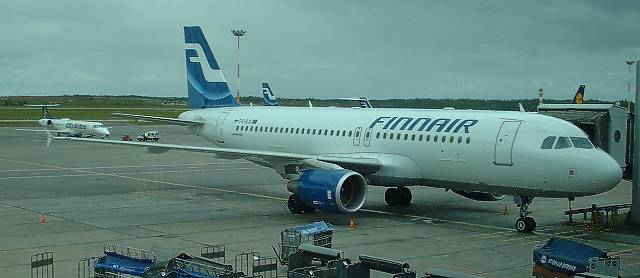 Finnair A320 at Helsinki
So is Finnair worth it? Yes, but a reserved yes. It does a good solid job of flying Finns around the world. However from the UK you're only likely to fly with Finnair if you want to visit Helsinki, or on a roundabout route to Bangkok, but if you end up on a bargain basement ticket up front on a new plane, it can seem very good indeed: as always, check and double check the type of aircraft you are on, and check your own connections and routings before even starting to book a ticket.
Next page: Finnair seat reviews >>>
REVIEW
All images and content copyright airreview.com