Contact
LowGraph
Home
How to get an airline upgrade
From the man who tries to avoid paying his own way
There is a more comfortable way to fly than the cheap seats - business class. It is a lovely way to travel, where you can really rediscover the joy of flying. The seats are a lot bigger for a start, the crew sometimes greet you by name, and they'll look after your every whim (well - again, sometimes - but at least you get offered drinks), not mind if you fancy another beer, and even be nice to you. Note, your mileage may vary. Children rarely make it into the business class cabin - or if they do, they'll be polite (Ed: check this - not last time I up the pointy end). And you never know, you might get to sit next to someone whose autograph you want to collect.

You may ask "How do I get upgraded to first class on an airline?" Well, although there is certainly a degree of luck involved in getting an upgrade without paying extra, there are also ways of improving your chances of being in the right place at the right time, and equally avoid airlines who will rarely upgrade.

Airlines upgrade generally for two reasons:
In the USA: There is a spare business class seat.
Rest of World: Economy is full, but there's space at the pointy end of the plane.
Sounds easy, right? Well, no - airlines also now select who to upgrade firstly by looking at their most loyal customers: the passengers they want to keep happy. And those passengers have that airline's frequent flyer card at the highest tier level. Without this, you are noone at check in. Even if you have this, airlines will pretty much never upgrade you unless you look the part, and normally you ask. There are no points gained for being shy.However opinions vary on this, and with a few airlines (British Airways in particular) some passengers recommend not asking.
Some people recommend that if you've complained (politely) about something that is the airlines fault, and you deserve a break, you may get an upgrade, but these are very rare.
Note also that most airlines around the world have 2, 3 or sometimes 4 classes. If your airline (eg: BA, Qantas, AirNew Zealand etc) has a class above economy, quite often that class is called Premium Economy, and all you get is a bigger seat. It's a nice perk, but the food is no better.
Equally note that in the USA they call things by different names: what airlines call First Class on their US domestic planes is actually just Business Class. And what US airlines call Club, is Business Class on an international route (where, oddly, there is a separate First class, that really is first).
The basics: Frequent Flyer schemes
United if business has spare seats
BA if economy if overbooked
Singapore Never under any circumstances
bmi if economy is overbooked
AA if business has spare seats
Lufthansa if economy is overbooked
Qantas exceptionally rare. Never on A380
SAS if economy full & pax refuse cash to move
AirNZ guaranteed upgrade to Premium Economy
Thai if business has spare seats
Emirates if economy full, then by fare paid
Upgrade policies for Gold cardholders

Airlines run loyalty plans, generally called Frequent Flyer schemes, and most offer access to the Business Class lounges. At the top level, you can often get access to lounges even when you're flying on an airline different from your loyalty card.

But remember these are loyalty cards - and carriers really do want to use them to ensure they win your business - but you can fight back, by pointing out that you can go elsewhere.

Simply put, when it comes to flying the easiest and least expensive way to get a Business Class upgrade is to be an elite member in one or more of the airlines' frequent flyer programs. Commonly referred to as "Gold" by BA, bmi, Singapore and "Platinum" by Qantas and the like, this is the level of membership where you receive a wide variety of perks, which on some airlines including complimentary upgrades and the privilege of using inexpensive "segment upgrades." While it remains relatively easy to obtain upgrades internally in the US, inside the UK its a right pain, and virtually impossible on some routes, such as to Australia where airlines tend to be more conservative with their premium cabins. They become more willing to consider you if you have a Gold card. Silver also works with some airlines such as bmi (NB: not applicable to counties outside the Eurozone. Mileage may vary. Avoid in Moscow).

Some airlines have different upgrade policies for their Gold cardholders. Some upgrade if economy is too full, while others (in the US) upgrade if business is too empty. So if you want to take a significant gamble, you can also try booking on either overbooked or empty flights, in the hope of moving up a class. However if you do this, make sure your correctly register your gold or platinum Frequent Flyer card when booking, which will be logged into something called your PNR. Your status will appear on the passenger list - and if staff know they are overbooked, they will start scanning this list for people to move up a class.

The upgrade process never happen before check in is open. At most airlines the upgrade process within the airlines Departure Control System (DCS) needs the passenger to be checked in, and there is no point in upgrading a passenger who may not show up. However, when it does (generally 3 hours before departure, 24 hours in some cases) on some airlines at least, such as Lufthansa, you may get an upgrade even by checkin in with the machines, rather than in person.

Note however that although most airlines recognise other Frequent Flier cards in an alliance, they will not do so when it comes to upgrades. Indeed, you're better off with a basic level card belonging to the airline, than a top level one for an airline in it's alliance.
Check in
It's rare you get the chance now, with just a long merry line to check in, however if you're lucky enough to be able to select a desk to check in, don't just join the end of the shortest queue when you're checking in at the airport. Take a minute to size up the personalities of the airline staff. Is one queue much longer than the rest because the check-in check in staff is taking the time to treat your fellow passengers with courtesy?

Last minute upgrades can occur right up to the gate: but Alex didn't enjoy this downgrade in 2004.

If another check in staff engaged in an icy attempt to control his temper as a dissatisfied customer shouts into his face, leave him. Yet another check in staff may remind you of a robot, as she turns her smile on and off automatically, and goes through the motions of checking in passengers as if they were just so many cattle.
You'd be surprised at how much you can learn about the personalities of the check-in staff in just a couple of minutes of careful observation. This kind of express research will stand you in good stead, as you will be much more likely to choose the check in staff who is not already furious from being verbally abused, or the exhausted check in staff who is simply trying to make it to the end of a long shift, and is way past caring about the comfort levels of people she doesn't even know.
First impressions count
Having maximized your chances of picking the check-in check in staff most likely to be receptive to your wishes, it's also important to look the part. How do the passengers who are booking in at the first class and business class counters look? Chances are, they're either in business attire, or are otherwise smartly dressed. They will have good haircuts and will smell of expensive perfume (but, blokes note, not aftershave). Luggage matches and is in good condition.

Your goal is to try and emulate this look as far as possible. Next time you're at the airport, have a look around and take some mental style notes. Although you don't need to invest in thousands of dollars worth of designer clothes or luggage, it's a very good idea to have put some thought into the impression you will make at the airport. If the checkin staff are looking to upgrade passengers, they will put SFU (Suitable for Upgrade) next to your booking if you are deemed to look the part.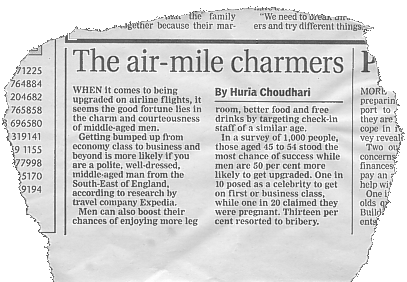 While comfort is always an important consideration, particularly for longer flights, you're much more likely to impress the people with the power to upgrade your seat if you're wearing a decent suit rather than a tracksuit and trainers.
Attitude
The way you treat the airline check in staff will also determine your level of upgrade success. There's a fine line to be walked here. You want to be friendly, without being pushy; pleasant without seeming desperate.

Involve the check in staff in a chatty exchange in which you manage to be complimentary about the airline and your past experiences with it. Pop in a short, funny story if you can. The objective is to make a great impression on the check in staff, and convince them that you're a nice person who deserves a break.

Incidentally, it's worth mentioning the urban myth that some airlines automatically upgrade any female passengers who are travelling alone. Yeah, right. That myth started from a film in the 1960s where the movie starlett did get upgraded because in those days it was rare for womem to travel alone. For the past 50 years, that myth remains just that - a myth.

If you're coming to the end of the transaction and it doesn't look like he's going to offer you an upgrade himself, take a deep breath and politely ask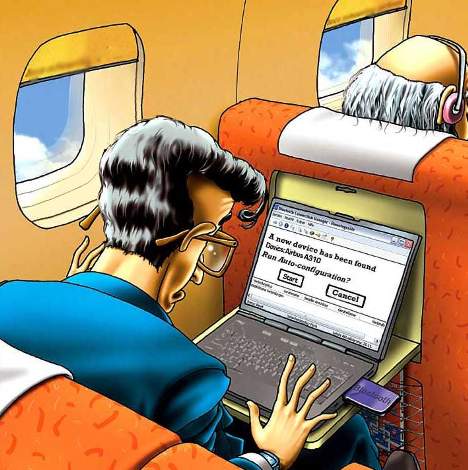 Many airlines now include Internet connections in Business



if an upgrade would be possible. Chances are, if you've created a good rapport with this guy, he will at least consider your request and do what he can to accommodate you. The phrase to use here is "Are there any commercial reasons for the airline to look at upgrading anyone on this flight today?"

If it's simply not possible, the check in staff will simply and politely refuse. At the very least, you will have had a pleasant exchange with another human being who's doing a very difficult job and no doubt appreciates dealing with a courteous customer.

But if the airline check in staff says yes to your request, you will have saved yourself hundreds if not thousands of pounds, and ensured that your journey will take place in a more luxurious and comfortable part of the plane.

Al least - that is the theory, but many jaded checkin staff will have heard a request for an upgrade from about 1 in 5 passengers. Indeed, the funniest sight I've seen was an elderly woman waving a copy of the Daily Express at checkin, pointing at an article, and saying "But it says here I would be perfect for an upgrade". Remember you generally have to be at top tier of the airline's Frequent Flyer card to have a change: and to have got here you'll already know the ropes. And if you are on an airline where it's best not to ask for an upgrade, it may be best to wait until your boarding card is printed (and so you know you won't get an upgrade by default) and then ask.
Maximising your chances
There are various things which will mean you never get upgraded. Airlines will never upgrade you if:
You have requested a special meal
You are travelling with children
You are in a large group (indeed, it's highly likely that a group larger than one will reduce your upgrade chances to pretty much zero).
Incidentally, there is nothing the ground & cabin crew hate more than parents who travel in business, leaving their children in economy, and who say "can you do anything?". BA's policy on this is that if a passenger tries it, they will be offered a downgrade.

Do keep on asking at different locations for an upgrade - I generally ask at checkin, at the lounge, and at the gate. And indeed, I've been told that the plane wasn't overbooked at checkin (however I knew it was, as I checked the airlines booking system) and so no chance of an upgrade, but in the lounge I've asked - and rapidly got a boarding card for the pointy end. Lufthansa, in particular, are so bored with Gold (Senator) level economy passengers asking for an upgrade at the First Class checkin (which they are intitled to use), they will pretty much ignore the question.

You also sometimes get an upgrade if you pay a lot for excess bagage. This is ruse not normally tried by passengers, so it may be worth trying it for variety.

Another rarely used trick is to checkin online and book the screamer (bassinet, or cot) seats. If a family with a baby book within a few hours of the flight, they will get your seat, and if the flight is full you'll get moved up. However the dangers of such a policy are obvious, and the thought of a long flight next to a screaming child puts off most frequent fliers from trying this one.
Look at the perks of your airline's loyalty scheme
BA Silver Lounge access even in economy
BA Gold Lounge access when flying any airline
bmi Silver Lounge access even in economy
bmi Gold Star lounge access if flying Star Alliance
Singapore Silver None
Singapore Gold Access to Singapore lounges
SAS Silver Lounge access even in economy
SAS Gold Lounge access if flying Star Alliance
Qantas Silver One invite to the Lounge
Qantas Gold Lounge access if flying economy
Lounge benefits of airlines schemes

All airline Frequent Flyer loyalty schemes come in three levels, but have different point structures, different perks, and belong to one of three main alliances. Roughly speaking, if you have the benefits of a card belonging to one airline in an alliance, you get that benefit on all the other airlines in the alliance.

These tier levels (see box on the right) allow you access to the lounges, which is half the battle.

You also get a greater likelyhood of getting an upgrade - with some airlines its guaranteed. For example when you reach gold in the bmi Diamond Club member in bmi, you get 4 free upgrade vouchers, and upgrades can be confirmed up to 72 hours prior to departure - but with bmi operating such a limited long-haul route, its hardly worth it.
Double your upgrades
You can hedge your bets with a second frequent flyer club card. If you are up at gold level with one card, ask all the other airlines in their alliance (either one world or star) to match it. You'll then get a rack of cards which means you can wave the relevant card at staff at lounges, and get a whole host of perks. This is a one-shot trick however: once you've been status matched once, the airlines will not play again.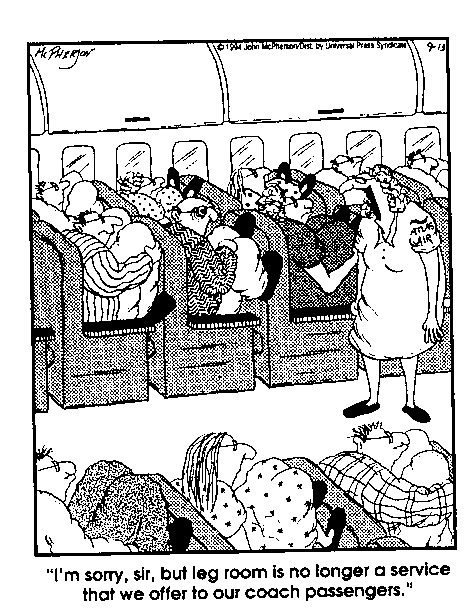 Crashing the business lounges
Business class passengers around the world access lovely secluded lounges with big sofas, newspapers and nibbles. Unlike most airports and planes, they are genuinely nice places to be. Here are three ways to escape the crowds without buying a business class ticket.
Buy your way in
Some airports, such as at London LHR, have lounges where, for £17.50, you can access a generic lounge. Mind you, thats a lot of G+Ts you'll have to get down for it to be worthwhile, but occasionally it is.
Priority Pass
Buy a Priority Pass (020 8680 1338) for £70, valid for more than 300 airport lounges worldwide, although there is a £17 charge each time you visit one. Look at prioritypass.com.
Credit Card
Get the right credit card. If you join NatWest's Black credit card you get a free Priority pass to gain access to airport lounges all over the world either free or for a small charge depending on location. More details from Natwest. Dinersclub does the same thing.