Icelandair used to be a
high cost, low service
airline, with a limited route network & inconvenient hub, poor inflight food and entertainment, and a pretty useless timetable. Now the airline has considerably reduced it's prices, and offers more discount fares. However the airline still has very much a low-cost approach to inflight service (it charges for inflight alcohol, for example) and cut-price fares can be hard to get, particularly in the summer.
Consequently, there is very little reason to fly Icelandair, however the airline stays aloft - if only because from most countries there is no other way to get to Iceland (Reykjavík airport only services the odd AirCanada flight other than native Icelandic airlines, after British Airways axed (twice!) their service). Occasionally the airline will also offer very cheap tickets to the US from Europe, so despite all its downsides, the airline keeps on going.
Icelandair has a venerable history, which the airline will tell you about, at length, on each flight. Icelandair traces its roots to the year 1937 when a fledgling airline, Flugfélag Akureyrar, was founded at Akureyri on the north coast of Iceland. In 1943 the company moved its headquarters to the capital, Reykjavík, and changed its name to Flugfélag Íslands, which then later assumed the international trade name Icelandair. In 1945 Flugfélag Íslands made its first international flights to Scotland and Denmark with seaplanes, and began pioneering low-fare services across the North-Atlantic in 1953 - indeed for a long time the airline was the only one which still ran prop planes, rather than jets, over the Atlantic, and charged less accordingly.
The company is 100% privately owned by about 5000 Icelandic shareholders, and is the largest private company in Iceland, employing over 2000 people. Oddly, the airline now also owns ten percent of the UK lowcost airline Easyjet, although it says there are no plans to merge the services.
Oh, and for goodness sake get the name of the airline correct - it is the one thing that really annoys the natives of Reykjavík. It is Icelandair, not Air Iceland, or even just Iceland - that is the country.
In short, Icelandair is certainly well worth trying if you're a bit bored with what other airlines offer, and it offers a decidely novel way to get over the Atlantic.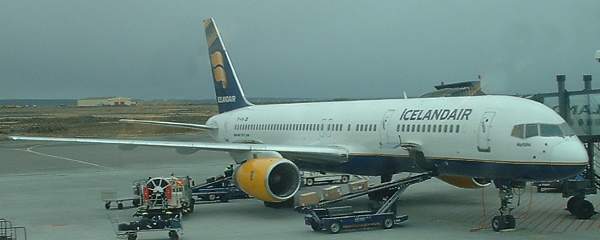 Icelandair a Boeing 757 on the stand

Icelandair Classes, Seats and Fleet
Icelandair used to operate just one aircraft type, the Boeing 757, in two variants, however Boeing has stopped production of the type because of the lack of orders, so Icelandair may be forced to switch to a new type soon. In any event it is really only suitable for the medium volume low cabin-service hub to hub routes which Icelandair operates. Icelandair now has a fleet of 11 757s, and had now branched out by buying it's first 767.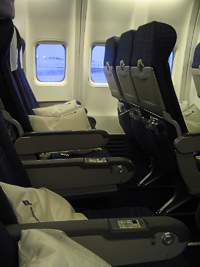 Icelandair 757-200 seats

Icelandair Boeing 757-200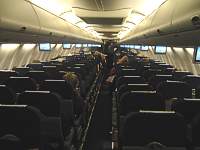 Icelandair 757-200 cabin

The Boeing 757-200 is the smaller version, seating 176 in two classes, flying 3,900 miles. Some of these are quite old, with Icelandair's oldest built in 1989. The newest version of this plane has drop-down LCD TV screens for the inflight entertainment, as opposed to the older version, which has fixed CRT TVs in the ceiling.
In business seats are in a 2+2 pattern, from row 1 to row 6. All seats have a pitch of 38 inches.
In economy all seats have a pitch of 31", with the most sought after seats being row 9, the emergency exit rows (although here there is only a thin sliver of a window), and row 16 and 17, the overwing exits where there is a whopping 38 inches of legroom (and good windows). Avoid row 7 and 8, which are on the right, opposite the single forward loo (on the left). You can get a pre-flight seat assignment if you phone Icelandair 24 hours before the flight, but only for rows 15, 18-25, & 28-32, not the desired emergency exit seats.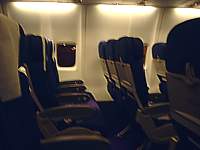 Icelandair 757-300 emergency exit seats

Icelandair Boeing 757-300
The Boeing 757-300 is larger, but that advantage is sacrificed in terms of a smaller range, seating 228 in two classes, but with a range of just 3,200 miles.
The most sought after seats in the 757-300 are in rows 21 and 22, the emergency exit rows, where there is a whopping 38 inches of legroom.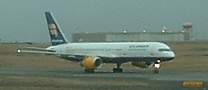 Icelandair 757 at Keflavik

Icelandair Boeing 767-300
Icelandair has recently invested in a secondhand 767, which previously belonged to TWA. It is used on routes to Portugal, and the new long route to San Francisco. It carries 30 business and 230 economy class passengers, with a crew of 11.
With a twin isle at least the cabin service is quite quick, but the plane's age is starting to show. TV screen are CRTs overhead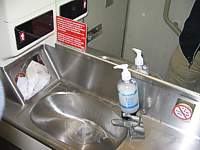 Icelandair 757-300 the basic loos

Business Class comes in two banks. The first bank of 4 rows is in a 2+2+2 pattern, and a second bank of 5 has seats in a 2+3+2 pattern. It has an old 1980s style business class seat - the headrest slides up, and wings fold out. Row 1 gets a bulkhead with cot fitting and a danger of children. All seats come with a fold out video screen.
Economy comes just as one section - in as 2+3+2 throughout. Seat row 23 is a bulkhead with two clear windows (and a nice fold out table in the armrest), but often gets cots clamped to the forward wall. Row 32 gets an emergency exit, and a slim sliver of a window. There is a window in the door ahead of you - and its not over the wing.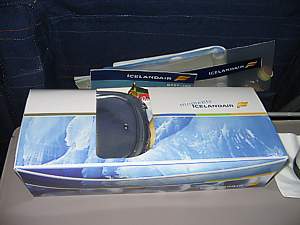 Icelandair the new Bento box

Iceland onboard inflight experience
News: Icelandir Air are introducing "Bento" boxes in economy for food on shorter routes, such as from the UK, instead of a full tray, although the hot food remains, and it will only offer cold rolls. Similar boxes have worked very successful for bmi, as they take up less space and don't need recycling, however other airlines like Qantas have scrapped them.
On Icelandair flights the cabin crew do dress very formally - in particular the pillar box style hats look distinctly old-fashioned. If only for this reason reviews and opinions are mixed about IcelandAir, however some passengers perfer it.
As you sit down, there is some truly terrible lift music playing - occasionally spiced up with country and western, or rock hits from the 70s. It is not a very good start. After boarding, a trolley of Newspapers is brought around - Icelandic papers of course take preference, although there will be a Mail, Express, and Times from the UK. This trolley firstly starts in business, and then only goes as far down economy as there are papers left; accordingly it pays to sit at the front.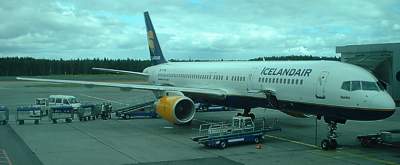 Helsinki Icelandair 757

In business you have to find your own seat, and you are offered a glass of water, orange juice, or Sparkling Wine.
In the single isle 757s in economy to speed up the service, there are three trolleys, which serve from front to back. Firstly there is the drinks trolley - which comes round only once so it pays to get all you want for the flight in one go. Then the food service comes round. On US flights there is a choice of food - on UK flights, you'll only get one meal selection
After the empty trays or waste has been collected, there is no more service, however if you press the call button, the crew are generally pretty prompt at coming to you.
Icelandair Inflight Entertainment - Atlantica
Whether you get a seatback TV on a long-haul Icelandair flight depends on the type of plane, and the class, you are on.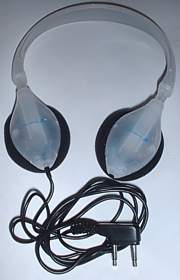 Icelandair inflight headphones

Inflight entertainment on Icelandair is pretty basic. It starts off with the safety video, which has an American voiceover and Icelandic subtitles - all pretty tacky stuff. Then there is a 5 minute Icelandair promo video, as if to prove that Icelandair is a proper airline, with pictures of the kitchens used to make the inflight meals, before there is another introduction to the inflight service. Annoyingly the video really ramps up the business class offerings, with details of what food business class will offer - and it includes pictures! There is even a picture of the lounge, and a throwaway comment in steely Icelandic saying they the airline hopes it's business class passengers enjoyed a great time there, and had a pre-flight drink. This would come across oddly, particularly on early morning flights, if it wasn't for the sight of banks of passengers at Keflavik knocking back beers at 6am.
Icelandair economy entertainment
On the oldest 757s, films are shown on the old fashioned overhead CRT video monitors, with a monitor every 6 or so rows of seats. On the newer 757s the video monitors are drop-down LCD screens. Headsets are mono, and of the same style as BA use, with an overhead band and twin 3.5mm jack plugs. Headphones are in the seatback pocket - although this doesn't mean that the socket in your seat will work.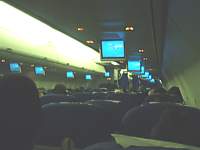 Icelandair drop-down LCD monitors

On the short routes, such as from Glasgow, the lack of seatback entertainment isn't much of a problem, but on the longest route down to Florida, an 8 hour flight, the lack of in-seat video screen is a right pain.
There are two strands to the entertainment. On the European routes there is normally a US comedy such as Friends, a half hour UK documentary, and then a UK comedy such as The Office. On the US flights there is time for a proper film as well as two US comedies. Occasionally, on the UK routes there may however be a full film. Icelandair plan their entertainment quite carefully - flying west, which are daytime flights (with everyone awake), the films will be latest releases, while flying east (at night) the films can be ten or fifteen years old.
Icelandair business entertainment
Business class gets a personal DVD player, which is handed out as the flight has reached its cruising altitude. There is a selection of 8 films to choose from, all of which are from the top 10 list in the US, although each flight has only 2 copies of each film so they tend to run out quickly.
Headphones in business class are good chunky ones, with double 3.5mm pins, however they are not noise reducing headphones
Icelandair Inflight Magazine - Atlantica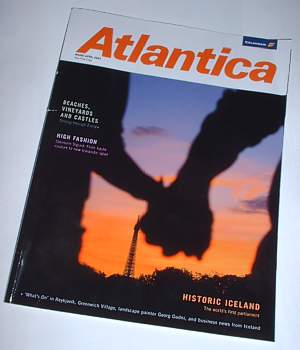 Icelandair Atlantica Inflight Magazine

The thin but glossy inflight magazine from Icelandair is called
Atlantica
. It's a master of style over content, with very little actual information, but done in a pretty smart way. There is the obligatory statement from the Chief Executive of Icelandair, Airmail, with some details of decent bars and events on Icelandair routes, a couple of items on travelling, and another couple of items on Iceland as a country.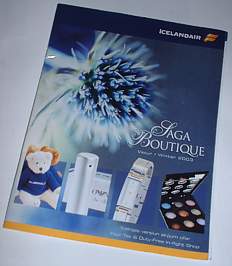 Icelandair Saga Boutique

There is normally a business item, on an Icelandic company you've never heard of, and a fashion item, with interesting things to do with goat hair. Right at the back is i-site, with a whats on list, and information on Icelandair's routes.
At the start of each flight, the crew will hand out a copy on request of the Saga Boutique. The inflight shopping magazine with a whole host of items that noone in their right mind would actually buy, from expensive jewellery to even more expensive makeup.
It's worth noting that there is a duty free shop open for arrivals at Keflavik, so there is no need to buy any duty free on the plane... however seeing the high prices in Iceland for booze, there is a real need to buy some duty free before heading into the country.
Iceland Routes
The Route to New York JFK is being heavily reduced. This autumn from November until April, all flights are being axed. Previously it was a year round service.
Icelandair flies to 16 destinations from its hub at Keflavik. The timetable is arranged so that in the morning flights from the five US cities arrive in Keflavik, and within 90 minutes passengers are on their way to the 11 European locations. This pattern is reversed in the afternoon.

From LHR there are two daily year round flights to Keflavik (KEF) taking 3 hours, leaving at 13:00, arriving at 15:00 (on a 757-200), and at 21:10 arriving at 23:10. This flight is less popular, so it is often possible to get cheaper tickets on it, however this in turn brings in more custom, requiring a 757-300 on Thursdays for the weekend clubbing fraternity. Return flights leave KEF at 07:45 and 16:10 arriving LHR at 11:45 and 20:10.

London LHR Icelandair 757

From Glasgow there is a daily flight to Keflavik (KEF) at 14:00 arriving 15:10, returning at 08:05 arriving at 11:10.
Other European destinations include Madrid, Barcelona, Paris, Zurich, Milan, Munich, Frnakfurt, Berlin, Copenhagen, Oslo, Stockholm, and Helsinki.
Airline schedules change regularly.
This information is intended as a guide, but for up to the minute timetables, please consult Icelandair.
From Keflavik (KEF) there is a flight to Minneapolis at 16:35, Balitmore at 16:40 and Boston at 16:45. Plus summer (April to November) flights to New York (JFK) at 16:40, and to San Francisco at 18:30 on Wednesday and Saturday, using the sole 767.
Icelandair has launched a route to San Francisco, with two weekly flights May 18 to June 1 and September 1 to October 15 (Wednesdays and Saturdays), increasing to four from June through August (Mondays, Wednesdays, Thursdays and Saturdays). Flights are scheduled to arrive from Iceland at 6:30pm and depart from San Francisco at 11:30pm.
Icelandair frequent flyer scheme - Customer Club SagaBonus
Icelandair has its own loyalty card system, however as most passengers fly only once on Icelandair and then never again, there may be little point in joining. Its also very difficult to earn enough points for a free flight, points expire quickly, and getting up to a decent tier level is virtually impossible.

The calculation for Business Class points seems to be rather random, with either slightly less or rather more than economy points earned. There is no change in points according to the price paid for tickets: discount web fares and "lucky" fares earn the same.

Helsinki Icelandair 757

From London to Reykjavík one way its possible to earn 1,500 points (3,800 business). To Baltimore, Boston and New York from Reykjavík 2,100 (5,300 business) and Minneapolis and Orlando earn 2,500 (6,200 business)
Its also possible to earn points on SAS, with exactly double in business class. Between two Nordic countries or Nordic to the UK in economy there are 600 points, and 3,500 points to the US, and 6,000 to Asia.
For a return trip from the UK to Reykjavík, 38,000 (or 15,000 plus US$150) points must be used. Business class needs exactly double, however to upgrade from a paid for economy to a business class ticket, 19,000 are needed. Although not advertised, a one-way upgrade from the UK to KEF is a mere 9,500 points.
From the UK to the USA, it needs 60,000 (or 20,000 plus US$225) points. It is also possible to redeem points on SAS from the UK to Scandinavia, for only 27,000 points.
Points expire on the 31st of December the year after they are added. Points are often not added automatically at check in, and its worth while hanging onto boarding cards to complain later. It is possible to check the points balance online at the Icelandair website.
At Keflavik, upgrades using points can not be arranged at the remote service point in the satelitte lounge. However if you walk to the main service point in the main airport terminal, the staff will phone down to the ticket office (one floor below you) and you will be permitted to exit the terminal and go to the ticket office (left after customs, and through the double glass doors (open from 0530)). Here, you can upgrade your ticket, even if you have previously been issued with a boarding card in the US or UK.
Saga Bonus Silver Level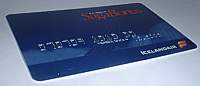 Icelandair Sagabonus


Saga Bonus members who earn 40.000 Card Points within a 12 months period are automatically upgraded to Saga Silver.

Silver members can check in at Business Class counters, even when they are travelling on Economy Class. Silver members also have access to Icelandair's business class lounges.
Saga Bonus Gold Level
Saga Silver members who earn 80.000 Card Points within a 12 month period are automatically upgraded to Saga Gold.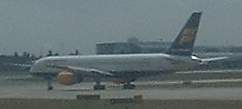 Icelandair 757 at London LHR


Its virtually impossible to get here, but if you do, its possible to get automatically upgraded to Business, plus of course Business Class check-in. Such upgrades can only be made at check-in at the airport, and you'll have to wait until the departure gate to have this confirmed. It's even possible to get upgraded when travelling on award tickets.

Cardholders at the Saga Gold tier level are offered one free weekend stay (Friday - Sunday or Saturday - Monday) at Radisson SAS Hotels and Resorts, or at Icelandair Hotels in Iceland, when flying.
Icelandair Business Class Lounges
News: IcelandAir now use the Aer Lingus Gold Circle Lounge at Boston, and no longer use the Lufthansa lounge.

Icelandair 757 at Keflavik, loading for Boston

There are business class lounges for the use of Business Class passengers, and Silver or Gold level Saga Bonus passengers. SAS Eurobonus Gold members can also use the lounges.

Icelandair 757 at London LHR


Unlike most airlines it forbids business class passengers from taking guests into lounges, although SAS Eurobonus Gold members are permitted to bring one guest into the lounge.

Icelandair's only Business Class lounge is at Keflavik. At Boston there is access to the Aer Lingus Gold Circle Lounge, in Terminal E, 2nd floor. At other airports, Icelandair either use other airlines' lounges, or worse, generic lounges. In Baltimore and New York Icelandair borrows the British Airways Executive Club, while in Orlando, here is the Delta Crown Room.

In Minneapolis and Barcelonna there is no access at all, and a voucher is given for a free burger in the airport canteen.

In London, Icelaidair uses the Air France Lounge in Terminal 2, while in Glasgow there the the Executive Lounge. In Stockholm there is the SAS Business Lounge, in Terminal 5. In Copenhagen there is access to the SAS Business Lounge, in Terminal 3. Frankfurt has the Iberia Lounge, in Terminal 2. Amsterdam gives access to the KLM Business Class Lounge.

To gain access to SAS lounges, you must be travelling on Business Class and have booked a connecting flight operated by a SAS aircraft.
Icelandair Hints & Tips
Icelandair is rapidly reducing its prices, taking the base economy return fare from LHR to KEF from £320 to £180 over the past year. However Icelandair still remains a relatively expensive airline in world terms, and is a good example of what happens on a route when there is no competition, other than the relatively minor Iceland Express.

Icelandair 757 at Keflavik

Icelandair Special Fares
Icelandair has a system of cheaper fares, called Lucky Fares. Mainly because you'll be lucky to get them, but its worth it if you can, as it takes the return LHR-KEF fare down to £99. If you sign up to the Icelandair website Lucky Fares section, then when the next promotion comes around you'll be sent an Email. At this point there are 4 cheap seats on each of the late evening flights from LHR to KEF on a Monday to Thursday, typically for a period about 3 months in the future. These seats always go very quickly.
Operational Upgrades
One of the common questions is "How do I get an upgrade on Icelandair to Business or Club class?". Alas, getting upgraded to business class on Icelandair really isn't that easy. The airline has the Western, rather than American, model for upgrades longhaul. Which is to say you'll only get an upgrade if your paid for class is full, and then upgrades are processed accordingly to a pecking order of Sagabonus frequent flyer status.

To start with, make sure you are a frequent flyer, and you do fly frequently: after all, if Iceland are going to upgrade anyone, they will upgrade those passengers who fly with them pretty regularly, and hence will enjoy the upgrade enough to put more business Iceland's way. Then if the flight is full in economy, and someone needs to be moved up, the check in staff will first look at Elite Sagabonus members. Another thing that Iceland look at is how much you paid for your ticket: it's much more likely to happen with a full fare ticket (although occasionally you can get lucky with a discounted economy ticket). On Iceland the airline has heard - probably hundreds of times a day - requests for an upgrade: the general consensus seems to be that if you ask for an upgrade, you're less likely to get it, although opinions differ on an upgrade strategy for Iceland.

As always, my advice on dressing properly in the pages on how to get an upgrade applies.
Icelandair website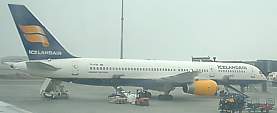 Icelandair 757 at Keflavik


The website produces errors with some early versions of browsers: it comes up with an XML error. However the ticket booking system works well, and its even possible to reserve seats when buying tickets.

Main site: http://www.icelandair.co.uk
Seatmaps: http://www.icelandair.co.uk
Entertainment: http://www.icelandair.co.uk/index.jsp




Note that all reviews and opinions on Iceland (FI) food, service, seats, planes, upgrades, lounges, the Saga Bonus Club, and the Frequent Flyer scheme is soley at my judgement. No legal liability is accepted if you take my advice.