NEWS: Iberia is changing Business Class, which is now called "la Business Club Iberia". Medium Haul there is a
new slightly improved seat with 50" pitch
while Long haul Iberia has created a type of flat bed, by removing an row of business class seats, and then spreading the existing seats wider apart. Pitch is now 2.2 meters. All of Iberia's fleet of Airbus A340s, used on routes between Spain and the United States, Latin America, South Africa and Tel Aviv are to be changed. The number of business class seats in the A340-600s will be reduced from 52 to 42, and in the A340-300s from 42 to 36.
Read the full story here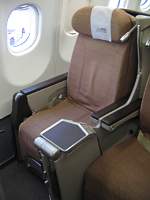 A340 Business class seat

Iberia operates a solely Airbus fleet, after it has now retired all Boeing aircraft from the fleet, and the ancient 'MadDog' McDonnell Douglas planes. Now, Iberia just operate A330 and A340 aircraft longhaul, and the A320 shorthaul.
Iberia's smaller offshoot airline Air Nostrum also has ATR-72, Dash-8 and Bombardier Canadair Regional Jet (200 & 900) aircraft, which it uses for very small airports where there is often a short runway.
Iberia have scrapped First Class, and have not introduced a Premium Economy. Instead, there is just Economy Class, and Business Class. However Business class comes in the three variants. There is a decent Long Haul Business Class for the trans-Atlantic routes which has recently been uprated with a new style clamshell flatbed seat. There is a sort of half-way house for the longest of the short-haul routes with uprated seats, and then the pretty standard Business Class you'd expect, with normal seats shorthaul.

Iberia A340 at Madrid

still operate two classes in all its aircraft, with a full and impressive business class even short haul, but with a very poor no-frills economy class.
Iberia Airbus A340-300 / A340-600 / A330-300
Iberia has 18 Airbus A340-300 and 18 of the larger Airbus A340-600 in the fleet. It is also planning to add a large fleet of Airbus A330s. They are designed for long-haul, but can operate on some surprising routes, including the Madrid to Barcelona shuttle, to the Canary Islands, and even occasionally to London Heathrow.

Iberia A340 at Madrid

New Business Class seats have been fitted to most of the fleet. Iberia have finally given in to the inevitable, and turned it's existing business class seats into fully flat beds. It's achieved this by ripping out a row of seats in the front cabin of its A340 aircraft, which means the seats can be spaced out more, and so it can then increasing the recline of these seats. These seats are good, with a clamshell style design, that turn into a fully flat bed 2.2 meters long.
Old Business Class seats feature a 75" pitch lie flat-ish (but with an angle of 13 degrees - that is aligned to the position of an aircraft at cruise altitude). Seats are in a 2+2+2 format. They are in rows 3 to 9 in the A340-600, and from row 2 to 9 in the A340-300, but with an exit at row 6. This exit row is actually pretty unpopular, thanks to the having the toilets right ahead of it.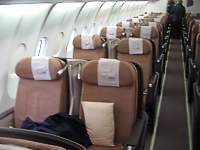 A340 Business class cabin

Economy is very much that - seats come in a 2+4+2 layout (which for couples travelling together actually works out as a better layout than the 747s 3+3+3.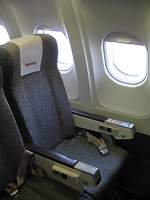 A340 economy seat

It's got a 32" pitch, and not the slightest sign of any frills. There are no seatback TVs. In the A340-600 Row 20 is the overwing emergency exit, while there is a proper exit row at row 35 which is a favourite among regular fliers. Row 10 is a bulkhead, with the basinet (screamer) seats, and are very unpopular.
In the A340-300 there is just one exit row - row 22 - which has the crew sitting staring in front of you, and only a thin sliver of a window. The sole inflight telephones for economy are here, as are the loos (ahead of you) so it's not a very popular seat). Row 8 however is a much better bulkhead, with a full window, but narrow seats due to the armrest table, and only 3 seats across in the middle.
First Class has recently been abandoned as a class by Iberia. It was up the front, where you would expect it. Seats were in a 2-1-2 pattern with an 87" pitch. There were only 2 rows of 5 seats in the A340-600, while there is only one row in the A340-300.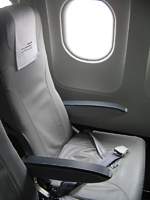 Iberia A320 business class seat

Iberia Airbus A320/A321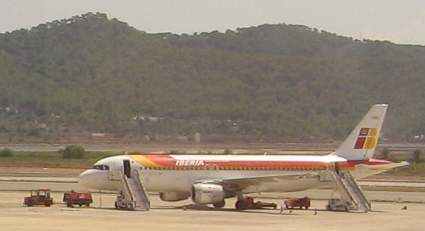 Iberia A320 at Ibiza

The workhorse of Iberia's shorthaul fleet, there are 35 of the standard Airbus A320-200, 23 of the much smaller Airbus A319-100, and 19 of the stretched Airbus A321-200.
For most of the aircraft, seats are in a 3+3 layout in business and economy, with a business class cabin which is changed in size by moving a curtain.
On the A320 and A321 the Business Class seat is identical to the economy seat, both in pitch and in width, however if you are in business, and sit on the left, the centre seat is blocked off and the seat arms moved across to give a larger seat - accordingly it is well worth asking to sit in A or C in business. Seat pitch is 32 inches. All models have large 14 inch fold down LCD TV screen under the overhead lockers for both classes,.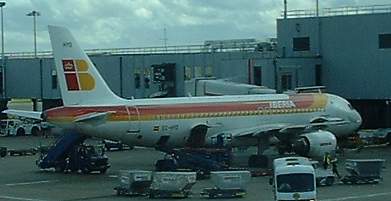 Iberia A320 at London LHR

The A320s seat 144, with the variable business class seats extending back as far as row 20, although in normal configuration they are only used with the first 3 rows as business class. Row 10 is the overwing emergency exit - if you ask to sit here, you will get 2 inches more legroom.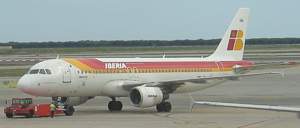 Iberia A320 at Barcelona

The larger A321 which seat 181 and are comfortable and modern. Service can be a bit slow, with only a single isle for service. There are no overwing emergency exits, but there is a proper door at row 9 and row 23, so you can as much legroom as you want if you sit in the row behind it, however you do not get an sort of window, and you are seated next to a member of the cabin crew (in seat D). Row 6 also has a blanker at the window, so is to be avoided. This model has some of the largest loos on an Airbus, with 3 in a cluster at the back, and just one at the front.
The rather squat A319s is smaller, and has only one overwing ejectable windows - sit here, in row 9, and you'll get 2 inches extra legroom.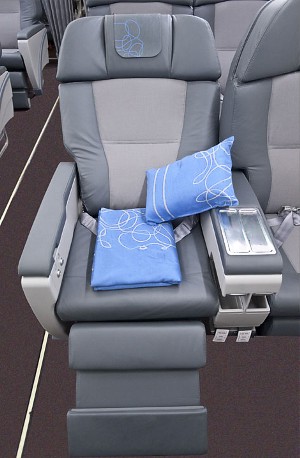 New A319 Iberia Business Class seat
Five of Iberia's Airbus A319 are known as 'the specials'. These aircraft are used because Iberia - based as it is, down at the bottom end of Europe - has some very long thin routes, with not many customers on small planes that travel a long way. Consequently it uses an Airbus A319 on routes up to 6 hours long: nearly a trans-Atlantic flight, but with a decidedly cramp plane. Consequently Iberia's A319 aircraft flying from from Madrid to Malabo in Equatorial Guinea, Lagos, Moscow, Tel Aviv, and Cairo. have the new "Business Club" seats.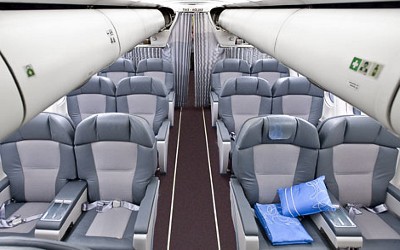 New Short Haul Iberia Business Class cabin
On the
New Iberia A319 in Business Class
the new seat has a 50 inch pitch (1.27 metres), and reclines to half way horizontal, allowing an OK sleep. There are only 2 abreast on each side of the cabin, and unlike the old adjustable seat, this is a true, large, Business Class recliner, giving 14 seats in the Business Club section which are 21.6 inches wide, and have adjustable backs, head rests (four positions), leg rests and foot rests. There is a coat hook and a number of cubby holes for storing shoes and books.
There is also entertainment - of a kind - on board. It has a PSP console preloaded 10 high-definition films, 10 television episodes (one in English), and ten audio channels. Alas, as bmi found when it introduced a similar system, it found it was not popular with passengers who have to choose between holding it, or putting it on the tray table, and not eating.
Of course in the back of the bus, in the A319 in economy, things are the same as usual, however there is normally a film shown on the overhead entertainment.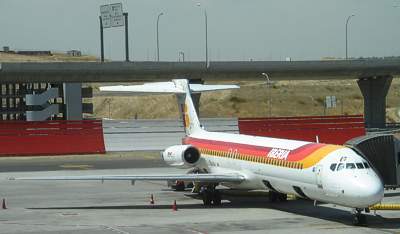 Iberia MD88 at Madrid

Iberia MD87/88
All of the McDonnell Douglas MD-87 and McDonnell Douglas MD-88s have left Iberia's fleet - and passengers are very thankful.
They were well looked after, so the age is not really an issue, but even so these are wacky planes with the engines strapped to their backside. The idea (back in the days of really noisy engines) is that it's quieter for passengers in the expensive seats at the front. Very true, but if you're late at check in you'll get the window seat at the back of the plane, and spend the flight looking out over a great view of engine cowling. It'll be several hours after the flight lands that your ears stop bleeding and you can hear again.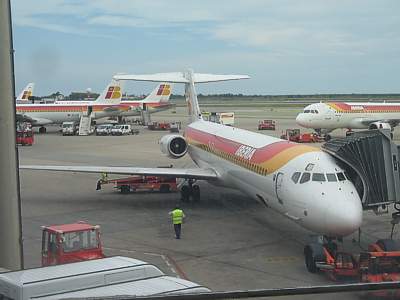 Iberia MD88 at Barcelona

The layout of the aircraft are pretty much a mirror image of each other. In the MD87 there are three seats on the left of the aircraft, and two on the right, where as in the MD88 there are two on the left and three on the right - so you're better off in seats A and B.
There's a wacky formation with the galley at the back of the aircraft on the left - so if you sit opposite the galley in row 23 (MD87) or row 29 (MD88) you get very quick service.
Iberia 757-200
Once a mainstay of Iberia, the very last Boeing 757-200 is now leaving the fleet.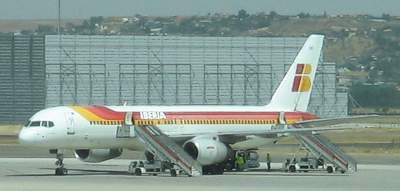 Iberia 757 at Madrid

The Boeing 757-200 is the smaller version, seating 176 in two classes, flying 3,900 miles. Some of these are quite old - and you can tell by the fixed CRT TVs in the ceiling.
In business seats are in a 3+3 pattern, from row 1 to row 7, although this can move if there are heavy loads. All seats have a pitch of 34 inches. A new policy means that in Iberia Business Class the central seat (B & E) will remain empty in all flights to Europe, North Africa and the Near East.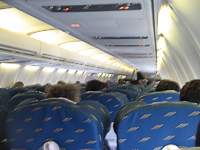 Iberia 757 the long thin cabin

In economy all seats have a pitch of 32", with the most sought after seats being row 9, the emergency exit rows (although here there is only a thin sliver of a window), and row 17 and 18, the overwing exits where there is a whopping 38 inches of legroom (and good windows), plus there are only 2 seats on each side here.
To deplane the aircraft quickly, Iberia often bring steps to the rear door of the aircraft, so if you need to get off the plane quickly, it can often pay to sit right at the back.