The uniquely Dutch airline KLM is now strange mix of longhaul with few frills, and yet moderately high fares. KLM is the oldest airline in the world still operating under its original name (Koninklijke Luchtvaart Maatschappij - or Royal Aviation Company - if you really need to know), but it now merged with the French flag carrier. While the merger of KLM Royal Dutch Airlines, for years the flagship carrier of the Netherlands, and the Gallic giant Air France is yet to bed down, it's clear that onboard there are some unwelcome changes for passengers. Even though the powers that be have insisted both carriers will operate as semi-independent entities, mergers of lounges, codesharing, and the Frequent Flyer scheme continues. The entity is known as Air France-KLM, but both Air France and KLM continue under their own distinct brand names.
KLM has been in a steady decline for the past five years, and ever since it's merger with AirFrance, there has been a steady slide from one of the World's premier airlines to nothing more than a low frills airline. KLM's management makes it clear it want to make adjustments to things like it's inflight catering and Frequent Flyer schemes to compete with these carriers, however it now in a position such that there is little to distinguish it with the likes of Iberia and AerLingus shorthall, and yet base fares around Europe are a good 25% higher than that of it's main rivals like Lufthansa and BA.
KLM's headquarters are in Amstelveen near its hub at Amsterdam Schiphol Airport .
KLM made an odd decision a few years ago to become a dry airline and scrap alcohol onboard around Europe. Faced with seeing passengers decamp to Lufthansa, KLM has now reintroduced free alcoholic drinks and food on its short-haul flights. For European flights over 170 minutes passengers can expect a more substantial snack. KLM will offer a cereal bar, fruit juice, warm croissant and jam to passengers on flights departing before 10am and after that passengers will receive a cold pasta salad with cheese and a warm slice of focaccia bread.
KLM's Flying Blue Frequent Flyer scheme is still a decent-ish programme, particularly when buying upgrades, but it is no longer the scheme it once was, particularly since silver Frequent Flyers are no longer allowed to visit the lounges. ... read more about KLM's seats and fleet.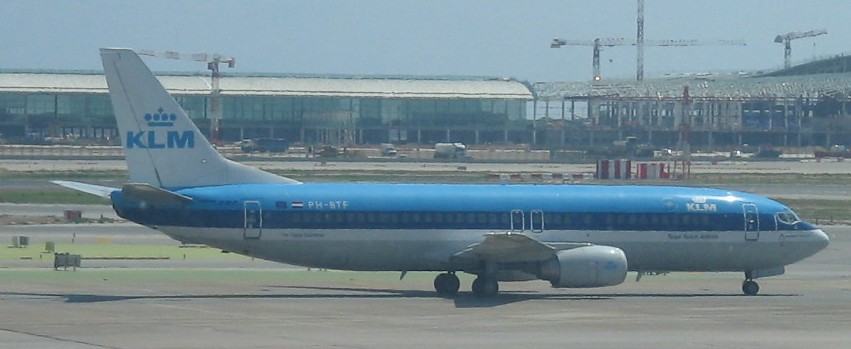 KLM Boeing 737 at Barcelona

Note that all reviews and opinions on KLM food, service, seats, planes, upgrades, lounges, and the Frequent Flyer scheme is soley at my judgement. No legal liability is accepted if you take my advice.