Southampton
was the main hub on the FlyBE network. A small tiny airport with a short runway, its an unusual place to base a hub, however now with the takeover of BA Connect, FlyBE actually has more flights out of Gatwick.
A flight takes off for Edinburgh at 1210 and 1740 except on a Saturday at 1235 and Sunday at 1125 and 1800. Belfast has flights in the week at 0845, 1420, and 1945, on a Saturday at 1310, and Sunday at 1540. Dublin gets a fright at 0700 and 1830 except on a Saturday December to March when takeoff is at 1110.

FlyBE BAE146 in latest livery at Dublin

Guernsey has flights at 0750, 1025, 1505, 1740, and 1955 during the week, and Sunday, 0850, 1205, 1850, and 1915 on a Saturday. Jersey has flights at every day 0820, 1105 (not Saturday), 1530, and 1950. Paris at 0845 (except Sunday) and 1820 (except Saturday).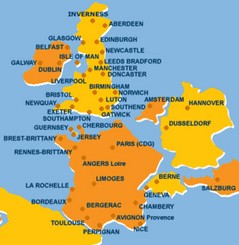 FlyBE Routes
From Southampton to Alicante gets a flight on Monday, Wednesday, & Friday at 0720, Sunday at 0800 (0930 in the winter) and Saturday at 1305. Bergerac takes off at 1305 except on Saturday at 1635. Geneva has a daily flight at 1035. La Rochelle at 1345 Monday to Friday June to October.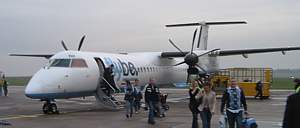 Leeds/Bradford Dash 8 at LBA

Malaga
at 0755 (1130 on Saturdays April to October).
Murcia
at 1525 (0625 on Saturdays, and 1615 on Sundays).
Perpignan
at 1035 every day June to October.
Prague
at 1715 (0650 on Saturdays).
Salzberg
at 1125 every day except in November.
Ibiza
in the summer only, and
Toulouse
at 1330 (1455 at weekends).
From Birmingham there are routes to Jersey, Guernsey, the Isle of Man, Edinburgh, Glasgow, Belfast, Perpignan, Salzburg, Toulouse & Shannon. A small hub at Bristol includes Jersey, the Isle of Man, Toulouse, Bergerac, Belfast & Bordeaux. Exeter includes flights to Jersey, Guernsey, Glasgow & Belfast.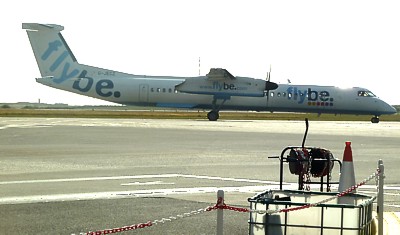 FlyBE Dash 8 at Newquay
From Heathrow there are only the codeshare flight to Paris, at 0645, 0815, 0915, 1015, 1115, 1400, 1600, 1700, 1800, 1915, 2015 and 2045.
Airline schedules change regularly
This information is intended as a guide, but for up to the minute timetables, please consult FlyBE at www.FlyBE.com