.
Many changes are afoot in the Flybe lounge world. For many years there were just two lounges, at Jersey and Southampton. But when Flybe took over many of BA's routes, it also either took over some of the more remote BA lounges, or built new ones. Alas, this means that in some locations – such as Gatwick – the lounges are very much an afterthought, put in some very odd places.
To get access to the lounges, you either need to buy an Economy Plus ticket, buy a 12 month Premier card, which gives you access for free, or sign up to Priority Pass. Generally, its cheaper to spend your points on a Premier, however Priority Pass gives you access to lounges around the world.
There is also a devious third way. In a few locations such as Newquay, the lounge is actually operated by the airport and they will sell access to anyone for a few pounds, even with a cheap ticket. At other places like Gatwick there are pay-per-entry lounges which are much nicer that a Flybe lounge, and cheaper to boot.
Flybe lounge locations are spread around 11 places around the UK. They are at Aberdeen, Belfast City, Birmingham, Edinburgh, Glasgow, Guernsey, Inverness, Jersey, London Gatwick, Manchester, and Southampton.
Flybe also have deals so that outside the UK you can use partner lounges in Paris, Amsterdam, and the Isle of Man. Other than that, you're stuck, and don't get access: hence, there are quite a few passengers who book Economy Plus on the way out for the lounge, but economy on the return, and just buy access to the airport Generic Lounge.
Southampton - SOU - FlyBE Executive Lounges
FlyBE has the only Executive Lounge is in Southampton, following BA's abandonment. However it puts many generic lounges to shame.
The Southampton lounge is rather annoying placed before security (so that means you have to leave some time before your flight to ensure you make it on time). No flight announcements are made in it. Its at the runway end of the main hall on the left, to the right of the FlyBE ticket desk. You take your Economy Plus voucher here, and trade it in for the door code, which is usually something like 8467.
The lounge offers a view of the runway (just, over the top of the luggage conveyor) and two seating areas. The main one is as you go in. Then if you turn left through the arch, there is a newspaper and magazine rack on the far side of the arch, and the bar to your left.
The bar offers white (Maison Thorn Chablis) and red wine (Morgan Les Creusats). Port (Marks and Spencer's own brand!) with beer in the fridge (French Kronenbourg). Food is a bit limited, with packets of Walkers Crisps, biscuits, and fruit in a bowl by the door.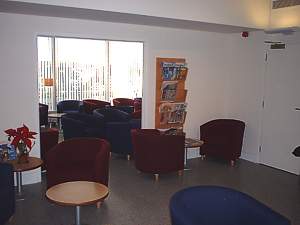 Executive Lounge Southampton

There is a full selection of Newspapers, with one copy of every daily, but very few magazines.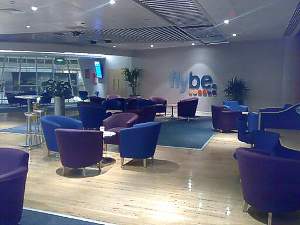 Flybe Lounge Manchester

Manchester - MAN - FlyBE Executive Lounges
FlyBE has now built a large lounge in Manchester. There is a great view over the airport, once you climb the stairs in the middle of the terminal. Chairs are the standard blue ones that look almost as if they've been "borrowed" from BA's now much smaller lounge.
Food is pretty basic, but then from Manchester you flight is unlikely to be more than a hour long, so you won't starve. There are packets of crisps, nuts, and biscuits. The Bar is better, with cans of beer in the fridge, and wine on the counter top. There are two reds, but only one white, in a cooler bucket.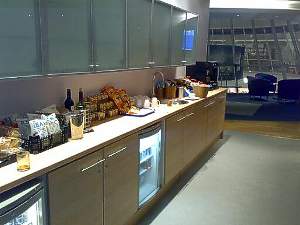 Flybe Lounge Manchester

London Gatwick - LGW - FlyBE Executive Lounges
South Terminal, far corridor past Harrods, pas gate 9, left a bit
Open 0600-2100
Now that FlyBE has a small hub at Gatwick, it has a lounge there too. Alas, it really isn't inspiring, and is tucked away in the most inconvenient location imaginable. Once your're through security go all the way through the shopping area, and down the dingy corridor to the right of Harrods. Walk all the way down, past the gates, and the lounge such as it is, is on the far side.
Food is limited to crisps and small slabs of fruit cake sealed firmly in packets. The bar is marginally better, with cans of Stella in the fridge, and one bottle of fairly non-descript white and red.
This lounge is pretty non-descript at best: it really is a waste of money buying an Economy Plus ticket to come in here. If you need to buy lounge access, much better is the Gatwick No.1 Lounge, which for 25 quid is really quite spacious with great food and a very good bar.
Newquay - NQY - Flybe Business Class Lounge
Small door beside teabar
Open 0530-2200
Access to Flybe Economy Plus passengers, priority pass, of £25 entry fee
At the small Cornish hub of Newquay it's a pleasant surprise to find there is a full business class lounge. Technically this lounge is owned and operated by the airport, but pretty much the only passengers to use it are those on Air Southwest and Eastern Airways, except in mid-summer when Lufthansa's business class passengers get the perk too, and for a few hours it becomes the defacto Star Alliance lounge at Newquay.
The lounge is unattended (even though there is a small reception desk) so make sure you ask at checkin for the door code. The four digit code is written down on a small piece of card, and you punch the code into the door. Finding the door is easy: it's at the far side of the main airport waiting lobby, past the small snackbar.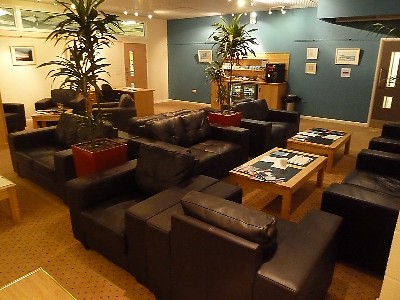 Newquay Business Class Lounge
If you are Priority Pass, present your credentials before security at the Information Desk to the right of the check-in desks. Although it is never advertised, if you pay a £25 entry fee, anyone can buy entry to the lounge.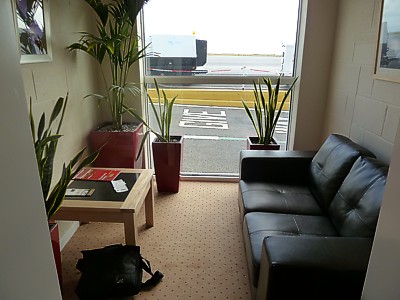 Newquay the small window cubby hole in the Lounge
The Newquay business class lounge is lovely; small, compact, and feeling exclusive, it is the way all business class lounges should be. Plus, it gets hardly any traffic, and so it still has that very new (if slightly broom-cupboard) feel.
There is seating for 24 people, mainly in large squishy brown leather armchairs, although there are also a couple of sofas along the far walls, set around low coffee tables, and with a couple of palm trees in pots to complete that Cornish feeling. Around the walls there are some quite nice photos, most of which have been taken by the airport staff. At the far end is a lovely alcove - and the only window - with just one seat and a coffee table, overlooking the airfield and the two gates. It is by far the best seat in the lounge.
There is one wall-mounted television (which is usually turned off, however it does receive Freeview, and when on it is often on News 24) and a separate flight departure screen, although when a flight departs, there's usually a shout across the inside of the hut (sorry, airport) to hurry people along. There are no showers in the lounge, but there are two unisex toilets, in the corridor in the nearside corner, and a vending machine offering toothbrushes.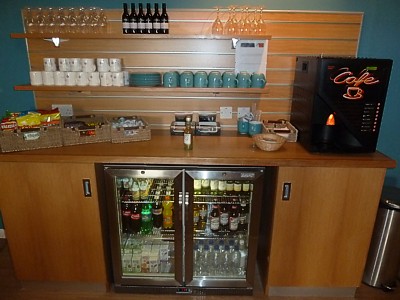 Newquay Business Class Lounge
Business facilities are spartan. There are no computers in the lounge, but there are three simple workstations in the far corner, with a net port (bring your own RJ45 cable). There is also free secure wifi in just in the lounge (the code is on a laminated card sitting on one of the tables, although this tends to move around) but it is very slow. Better is the free (unsecure) wifi throughout the whole airport terminal: take your pick, but remember to bring your own laptop. There is no telephone or fax in the lounge, but there is a payphone next to the snackbar outside if you are really desperate (which you may be: mobile reception at NQY is notoriously poor, and good luck finding any 3G).
Forget coming to the lounge for food: there really isn't any. However the designers realised that for most English passengers on a short flight, what they really want is some chocolate and several beers. Hence there is a large wicker basket of chocolate bars, and another of crisps. No wonder the staff at the airfield tend to refer to this room as the free sweet shop: Kitkats, Maltesers, Smarties, Maratons, Drifters, and Mars bars: there's enough free sugar on tap to have you running around the terminal. Add to this the crisp basket with Walkers and Doritos, and it actually makes a refreshing change from the usual lounge fare.
Finally, there is a bar, and although this looks poor too, actually it offers some pretty choices. Forget spirits: all the offerings are in the small fridge under the worktop on the left side as you enter. Beer is either Corona, Peroni or Budweiser. Wine is the usual British drinking wine of Jacobs Creek, in white or rose variants, or an anonymous Italian, while red is right on the extreme top of the unit (and rather hard to reach). There are also small bottles of tonic water (but, of course, no gin), and larger bottles of Coke and Fanta, plus banana and chocolate Yazoo milkshakes, and orange and apple juice cartons.
Interestingly, the development of this lounge was paid for via the curious Newquay passenger charge, of £5 levied on all passengers: a curious way of getting economy class passengers to pay for the perks of those up the pointy end.