FlyBE have scrapped free drinks on all services. Even tea and coffee cost £2.30, while cans of Pepsi are £1.60. Wine is £3.90 Sparkling Wine £8, Beer £3.90 Spirits (G+T/Vodka/Whisky/Rum) £3.30.
Wine £3.90
Sparkling Wine £8
Beer £3.90
Spirits (G+T/Vodka/Whisky/Rum) £3.30
Tea / Coffee / Cappuccino £2.30
FlyBE Food
Indeed, forget the delights of a free bar in the sky; drinking on FlyBE can be ruinously expensive. Accordinly you might want to scan some of the special deals that FlyBE offer. One good one is to get 2 beers or 2 wines for £7. This saves 80 pence: small fry, but worth it in the long run.
Fly BE Red Wine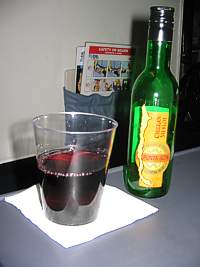 Punta Alta Merlot
Chilean Merlot
This is a dreadful red wine, and its a real shocker that Flybe offer this muck. It's pure jetfuel A1.
13.5%. 187ml bottle. £3.00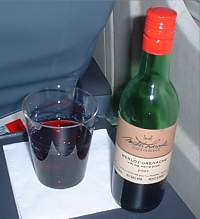 Merlot-Grenache Vin de Pays d'Oc Merlot-Grenache
This is a very nice Merlot, and its quite a suprise finding it on FlyBE. Admittedly it is just normal French table wine, but I like it and it has great colour and clarity.
13.5%. 187ml bottle. £3.00
FlyBE White Wine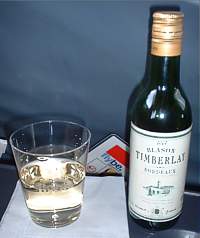 Blason Timberlay Bordeaux
Blason Timberlay Bordeaux
A decent enough white wine. This will never win any prizes, but its ok in a middlingly dry, middlingly flavoured, middle of the road type of way.
11.5%. 187ml bottle. £3.00
FlyBE Beer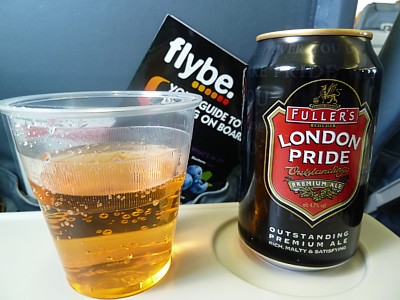 London Pride beer Fuller's flagship classic premium ale Rich and smooth, London Pride has a good malty base with an excellent blend of hop character, resulting in a easy drinking beer with great body and a fruity, satisfying finish. It's a rare find on a plane, and great with the BLT sandwiches.
London Pride was crowned the Supreme Champion at the 2000 International Beer and Cider competition. London Pride was named Champion Best Bitter at the CAMRA Great British Beer Festival in 1995, and in 1979 when it also achieved the ultimate accolade of Beer of the Year.
On board it is slightly strong than you'd find on draft - 4.7% against 4.1%.
4.7%. 330ml can. £3.90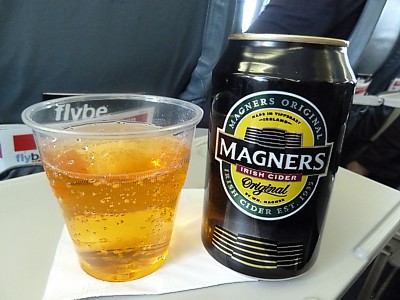 Magners Cider Irish Cider Based on natural ingredients, Magners Cider is totally unique compared to all other ciders, as it somehow tastes more refreshing and does not taste as strong compared to other ciders. Commercial cider production was started in Clonmel, South Tipperary in 1935, by local man William Magner, since when they have been pumping out millions of gallons of this stuff, which is now made by C&C. It really isn't too bad.
Incidentally, this is pretty obscure to find on a plane, but even more obscure is the Perry pear cider that FlyBE also serve inflight. That's really a rare one.
3.5%. 330ml can. £3.90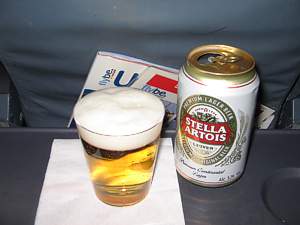 Stella Artois 4 Stella
Beer comes in just one size and shape on FlyBE, Stella. Still its a pretty good beer, and will last for most of the short flights. Not your classic wifebeater, this is the much milder version, at only 4% (hence the name, 4).
It is an easy drinking, thirst quenching Belgian Lager type Pils, with the distinct, yet softer Artois hoppiness, expertly balanced with refreshing malty sweetness and zesty notes finishing in the characteristically Artois lingering hoppy dryness.
Stella Artois 4% is a good palette cleanser and great with both sweet and savoury flavours.
4%. 330ml can. £3.90
FlyBE Alcopops
Bacardi Breezer Orange
FlyBE's crew and passengers are all young. Mid 20s is the average age to some of the party destinations. So it's no suprise that on board you can get... Alcopops! Bacardi Breezer Orange is definately flavour of the month on the flights to Palma.
11.0%. 330ml bottle. £3.00
Spirits
Whisky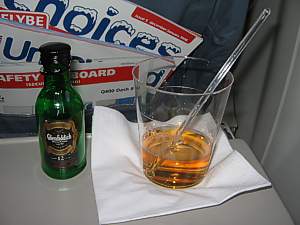 Glenfiddich Malt Whisky
On some of the routes to Scotland, you'll be hunting for some of the good stuff from north of the border to make the flight go by. Gelnfiddich does just the job - although getting any ice for it to go with can be a struggle.
40.0%. 5cl bottle. £3.30
Gin and Tonic
Gordon's Gin with tonic. It could be worse, far worse.
40.0%. 5cl bottle. £3.30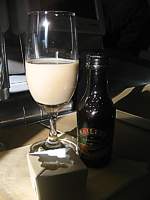 Baileys
Great after a long dinner over the Urals on your way to Istanbul, before getting some kip at 38,000 feet.
40.0%. 5cl bottle. £3.30