FlyBE ticket types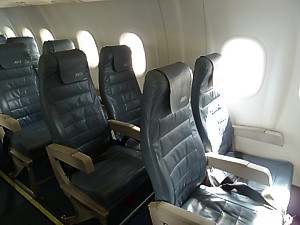 FlyBE Dash 8 seats
Flybe is a low cost low frills airline - with a kind of business class. Economy Plus.
Economy is FlyBE's standard product. Changing ticket times, or the name on a ticket is possible - at £25 per sector at up to two hours before takeoff. However you need to call the FlyBE call centre (0906 209 0003) at £1 a minute. You pay for your food & drinks on board, and it is also now possible to collect Rewards4all Frequent Flyer points with this type of ticket.
Economy Plus is FlyBE's business class service. However the seats are no different, with all of the rows having a seat pitch of 31". If you are lucky enough to fly on one of BE's older BAE146s you'd get lucky enough to get leather seats, which almost makes up for the very narrow width, otherwise Economy Plus just gets the same seats as in Economy. The most important bit is that you gain access to the lounges, although in some cases they aren't up to much.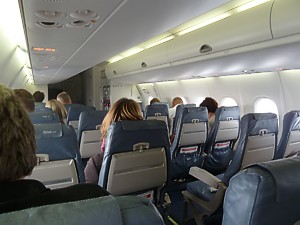 FlyBE Dash 8 seats
However you get to check in just 20 minutes before Domestic/Irish flights at dedicated desks, you also get free food from the 'Deli in the Sky' selection. When you check in you will be handed a strip of three vouchers, to use for food, drink, and lounge access. You also gain 40kg of baggage allowance, although you are still permitted only one bag in the cabin. Flybe Economy Plus tickets are also fully changeable, and you can pick your seat before the flight: even BA won't let non-status passengers do that.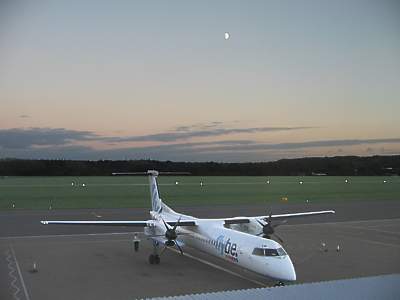 Q400 at dusk at Southampton

services, which are stamped with todays date. You get 10 points Frequent Flyer points, and can change your ticket without charge.
... read more about FlyBE's inflight experience
.
Flybe has reduce its fleet to just 2 type of aircraft, the Dash 8 Q400 and the Embraer E-195. All of the BAe146 and Canadair RJ, plus the Dash 8 Q200s, have been retired.
FlyBE DHC Dash 8 (Q400)
If you fly on Flybe, chances are you'll be on a Dash 8. Flybe is the world's largest operator of the Q400 version of the Dash 8. Flybe have a whopping 53 of these, with more on order. These are very new twin engined turbo prop aircraft seating 78 passengers in the newest (Q400) of which FlyBE have ordered another 20.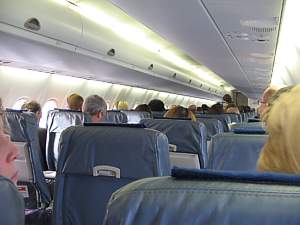 Q400 the cabin

They are only a little slower than the BAE146 jets (Belfast to Birmingham takes 10 minutes more). Comfortable but can be a little bumpy in bad weather but they are pretty safe.
The Q400 version feels a little odd in the cabin. It has 2+2 seating and is quite narrow, and very long.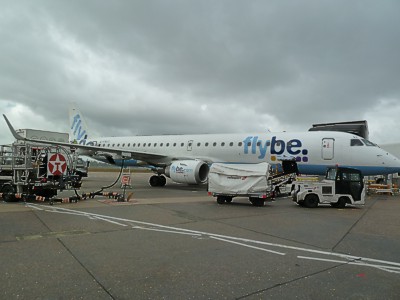 FlyBE Embraer E-195 at London Gatwick
FlyBE Embraer E-195
FlyBE's Embraer E-195s look just like a normal jet - but ever so slightly smaller. And when you're on board, you find out why. They are in a 2+2 seating layout, with a quite narrow aisle. Seat pitch is 30 inches, which is actually quite generous compared to some other airlines, although it may not feel like that after a couple of hours cooped up in the cabin. They seat 118 passengers.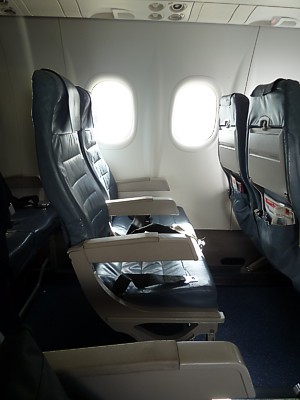 FlyBE Embraer E-195 seats
Flybe have 14 of these, and they then to be used on the longest routes from Gatwick. The best seat on the FlyBE Embraer E-195 is of course row 1 A and B, which are the bulkhead, or row 2 C and D. Failing that, row 15 is an emergency exit, with a bit more leg room.
Flybe was actually the worldwide launch customer for the Embraer E-195, which are used to replace Flybe's BAe 146 aircraft, and at launch used the slogan "No more middle seat", as a way of spining the PR that the aircraft were actually smaller than the planes they replaced.
FlyBE Embraer E-175
Flybe has ordered a large fleet of 88 these smaller versions of the Embraer E-195. They will seat 88 passengers.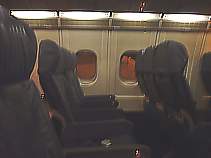 BAE146 leather seats

Flybe Retired fleet
Flybe used to have a decidedly mixed fleet of BAE146s. All of these have now retired.
FlyBE BAE146-300
FlyBE had a motley collection of BAE146s. Some are very good, while other date from Jersey European days, and are getting decidedly elderly. You can generally tell the age of the aircraft by its livery, as FlyBE don't tend to repaint their planes if they can help it.

FlyBE BAE146 in dual "Air France" livery at Southampton

All the BAE146s have 3+3 seating in the cabin - most airlines only put in 5 seats abreast, so although seat pitch is better than most no-frills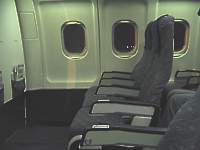 BAE146 row 1 seats

airlines at 31", the width is definitely a bit of a squeeze. The best seats are 1A and 1F, as seats 1B and 1E are never used, and you can often get these seats if you ask at checkin. Otherwise you could sit at the back of the cabin since the middle seats tend to fill up from the front, however in-cabin engine-noise is another failing of the 146, so prepare for your ears to bleed before you land.
Views of the ground are another strong point of the BAE146, because of the high wing above the cabin, so no seats suffer a wing view. Row 5 gives you a lovely view of the engine cowling, but not much else, and row 6 gets a blanker in the window. The overhead lockers in rows 6 to 10 are half size - and on the BAE 146 they are pretty tiny anyway.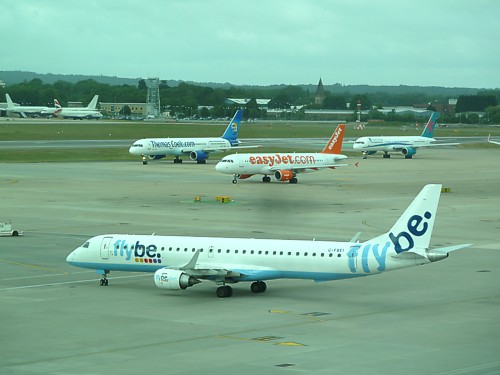 FlyBE Embraer E-195 at London Gatwick
It is also worth noting that although beautiful, with great handling characterists, and it can take off from a handkerchief, the BAE146 is not the most reliable of aircraft. The older ones tend to go technical just because there is a D in the day.