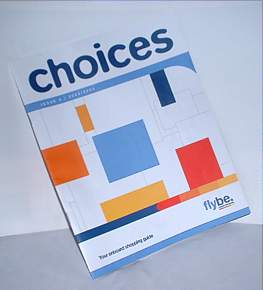 FlyBE Inflight Magazine - Choices

If you think that there is no inflight entertain on Flybe, you'd be wrong. Just look at the passengers. That's entertainment enough. But, joking aside, there are of course no overhead TV screens or fancy audio channels: why should there be? Most Flybe flights are so short, there is no point. However, Flybe of course, makes the most of the absence of this, and advertises that on each flight you can relax to the sound of 'Flybe unplugged'.
Unplugged because you don't get - and can't plug in - headphones. Yes, Flybe like to entertain you with music played over the aircraft PA on the ground, and on some flights in the air.
This can be a right mixture, depending on which crew member is in charge of the mix tape. Sometimes its 80s disco, 90s rock, or soft melodies from an indeterminate era. Some crews take requests.
FlyBE Inflight Magazine - Uncovered & Choices
The inflight magazine
Uncovered
is suprisingly good, and considering it comes from such a small low-cost airline, it really is one of the best in its class. As it should be - it's produced for FlyBE by
bmi publications
.
The first page gives information on FlyBE's new routes and planes - normally with natty pictures of the staff holding aloft a huge model of a BAE146. Then there are two pages of the Deli in the Sky, with all the food on board, and the prices. These are priced in GBP Sterling, however the airline will also take the €uro, but as few people pay with €uro, getting change can be a problem.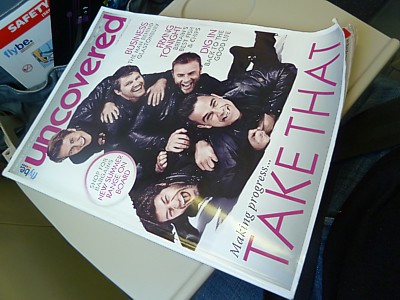 FlyBE inflight magazine
There are then 20 more pages of shopping, which is quite reasonably priced. There are then usually two travel articles about places that are on the FlyBE routemap, although these tend to be bought in from freelance writers who are not noted for their eloquent prose.
Finally, at the back are there are very good and useful guides to all the places FlyBE flies to, with a destination per page. These have a map of the city centre, information on how to get to the airport, hotels and restaurant reviews.
There's a nice section on events happening in the city in the month, and a "Perfect Day" box on what to do if you just have a day in the city. Alas it's all let down a bit by the after dark section on entertainment, which is decidedly vague, tends to list clubs way past their prime, and pubs that have even shut down.
If are traveling on an Air France codeshare, the Uncovered magazine is replaced with a copy of Air France's offering (which is still pretty good) and the Choices magazine. This is a smaller version of Uncovered, and just lists the food and drinks.