FlyBE have scrapped free inflight meals for all flights.
Instead there is FlyBE's Deli in the Sky, which is FlyBE's pay as you eat service. Food consists of sandwiches, cakes and pastries. Snacks include Pringes, Peperami, and chocolate bars.
Classic Sandwich £3.95
Signature Sandwich £4.50
Lemon Loaf Cake / Flapjack £1.80
Choclate Waffle / Muffin £2.00
Croissant breakfast pack £3.00
Wine £3.90 Sparkling Wine £8
Beer £3.90 Spirits (G+T/Vodka/Whisky/Rum) £3.30
Tea / Coffee / Cappuccino £2.30
FlyBE Food
The FlyBE Menu is in the seat pocket infront of you, however it is not available online, so you can't check out prices before hand.
There are normally two trolleys on the plane, one which starts at the front, and the other at the back. Hence, if you want to get your food first, and have some chance of eating it before you get off the plane, you'll need to sit either right at the front, or right at the back.
Beware that quite often the crew don't know what they should be charging for a sandwich - and will charge you the meal deal price (£4.50) instead of the plain sandwich price (£3.75) and then "offer" you a "free" cup of coffee - which you have in fact just bought!
FlyBE inflight food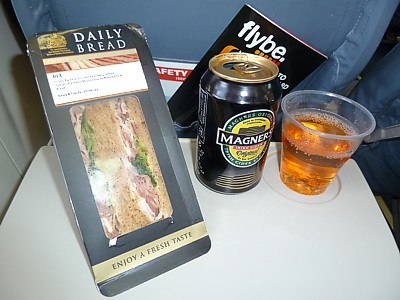 BLT Daily Bread Sandwich
Crispy Bacon with crunchy iceberg lettuce, tomato and creamy mayonaise on malted wheat bread.
Now this is good. Pricey mind, but this is more up with Marks and Spencer than with British Rail. It packs a lot of flavour, particularly in the mayo which is undoubtedly the best bit
£3.95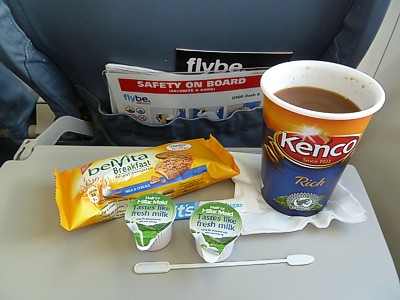 beiVita breakfast bundle
A packet of beiVita breakfast biscuits.
A cup of Kenco coffee.
This is expensive, and pretty much a waste of time. I found the biscuits tasteless, and less than filling. So much for breakfast.
Alas, a claim made by the manufacturer is that the wholegrain in the biscuit allows a slow release of carbohydrates over 4 hours. However the carbohydrate content of these biscuits is 64 grams of which 25 grams is sugar per 100 grams - now that is a lot of sugar. Amazing that they are so dry, but at least you can get a sugar spike out of them.
£2.80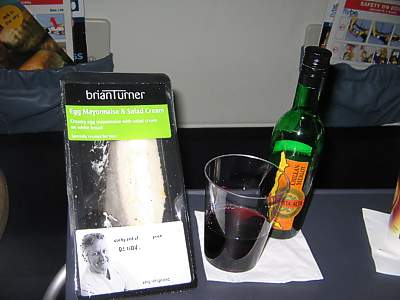 Egg Mayo Sandwich
FlyBE have two types of sandwiches on board. There is the Classic sandwich, and the Signature range. This is the classic version. Both are apparently designed by the celebrity chef Brian Turner. All of them are overpriced and pretty bad.
It consists of two slices of white bread, with a thin bit of egg mayo between them.
This is truly revolting, and BE should be ashamed of offering this in the name of good food.
All classic Sandwiches £3.85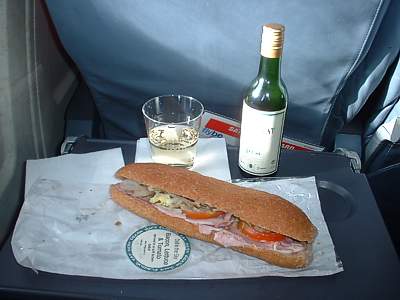 BLT Sandwich
FlyBE have three signature types of sandwiches on board. All of them come in the same type of roll, which is somewhat different to the one displayed in the Choices magazine.
There are options of Vegitarian (cheese and tomato) Chicken Tikka (spicey) and BLT with a slice of ham, two slivers of tomato, and a bit of lettuce.
This BLT is nothing like a BLT should be, but tasty all the same. It has quite nice ham in a roll which tastes very good. But woe is the lettuce - it's seen far better days.
All signature sandwiches £4.50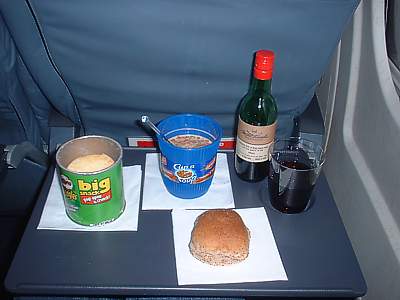 Soup and Pringles
FlyBE has two type of Pringles on board - Original & Sour Cream.
Soup only comes in Tomato flavour. Soup on a plane is a pretty novel idea. However it is actually pretty good - and it's good to get something vaguely hot on the plane. It comes with a small roll, however the roll is cold, hard and without butter.
Soup £2.30 Pringles £1.00