NEWS: Flybe has abandoned it's codesharing scheme with Continental Airlines. You can no longer earn Continental Frequent Flyer miles by flying on Flybe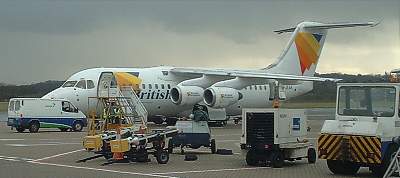 FlyBE BAE146 in old European livery at Southampton

Flybe may be a low-cost airline in all but name, however it boasts something that Easyjet and Ryanair don't: a frequent flyer scheme. And (a rareity among
low-cost
airlines) The best perk is if you fly a lot in economy, you eventually get access to the FlyBE lounges.
Flybe's latest incarnation of a frequent flyer programme is called Rewards4all. It is linked to no other frequent flyer system or airline alliance. A novelty for Flybe is that the system is now managed online, which does away with the older system of collecting stamps in a booklet.
It's easy to join: you can do so online.

FlyBE Dash 8 boarding at Gatwick
The currency of Rewards4all is points.
How to earn Rewards4all points
Flybe still haven't moved on much from their stamp-in-a-book system.
Spending FlyBE miles
Points
Destination

16

Return UK Economy flight

22

Return UK Economy Plus

24

Return European Economy flight

30

Return European Economy Plus

No redeption to Spain, Portugal or Croatia
It's still a very basic point-per-flight style. You earn one reward point for each one-way Economy Flight. Double this to two reward points for a Flybe Economy Plus Flight. And of course, you collect the same on the return flight. There are no extra points for longer flights, or for how much you spend on the ticket, hence the maximum you can get for a trip is 4 Reward Points for a return Flybe Economy Plus Flight.
Flybe Rewards4all points expire two years after you earned them, and there is no way to keep them alive.
Spending Rewards4all points
If earning points is simple, spending them is anything but. However, in general they start at 16 points for a return flight, or an extra 6 points for Economy plus, giving you access to the lounges.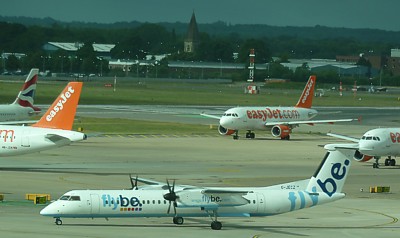 FlyBE Dash 8 taxiing at Gatwick
One major snag is that although you can earn miles (but only at the basic rate) on longer flights, spending them is another matter. You can't use points to fly to Spain, Portugal or Croatia.
Never the less, it is moderately generous, with a free Economy Return flight for only 4 Flybe Economy Plus return flights. That isn't too shabby.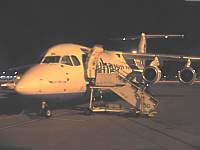 FlyBE BAE146 at Dusseldorf

Flybe Rewards4all Premier
Unlike most Frequent Flyer schemes, there are no status levels granting you access to the lounges, however you can buy access to the lounges for a year by spending points, which gives you a Premier card: almost like status, only you have to buy it.
The price is however quite expensive. 35 Reward Points give you 1 year Executive Lounge access, while 50 Reward Points give 1 year Executive Lounge access for you plus 1 guest .
To put that into context, you'd have to rack up 12 return flights in economy plus, or 24 in economy each year, to get lounge access. But then at this rate, you'd be on the plane twice every two weeks, so lounge access would definitely be a boon.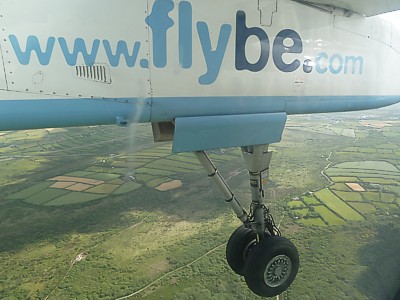 FlyBE Dash 8 comes in to land at Newquay
Incidentally, you will still find references to FlyBE's two previous Frequent Flyer schemes. The most recent was called
Passport to Freedom
, which was pretty much like Rewards4All,

Edinburgh FlyBE BAE146 in old livery

however it gave no points for a normal Economy flight. Unusually it was a paper based system, whereby you were sent a booklet which had Freedom stamps for each flight. For each
Economy Plus
flight you gained 10 points Frequent Flyer points regardless of length, however you had to remember to have your Freedom points booklet stamped at check in each time you fly.
Redeeming points
was quite good value, starting at 30 points for a bunch of flowers, 40 for a crate of wine, 80 for any return Economy flight, 100 for an Air France Economy return, 110 for an Economy Plus flight, and 350 for a weekend break with 2 nights in a hotel. Before this time there was an even more basic system in operation from 1995 to 2001, whereby flights were ticked off on a small slab of card. It seems very quaint now, with a good old manual system for points collection.