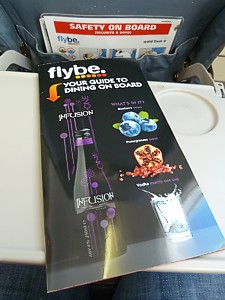 FlyBE inflight menu
The FlyBE experience starts at checkin. Some airports like Southampton just weren't built for the traffic FlyBE now generates, and there just aren't enough checkin desks which FlyBE can use. At other airports FlyBE will only pay for one or two desks. The result can be a long and frustrating queue to check in.
FlyBE's staff are mainly young, so check in is generally a fun experience, but woe betide you if you ignore the warnings about checking in late - the flight will close exactly 45 minutes before takeoff. Luggage rules are also strictly enforced, with 10kg for hand luggage (and its got to be small) or 10kg plus a laptop for Economy Plus, and 20kg for luggage in the hold. You will also be charged for the luggage you check into the hold. There is no charge for hand luggage.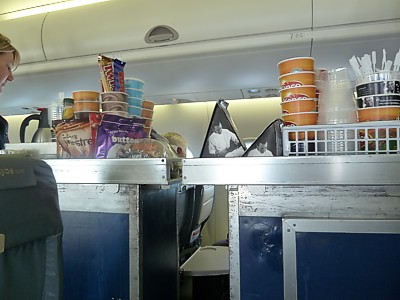 FlyBE when the cabin service is on, it's clear what's on the menu
FlyBE will often board BAE146s on the tarmac using both forward and rear doors - rows 1 to 10 go first, and then 11 to 18 at the rear, before you climb on board, and get to hear some tunes from the 90s as you sit down.
When the trolley comes round, food is served from the rear, and the drinks from the front. The trolleys don't swap round, so if you're in the rear row and want some drinks, there can be a long long wait while the rest of the service is completed before you get some booze.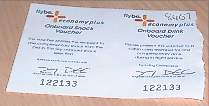 Economy Plus Vouchers

Note that the food service stops on FlyBE flights which take off after 8pm.
FlyBE Baggage Allowance
News: FlyBE has now axed all of the free baggage allowance for economy: the only bag you'll get on board free is the one you carry on.
FlyBE has a pretty standard Luggage allowance for a no frills airline: there is no free baggage allowance. You must either buy it in advance, pay at the airport, or buy a FlyBE Economy Plus ticket.
Cabin Bags: You may carry 1 piece of hand baggage on board the aircraft. The maximum permitted dimensions (please ensure that you include the bag's handles and wheels) for this item are 50 x 35 x 23cm and it should not exceed 10 kilos in weight. If you are travelling in Flybe Economy Plus you may also carry a laptop. Remember that on FlyBE Dash 8s the overhead lockers are very small indeed, and your normal carryon won't fit.
Flybe baggage charges
Online
Option

Allowance

Bags

Price

Small

15 kilos

1

£11.99

Medium

20 kilos

1

£12.99

Extra Kil

23 kilos

1

£30.99

Small

40 kilos

2

£42.99

At the airport
Option

Allowance

Bags

Price

Medium

20 kilos

1

£30

Flybe baggage costs: for the very latest information consult FlyBE
Check in luggage: Flybe Economy Plus allows you to check in up 40kGs into the hold free of charge. Everyone else must pay. Note the really sharp way prices go up from 20kgs to 23kgs - 18 quid for an extra kilo: this is where FlyBE make a lot of money. Also it's well over double the price if you pay at the airport.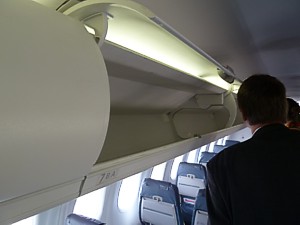 Overhead Luggage Bins FlyBE Dash 8
Be warned that FlyBE used to be very lax about what you could take on board, with the result that everyone took on board everything including the kitchen sink. Now, they're draconian, and check bags carefully – they insist that cabin baggage tags are used, and a baggage check is made during check in and at the gate. Of course many people find a way around this, and it's usual to see economy passengers take virtually everything out of their bags before passing the checkpoints, having stuffed their pockets full of everything small and heavy, only to repack their bags once onboard.
As always, these rules can change. FlyBE's website has details of exactly what you can take onto a flight.