Air Canada routes
Air Canada, as you might expect, has two hubs, at Toronto and Montreal, plus a mini-hub at Vancouver.

Airline schedules change regularly
This information is intended as a guide, but for up to the minute timetables, please consult Air Canada at www.aircanada.com.

From London LHR the main, high-frequency route is to the main hub at Toronto (YYZ). There are five planes a day, however every flight uses a different plane type. This can make a huge difference to your enjoyment on board, and it is well worthwhile booking according to which plane has an XM interior, rather than on connections. The daily flights are 0830 (arrive 1125) on an A340-300, 1105 (arrive 1410) on 767-300, 1300 (arrive 1535) on a 777, 1515 (arrive 1820) on an A330-300, and 1935 (arrive 2240) on a 767-300. Return flights are the highly popular day flight at 0900 (arrive back at LHR 2115) on, oddly, a 767-300, 1810 (A340-300), 1910 (767), 2050 (777 and very popular) and 2255 (A330-300).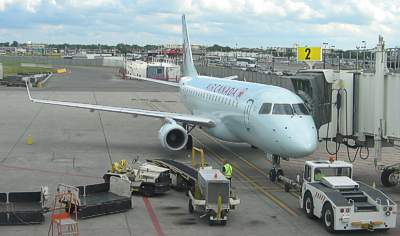 Montreal Air Canada Embraer

Montreal (YUL) has only 2 flights a day from LHR, at 1005 (arrive 1230) and 1530 (in at 1755) both on a 767-300. Return flights are at 1945 and 2230.
Vancouver (YVR) has flights at 1230 (arrive at 1430) and 1500 (gets in at 1700) both on a A330-300. Ottowa (YOW) fares worst of all, with just one flight from LHR at 1415 (arrives at 1655) returning at 1835. This is on a dreadful 767-300, however as this is the sole international flight from Canada's capital (except for some trival US commuter traffic), Air Canada can be thanked for at least keeping this route open to the small, obscure, but very pretty, country town that runs Canada.

Ottawa Air Canada Dash8-300

Even more obscure are the trans-Atlantic runs to Calgary (YYC) at 1315 (arrives 1535) on an A330-300, and to StJohn (YYT) on bizarrely an A319. This was for a long time by far the smallest jet flying the Atlantic (now, it is just beaten by the A318 run by BA from LCY). It feels like a small trans-Europe commuter plane. It leaves LHR at 2240 (arrives 0045 the next day). The business class cabin is actually the Executive Class cabin (usually domestic business class). Tickets on this plane are notoriously cheap, but it is not recommended. Other routes from London include Edmonton (YEG) using a 767-300 at 1615 (arrives 1810) and Halifax (YHZ), leaving LHR at 1235, arriving 1515 in a 767.
There are also direct flights from Toronto to Copenhagen, Rome, Paris Zurich, and Frankfurt.
From Vancouver, Air Canada fly to Sydney on a new, direct Boeing 777 service, leaving Vancouver at 2345 and staggering into Sydney two days later at 0815. In the reverse, it leaves Sydney at 1245, and gets back to Canada at 0720, on the same day, which is very confusing. There are often some very jetlaged Air Canada crew in the Swisshotel in Sydney after this flight. As long and tedious as this flight is, it is much better than the old 767 which used to call in via Honolulu, and took even longer. At no less than 15 hr 25 min long, this is Air Canada's longest flight by time, but by distance (at 12,484 kms (7,575 miles)) it is just beaten by the Toronto to Hong Kong Boeing 777-200LR, which takes the same time, but is 12,569 kms. It leaves Toronto at 1000, arriving at 1315 the next day.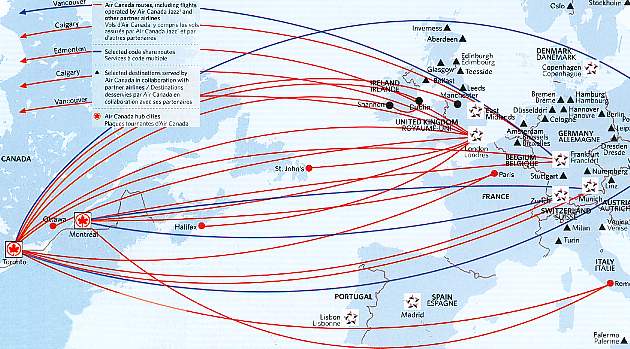 Air Canada Trans-Atlantic routes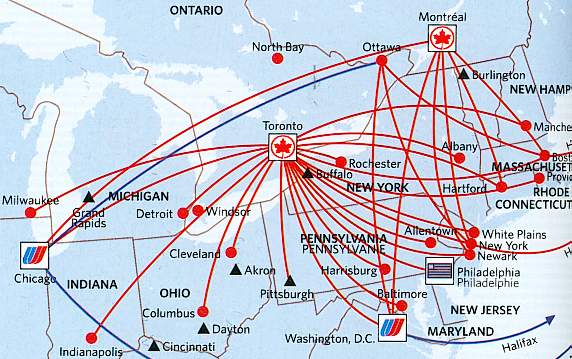 Air Canada North-East routes

Next: Air Canada history >>>
All images and content copyright airreview.com