Air Canada inflight experience
The Air Canada inflight experience is typical of the country, being polite and normally unhurried, giving the experience of going back in time some 20 years ago. That is, until it decends into manic chaos, often as a snow storm threatens the country. Endearing, friendly, and yet occasionally when you fly the carrier on business, you can't help but want them to, well, hurry up a little and buck up their game, although reviews and opinions are mixed about Canada airlines, because it varies so much. Inconsistency is the one consistent trend at Air Canada. The airlines has several tiers of inflight service, which alternates between the very good (in Business on Trans-Atlantic) to downright shoddy (on domestic). As with many things, you get what you pay for, however at least it is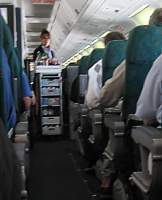 Service in economy


done with a smile and a general willingness to help, unlike on most North American carriers. There is also a less puritanical attitude to alcohol than you would find on a US based carrier, although on domestic/US flights passengers are required to pay for alcohol.

In Business (Executive & Executive First) Newspapers and magazines are available to all passengers. there is a drinks service while the menus are brought around, and then a the meals are taken out individually.

In Economy there is one hurried drinks service, and then you have to wait a long time for the meals to come around - the two trolleys run from the back of the cabin, but will at least offer three choices. Finally, a long time after the meal service, you will get a coffee trolley coming past which also has beer & wine.
Air Canada Longhaul amenity kit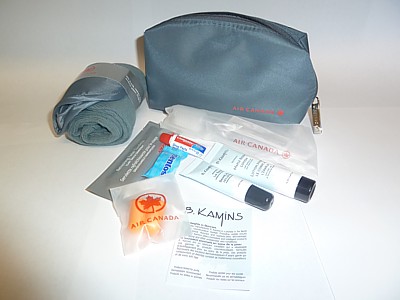 Amenity Kit The Air Canada washbag

In Executive First the Air Canada amenity kit is small, compact, and efficient. Did you really expect anything else? It comes in a logoed Air Canada washbag with a logo even on the zip.

There is a packet with a small tube of toothpaste, and a large toothbrush, in an Air Canada logoed packet, plus Air Canada earplugs.

B. Kamins provide the lotions for Air Canada, and there are tubes with Maple Body Lotion, and B. Kamins Lip Balm, plus a leaflet describing their wares.

Finally, the eyeshade and socks are rolled up, with a cardboard band around it, a refreshing facial towelette and a Mentos mint completes the collection.

The washbag however does win prizes for being small enough to pop into a jacket pocket as you depart the aircraft, leaving your hands free. If only the amenity kit on other airlines like (which has a huge box) or Turkish Airlines could said to be the same.
Air Canada Luggage Allowance
Air Canada have reduced the economy baggage allowance in and between Canada, Europe, India, the U.S. and Mexico, Costa Rica, the Caribbean and Bermuda, from two bags free, to one.
Air Canada has a pretty standard baggage allowance for each flight, but the Air Canada checked baggage allowance gets complicated depending on where you are travelling to. Also, beware the one bag per person limit into the cabin regardless of class.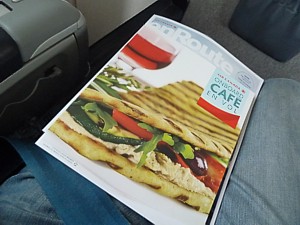 Inflight Menu The Air Canada buy on board menu
Cabin Bags: The limit is the same for Economy Class, and business class. Passengers can take hand luggage of one bag weighing up to 10kgs into the cabin. They must be no larger than 23 cm x 40 cm x 55 cm (9 in x 15.5 in x 21.5 inches). Rules on contents (such as liquids) apply. All classes can also take what is called a Personal article (Maximum size:16 cm x 33 cm x 43 cm (6 in x 13 in x 17 in)). In effect, this means a small handbag, camera, or laptop bag. The maximum weight is 10 kg (22 lb) but this isn't tightly controlled at the gate.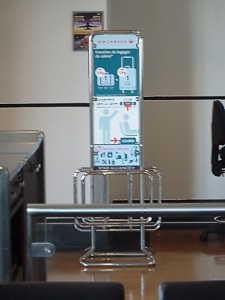 Cabin Bag Check Air Canada Luggage Allowance
Check in luggage: This is where it gets complicated. Internationally, economy can check in 1 bag, with a maximum weight per bag of 23kg (50lb), while business can take 3 bags, with a maximum weight per bag of 32kg (70lb). The linear dimensions per bag should not exceed 158cm (62in). International includes between Canada, and the US, Mexico, Costa Rica, the Caribbean and Bermuda. There are exceptions; for example, all passengers travelling to Brazil are entitled to 2 pieces of checked baggage with a maximum weight of 32 kg (70lb) per piece.
Air Canada Prestige and Star Alliance Silver Frequent Flyers gain 1 bag of checked in luggage allowance if in economy (no extra in business), Air Canada Super Elite & Elite, and Star Alliance Gold get the business class checked in luggage allowance.
As always, these rules can change. Air Canada's website has details of exactly what you can take onto a flight.
Beware that Air Canada is one of the few remaining airlines that permits Cats or small dogs (in its carrier) into the cabin (this counts as your "personal item" in the allowance), and so you may sit next to a small yapping dog for hours.
Next page: Air Canada frequent flyer loyalty scheme >>>
All images and content copyright airreview.com