Air Canada inflight meals
Inflight food on Air Canada is dependent on your destination.

In economy there is good complementary hot food for Long Haul on TransAtlantic & Pacific services, although it tends to be of a hot-meal-on-takeoff, snack on landing type of affair.

Trio-Pantry+Sandwich+beer $10
Harvey Burger $4
Pizza $5
Chicken Caesar Salad $5
Subway Sandwiches $5
Carrot Dips $2
Wine & Beer $5
Tea / Coffee - Free
Air Canada Domestic Food

Things are much better in Business Class (known on Air Canada as Executive First). Here you will be given a proper printed menu on a folded sheet of cardboard at the start of the flight. For most transatlantic flights which leave late in the evening the crew will rush through the service and try and get it done as quickly as possible, however if you want to enjoy the flight just let them know, you get the full 6 course version. However if you do this, you'll only get a couple of hours sleep before being woken up for breakfast.

Flights to North America in economy feature free (normally cold) food to Hawaiian and Mexican destinations and there is a paid for service for flights above 90 minutes to the USA (services to the US feature Subway sandwiches, rather than the Canadian variants north of the border).

For Domestic flights in economy there is absolutely no service at all except for a free drink on domestic services (cold for less than one hour, hot up to 90 minutes on American flights).

Plastic knives & forks are used on most flights.
Business Class: Air Canada Longhaul inflight meals
Air Canada has introduced 'dine on demand' in business class on international routes, which allows travellers to select any dishes from an expanded menu at any time during the flight.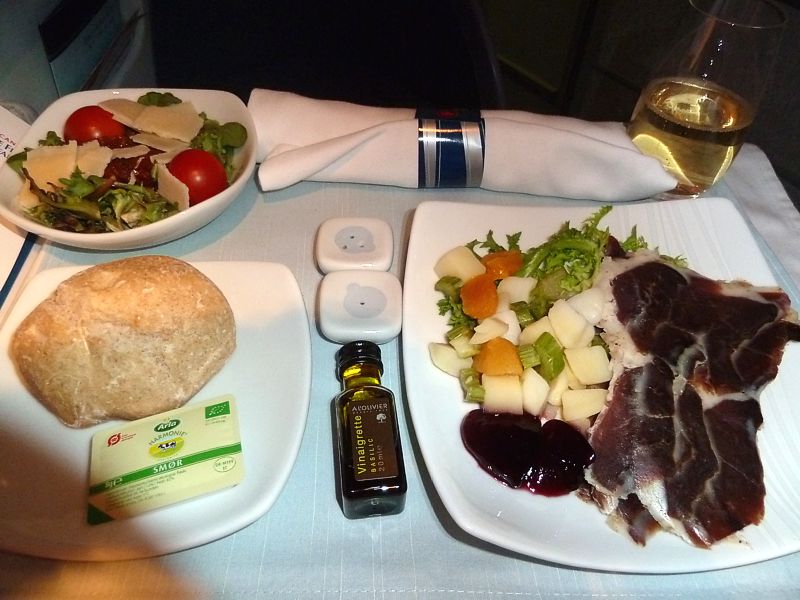 Air Canada Inflight Meal Business Class CPH YYZ
Entree: Cold beef strips
Cold beef strips, sweet potato mash, green beans, and mint balsamic sauce.

Salad and roll.

Decent and tasty.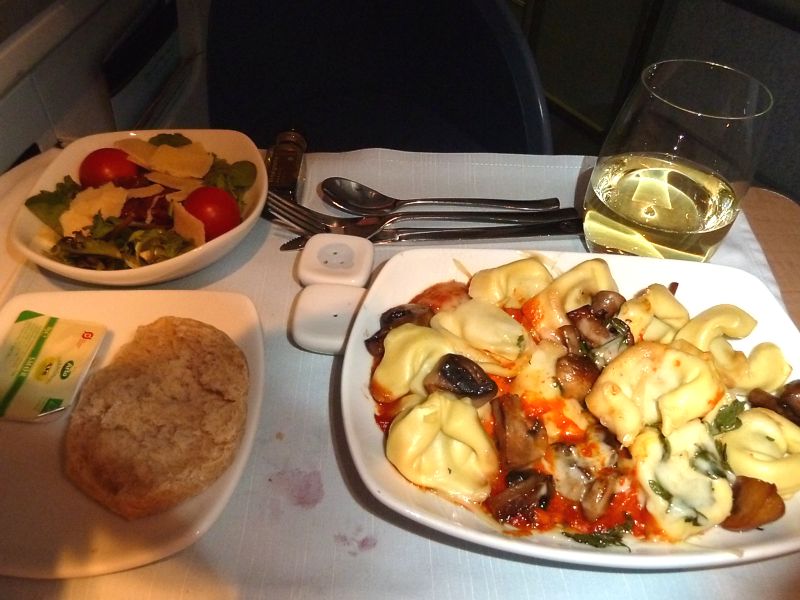 Mushroom ravioli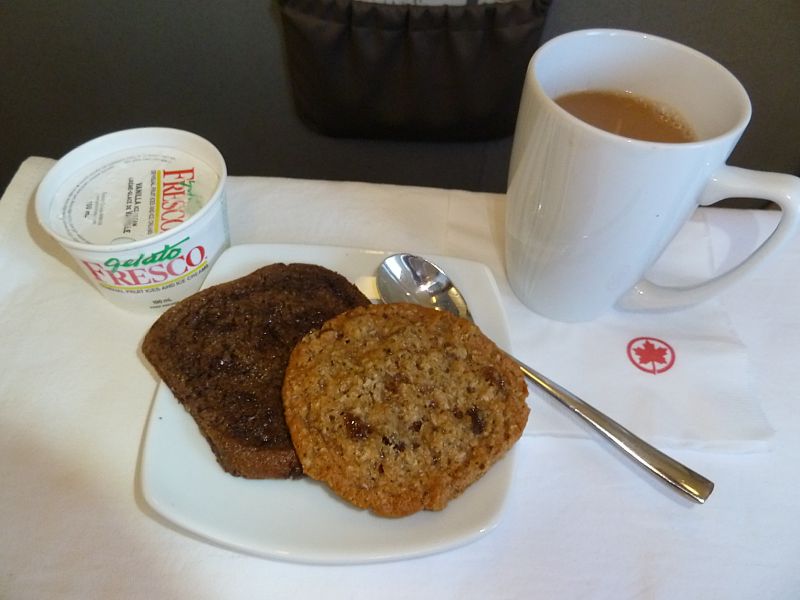 Banana bread and ice cream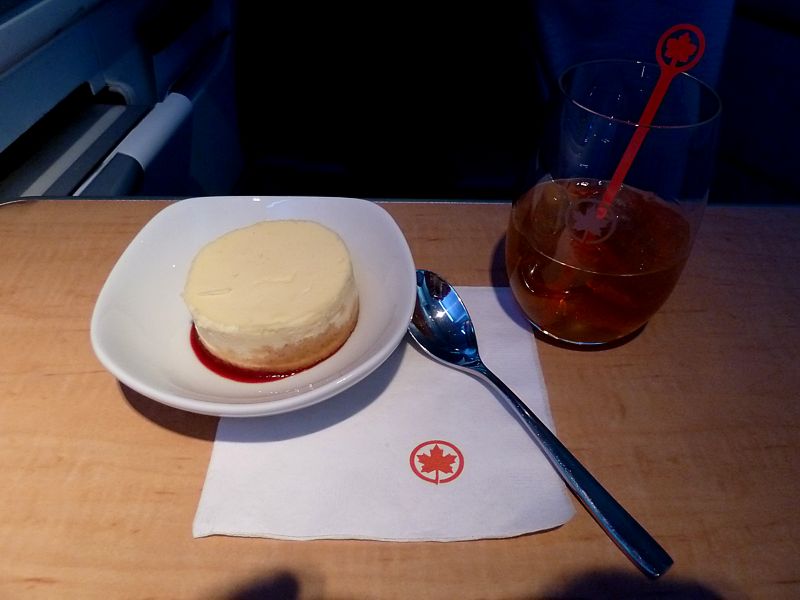 Cheesecake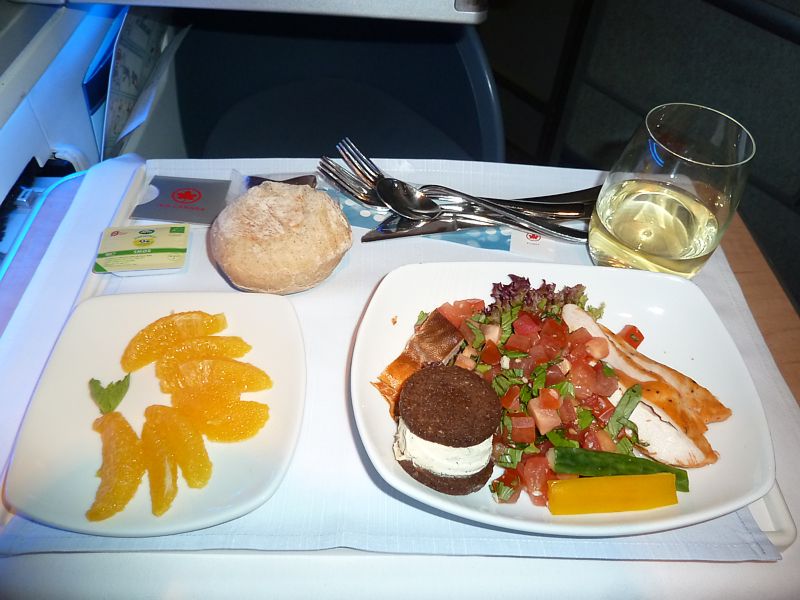 Chicken slivers and tomato salad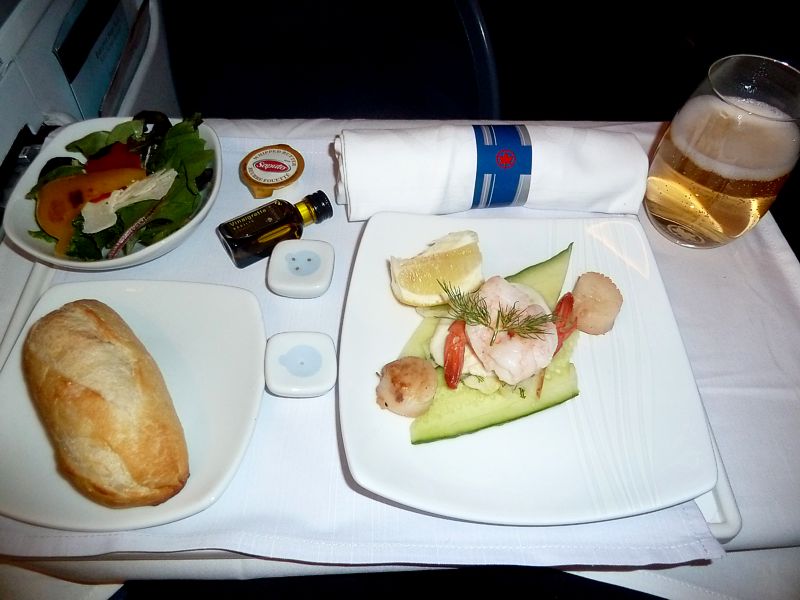 Prawn on cucumber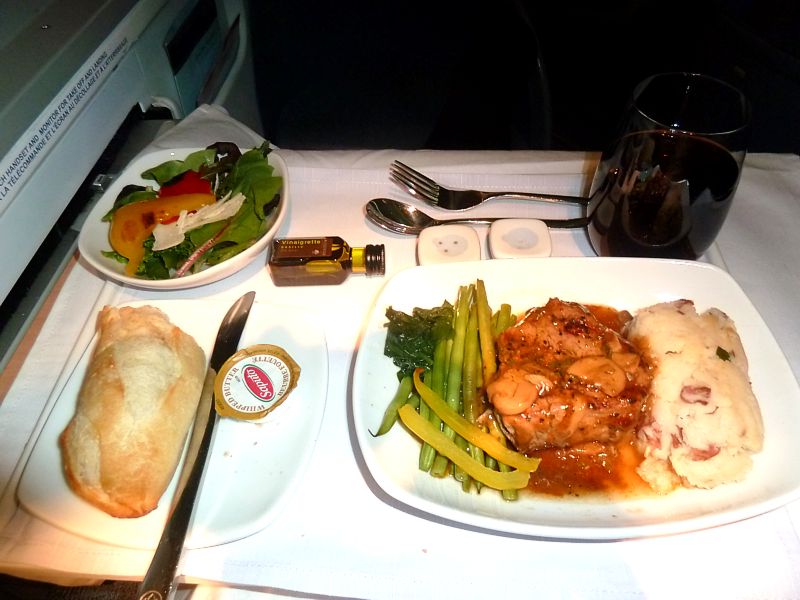 Liver pate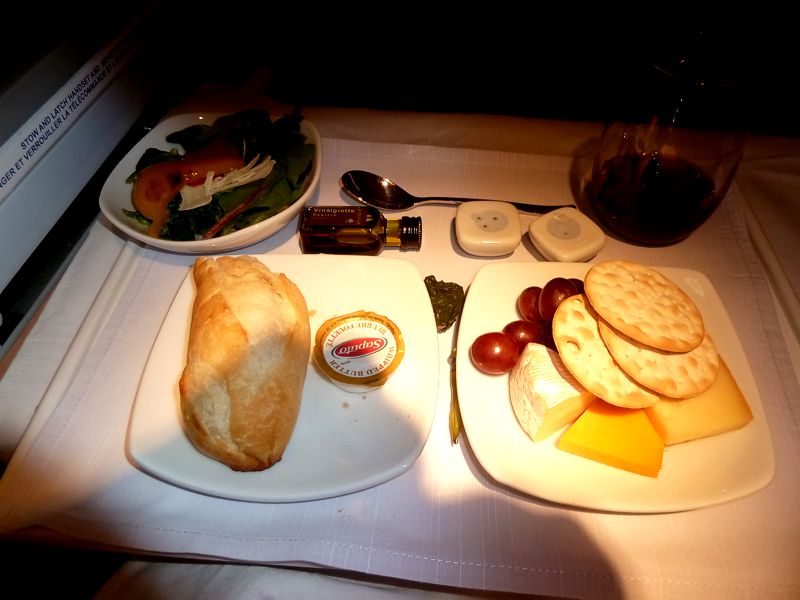 Cheese plate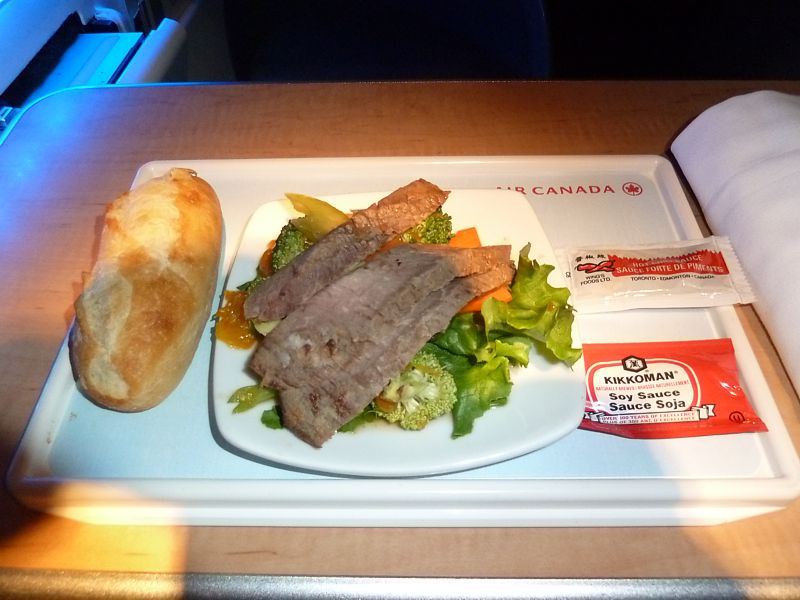 Hot beef strips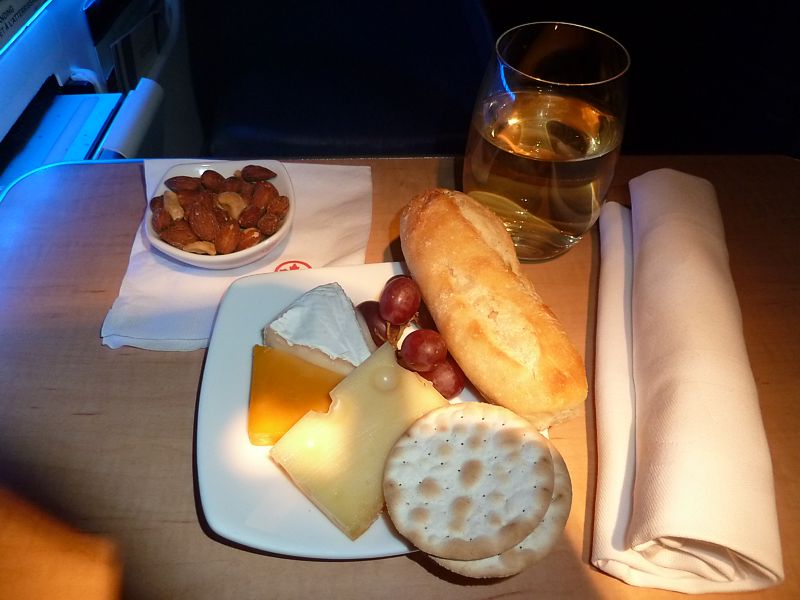 Cheese plat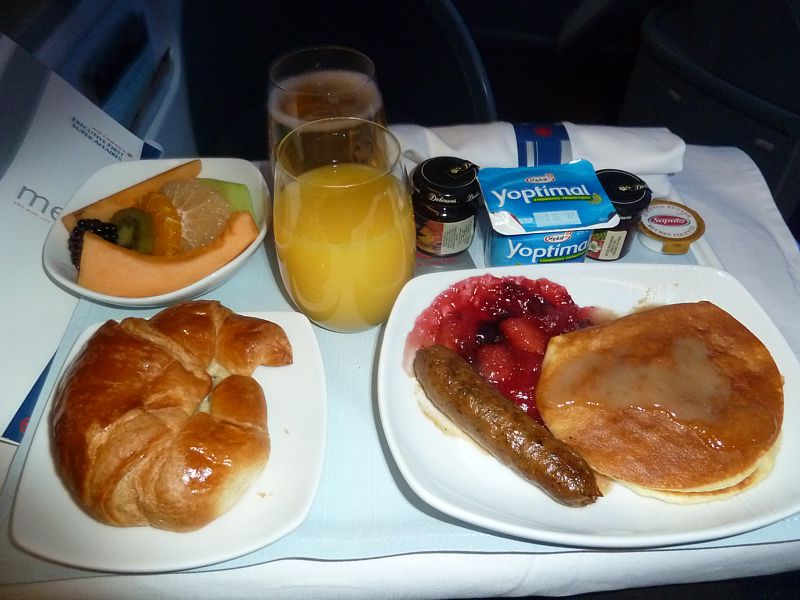 Breakfast with waffles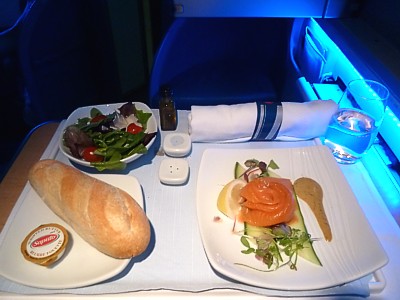 Entree: salmon
Smoked atlantic salmon with cucumber carpaccio, dill mustard sauce and capers.

Salad of organic field greens, grape tomatoes and parmesan served with balsamic vinagrette.

Hot baguette and butter.

Not bad presentation, not bad flavour at all. This just looks right on the plate, with a small circle of salmon resting on a bed of cucumber. The mustard is a bit bland - but that could just be thanks to the altitude of the plane.

The baguette is a classic French affair with a very, very tough crust.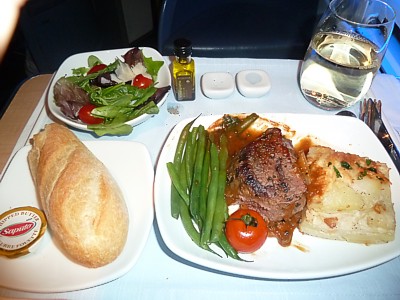 Beef steak
Grilled AAA Alberta beef tenderloin.

Presented with truffle and porcini mushroom sauce, celeriac yukon gold dauphinoise potatoes, green beens and cherry tomato confit.

Salad of organic field greens, grape tomatoes and parmesan served with balsamic vinagrette. Hot bagette.

This is your basic steak with veggies, but done very well. Alberta beef is that classic Calgary dish, and it's lovely and tender. The best bit though was the potatoes. Looking as square as the dish it came from, it really doesn't resemble much at all. However, it has a lovely light and delicate creamy texture: really very good.

Decent=ish salad too: much better than most of the usual airline salads, with a decent bit of parmesan cheese.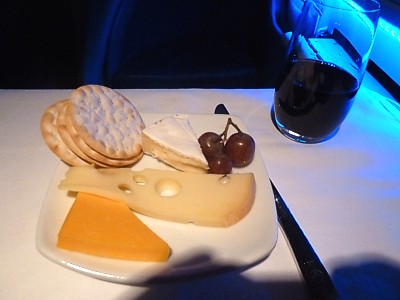 Fromages selection
Selection of cheese with camembert, yellow cheddar and oka.

Crackers. Grapes.

Port.

Hmmm. Something really wasn't right here: the cheese had seen much better days, as had the crew by this point.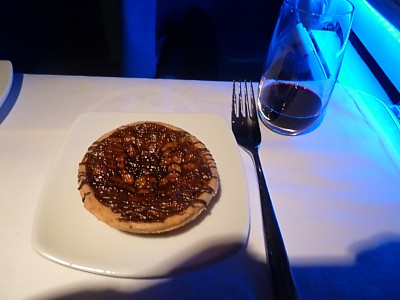 Pecan Pie
Warm chocolate pecan tart.

It seems odd this specialty of Southern U.S. cuisine turning up in the far north for a Trans-Atlantic flight. Many of the Canadians on board were more than happy with this, but for the British contingent it was a bit odd.

Pecan pie is normally served with whipped cream - not so on this occasion.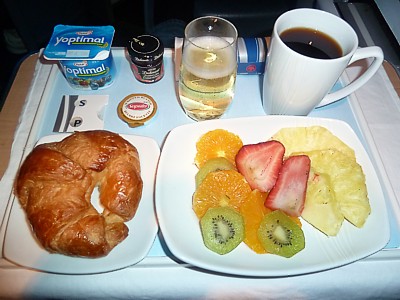 Light Breakfast
Sliced seasonal fruit. Yogurt.

Croissants and cherry jam with butter. Coffee.

A bottle of water, a roll (cold) and a tub of Lerpak butter.

This looks cheap - and so it is. However, there is reason behind Air Canada's budget cut. A hot breakfast isn't really a tradition in the north, plus on the short flights over the Atlantic this is served only three hours after dinner, so most people don't have room.

Thankfully its possible to get a hot bacon roll in the Air Canada arrivals lounge.

Air Canada Jets at Toronto
Business Class Domestic: Air Canada shorthaul inflight meals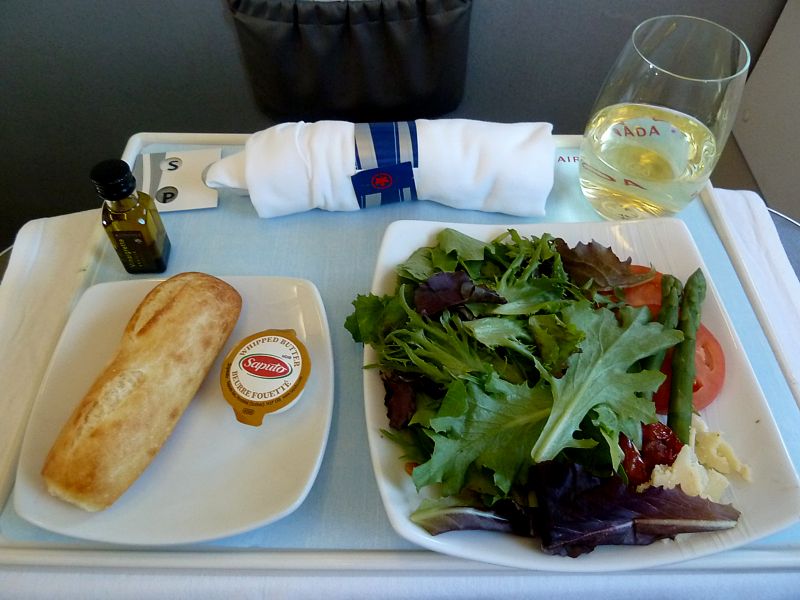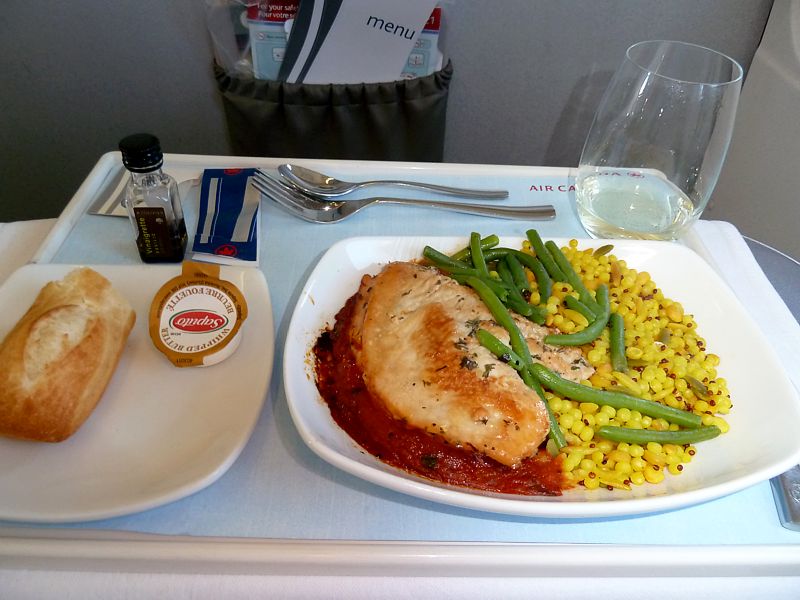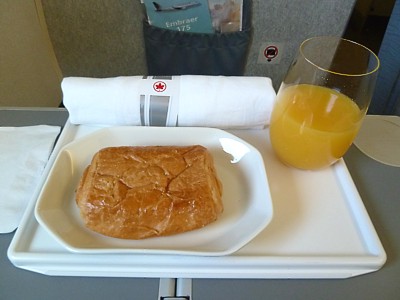 Breakfast Pastry
A cold meat pastry with mixed meat, in fluff pasty.

Orange juice.

Yuck. Totally revolting, and totally wrong for breakfast.

It is bizzare seeing Air Canada serve this up early in the morning. This is just plain wrong.

Economy Class: Air Canada Longhaul inflight meals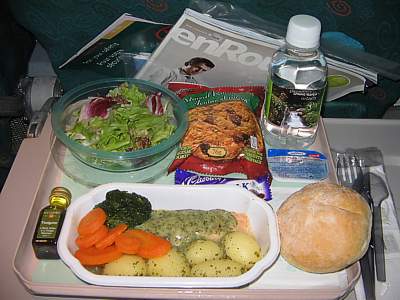 Salmon Dinner
Roast fillet of Salmon, with pesto sauce, roast potatoes, carrots and spinach.

A bowl of iceberg lettuce & red cabbage, a mini bottle of Bertolini olive oil dressing, a Cadburys bar of Dairy Milk, a packet of two chocolate chip cookies.

A bottle of water, a roll (cold) and a tub of Lerpak butter.

This is a dinner of two halves. The salmon is noticeably good, hot and chunky, with lots of flavour. True, it is very much old school cooking with very standard potatoes and carrots, but altogether this makes a transatlantic flight fly by.

Alas the same can't be said for the salad which is little more than rabbit food. The cookies are odd - and best saved for later - while the roll is so hard it could be used for attacking the cooks who created the rest of the rubbish. Nice chocolate though.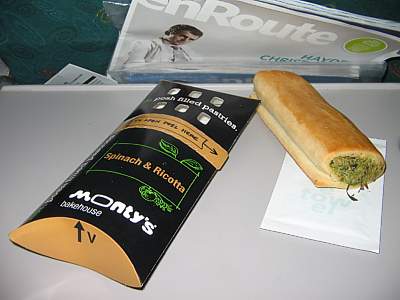 Transatlantic snack
Monty's Bakehouse Spinach & Ricotta pastry.

Flying westbound on daytime Trans-Atlantic flights, and you'll get the option of one of two pastries later in the flight.

Looking weird but tasting great, these are very much an Air Canada speciality.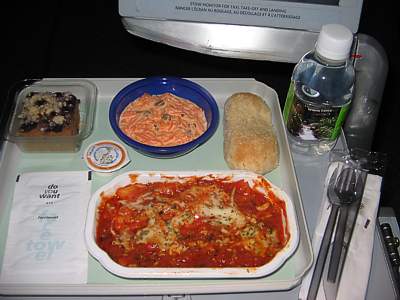 Lasagna
A large tub of Lasagna with beef mince.

A small tub of coleslaw & rasins in cheese sauce.

A slab of chocolate cake. A white roll (cold), and one packet of butter. A bottle of water.

This is utterly dreadful. A mess in the name of good catering, with not one single good redeeming feature.

Passengers were horrified when this was served up on one of Air Canada's flagship routes, as the evening meal to LHR. It resembles something like a microwave meal for one.

The coleslaw mix is just plain odd. And the chocolate cake is very American - for which read bland with no flavour. Altogether this is a waste of space.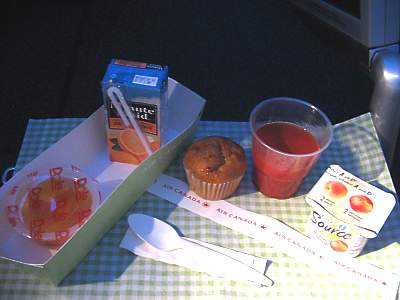 Breakfast
A box with a muffin, a peach yoghut, and a tub of fruit pieces. A box of orrance juice.

Economy is right with this breakfast. It's very small, but then as dinner was served only a few hours before this point, it probably doesn't matter too much.

It's actually OK, but it's little more than a snack before landing. There is a separate drinks trolley with plenty of juice & tea on it. It is however a shame that this is served two hours before landing - meaning you have to avoid the tea to go back to sleep for a few more hours.

Curiously this is the one meal in economy where you get a tablecloth.

Air Canada Jazz snack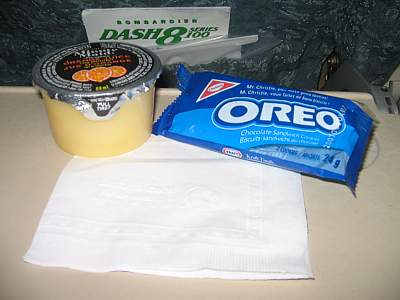 A tub of minute maid orrange juice. An Oreo chocolate waffer bar.

On all domestic flights you will at least get handed a tub of orange juice. Oddly, on some Air Canada Jazz flights at meal times, you'll also be given a chocolate bar.


Next page: Air Canada Drinks >>>


Air Canada Food
Lux-traveller.com
rating:

7

out of

10