Air Canada Fleet
NEWS: Air Canada has completed Project XM: Extreme Makeover which gives a new interior to all of it's aeroplanes. In Executive First, the International Business Class product on XM planes, there are new horizontal lie-flat executive suites in a herringbone pattern. These are very similar to the licenced Virgin Atlantic Upper Class seats, and all seats have personal AVOD (with an 8.9" touch-screen LCD), US style 3-prong plugs for laptops (110 volt), and USB ports to recharge iPods and BlackBerry devices.
Air Canada reviews always come in a bit hit or miss. Some passengers love the way that there is free food and you can even get a drink on board longhaul: then again, compared to any airline south of the border in the USA, Air Canada will always score highly. It's just that it isn't really a quality service you'd get on say an Asian airline. This is notable in business class service and meals are lacklustre.
Air Canada has a vast, unwieldy fleet with examples of many types of plane flying today. The good news is that almost all aircraft are fitted with the new XM (Extreme Makeover) seats.
No longer is that the gamble of having four different types of cabin just on one single route to London. Instead, you'll definitely get a flat bed in business, and a seatback TV in economy on Air Canada. If only the same could be said for the food on board to your checkin experience. This will vary wildly, and it pays to check ahead and be prepared.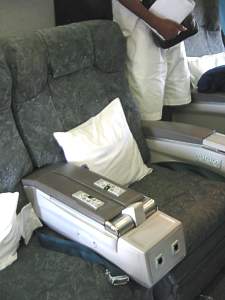 Business Class 767 Seats

Air Canada has only two classes of travel on it's planes, however those two classes can, again, vary markedly.
International Cabin Classes
International Executive First is the bit up the pointy end: this is Business Class on all the International routes. All aircraft received a new cabin during the Project XM upgrade, and they feature a herringbone configuration with a seat that reclines into a 75 inch flat bed, 21 inches wide. The seat was first used on Virgin Atlantic Upper Class, and is also now also used by Air New Zealand. All seats have AVOD (Audio Video On Demand) and XM Satellite Radio, with an 8.9" touch-screen LCD, US style 3-prong plugs for laptops (110 volt), and USB ports to recharge iPods and BlackBerry devices. Air Canada Seatback TV.

International Economy Class is pretty basic, with just the usual seat, and quite a tight one too, with a pitch of just 31 inches, width of 17 inches and a 16 inch recline. However it does have a seatback TV with AVOD and XM Satellite Radio. Air Canada reviews economy class generally highlight the TV, and moan about the lack of inflight service. Air Canada inflight experience.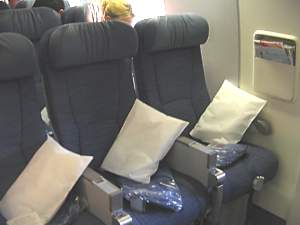 Air Canada 777 the best seats in economy: row 31

Domestic / North America Cabin Classes
North American Executive Class is sort of almost business class for the shorter runs around the USA. Seats are just marginally better than those down the back, with a 39 inch pitch. Quite a delight is AVOD, even on the small Canadair and Embraer aircraft.

North American Economy Class is pretty basic stuff with just a normal airbus seat and a pitch of 30 to 32 inches. In this class you have to buy food and alcoholic drinks, although there is free tea and coffee. There is no inflight entertainment.

Air Canada Jazz has Executive and Economy class on its CRJ-705 aircraft. All other Jazz aircraft are one class service, with low-frills.
Air Canada 777-200 & 777-300
Air Canada has twelve Boeing 777-300ERs and six Boeing 777-200LR. If you are flying on the Air Canada Boeing 777-200LR check out the Air Canada 777 seating map for the best seats.

The 300 variants seats 349 (with 42 in Business, and 307 in economy) and are used trans-Atlantic, while the 200 variants seat 270 (with 42 in Business, and 228 in economy) and are used over the Pacific. In the inflight magazine and in most publicity these planes are listed as the flagship aircraft, and indeed after the retirement of the 747s, and indeed the A340s, they are. The new aircraft, straight off Boeing's production line, are very good indeed. They are comfy, roomy, and all the bits work (even if they are a bit noisier than Airbuses' offering). All Air Canada 777s feature seatback TVs in all classes with AVOD, and new seats including with flat beds in business.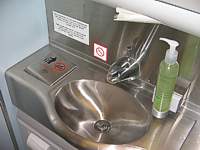 Air Canada 777 very basic toilets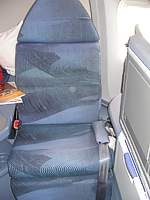 Air Canada 777 the best seats in business


In Business, the configuration is similar in layout to Virgin Atlantic's Upper Class Suite and Air Canada's Business Premier Class product, with seats in a 1-2-1 herringbone layout. These are full flat seats, which allow everyone access to the aisle. These seats do however mean you sleep in a curve, and you don't get such a great view out of the window. There is also a walk up snack bar in this class on the 777.

Air Canada reviews Economy Class are generally favourable about the Boeing 777. Seats are in a 3+3+3 layout, except right at the front in row 18 where there are only 2 seats on each side (one seat was removed to stop the drinks trolley from ramming into passengers). Power ports are located with two per triple seat located left hand and centre seat (AB/DE/HJ), one per double located left hand seat (A/J) There are no power ports at rows 19, 30, 31, 50, and 51. Row 31 gets a door (but with no window), and row 50 is an emergency exit seat with a little more legroom. At both of these rows you do not get a USB port, but you do get a very good flip out TV screen, and a table in the armrest.
Air Canada 767-200 & 767-300

Ottawa Air Canada 767-300 bound for London


Air Canada has thirty Boeing 767-300ER which seat 211 (with 24 in Business, and 187 in economy). All of them have the XM new interior, except for three which are used on all-economy bucket and spade routes to Athens, Barcelona, Dublin, Honolulu, Cancun, and Montego Bay.

Executive First has the new style electronic flat beds, in a 1-1-1 layout. These are very good. Alas on the 767, you don't get the walk up snack bar that features on the 777.

Economy has seats in a 2+3+3 layout. There is a small cabin in front of the galley, in rows 12 to 15. Seats here are highly prized, as this cabin is much smaller and quieter than the main cabin. Row 18 and 19 have seats which are emergency exits, and then racks of economy going back to row 39.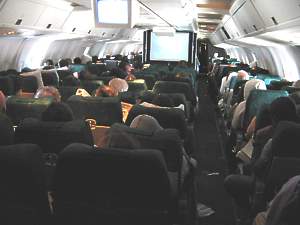 767-300 the back of the bus

Air Canada has 10 Boeing 767-200 (&-200ER)s which seat 207 (with 24 in Business, and 183 in economy) which are used on many routes from domestic services in Canada to trans-Atlantic. These all still have the old interior, with business seats in a 2-2-1 layout. These are exceptionally poor and falling apart. Many passengers try very hard to avoid these planes which in some cases are, literally, held together with gaff tape: look under the seats if you do not believe this. Maintenance is very poor when it comes to passenger comfort.
Premium Economy is offered on international B767-200 aircraft on low density routes to Europe and to the Caribbean. The cabin is the North American Executive Class cabin sold as Premium Economy. This again is a poor option, and should be avoided if possible.
Air Canada Airbus A330-300 & A340

Toronto Air Canada A340


Air Canada has 8 Airbus A330-300 which seat 274 (with 37 in Business, and 228 in economy).

The Business cabin is split into two - there is a large cabin at the front, in rows 1 to 5. Then after the galley there are another two rows of business class. This cabin is normally less popular - it's harder to attract the attention of the crew, and you get all the noise of the economy cabin behind you. All seats have a seatback TV.

Economy seats are in a 2-4-2 layout - which is actually great for couples. There are two cabins, with row 31 being amazingly popular, because it is right by the door with lots of legroom. No seat has a seatback TV.

Air Canada has sold all of its Airbus A340 aircraft to Air-Asia, where they are now used for services to London Stansted, still with the original Air Canada interiors.
Air Canada Airbus A319/320/321

Air Canada A320 at Toronto


Air Canada has 37 A319, 41 A320, and 10 of the larger A321. All of these aircraft have gone through the XM project.

There is one solitary A319 which flies trans-atlantic to Halifax from London Heathrow. It has the XM new interior with AVOD in all classes. This plane is quite luxurious compared to some of it's domestic siblings, however make no mistake - this is a tiny plane flying trans-Atlantic. Air Canada reviews always moan that it feels as if you are crammed into a tube - which indeed, you are.
Air Canada Embraer 175/190

Ottawa Air Canada Embraer


Air Canada has 15 of small Embraer 175s, seating 73, and 45 of the larger Embraer 190s, seating 93 (with 9 in business class).

All have the new interiors, with AVOD in all classes, and considering the size of the plane the interior can be quite luxurious. The plane's size can seem a little odd however - from a distance these look like a full size jet, and then when you get on board you realise that they are actually quite tiny, with 2+2 seating in economy, and 2+1 seating in business where this is a remarkable 39 inch pitch.
Air Canada Jazz Dash8-300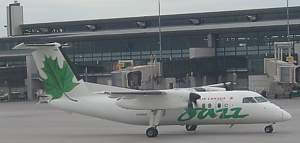 Ottawa Air Canada Dash8-300


The Dash 8s are overwing prop planes fleet, which fly lower than the jets, and give a great view of the ground, but its very noisy, bumpy on landing (what other plane can you sit on and see the wheels hit the ground?) and thanks to weight problems has a "lightweight" seat which bend as you sit down.

Note that the overhead lockers on this plane are only 4 inches high, so your "carry on" case won't, and you have to check it at a trolley as you board: it is then loaded into the hold for you.
Air Canada Jazz Bombardier CRJ 705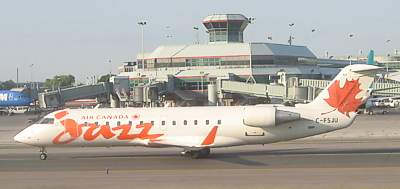 Air Canada CRJ at Toronto


There are 15 Air Canada Jazz Bombardier CRJ 705, all with the new interior.

Overhead locker space is very limited - you can take a normal sized carry-on bag, however this is taken off you at the door. Regular travellers know to take a smaller squashy bag, which will fit in the overhead bins, however there is not really much of a delay in collecting your bag.

Seats are in the usual 2+2 pattern. Try and avoid the last row where the proximity of the engines means you'll have a noisy flight and stagger off the flight with your ears bleeding.

Next page: Air Canada IFE inflight entertainment >>>
All images and content copyright airreview.com