Air Canada Business Class Lounges
Air Canada has some great lounges for premium passengers. It also has some 'not so good' ones, particularly in regional airports.
Air Canada Air Canada Lounge London Heathrow
Does business class get lounge access Air Canada?
Yes, Air Canada business class passengers get lounge access Air Canada lounges, so long as you hold an Executive First, or Executive class tickets. Flying Business Class you also get access to the new Air Canada Toronto Signature Lounge, reserved just for Business Class Air Canada passengers.
Do you get lounge access with Air Canada Premium Economy?
Surprisingly, yes, so long as you have a Premium Rouge (Premium Economy) ticket complimentary access to the Maple Leaf Lounge is provided, but it is only available on flights within Canada, and to the U.S. and Sun destinations. You need to purchase when flying to Europe, by buying a Maple Leaf Lounge access pass for CA$25. Not many carriers allow you to do this.

If you are in economy, you can still buy access, but it is much more expensive, as you have to purchase an upgrade from Air Canada rouge's Economy Class to Premium rouge, and then buy Maple Leaf Lounge access.
Can economy class use the lounge on Air Canada?
No. If you are in plain, normal economy class, you get no access if you have no status. However, if you have Frequent Flyer status on Air Canada, there is access, with Super Elite and Elite members of Aeroplan gaining free access (and for a charge, Prestige passengers can also use the lounges). Star alliance Gold passengers are permitted full access.
Can you pay to access Air Canada lounge?
Yes, but either you need to buy a daypass in Premium Economy, for CA$25, or buy a year long membership of the Maple Leaf Club. This other way of gaining access, by buying year long membership, can be really expensive unless you plan to be flying a lot, in which case you'll soon earn Elite membership of Aeroplan and get free access to the lounges anyway.

The three tiers of membership are Canada only for CA$375, North America for $CA496 or Worldwide for CA$665.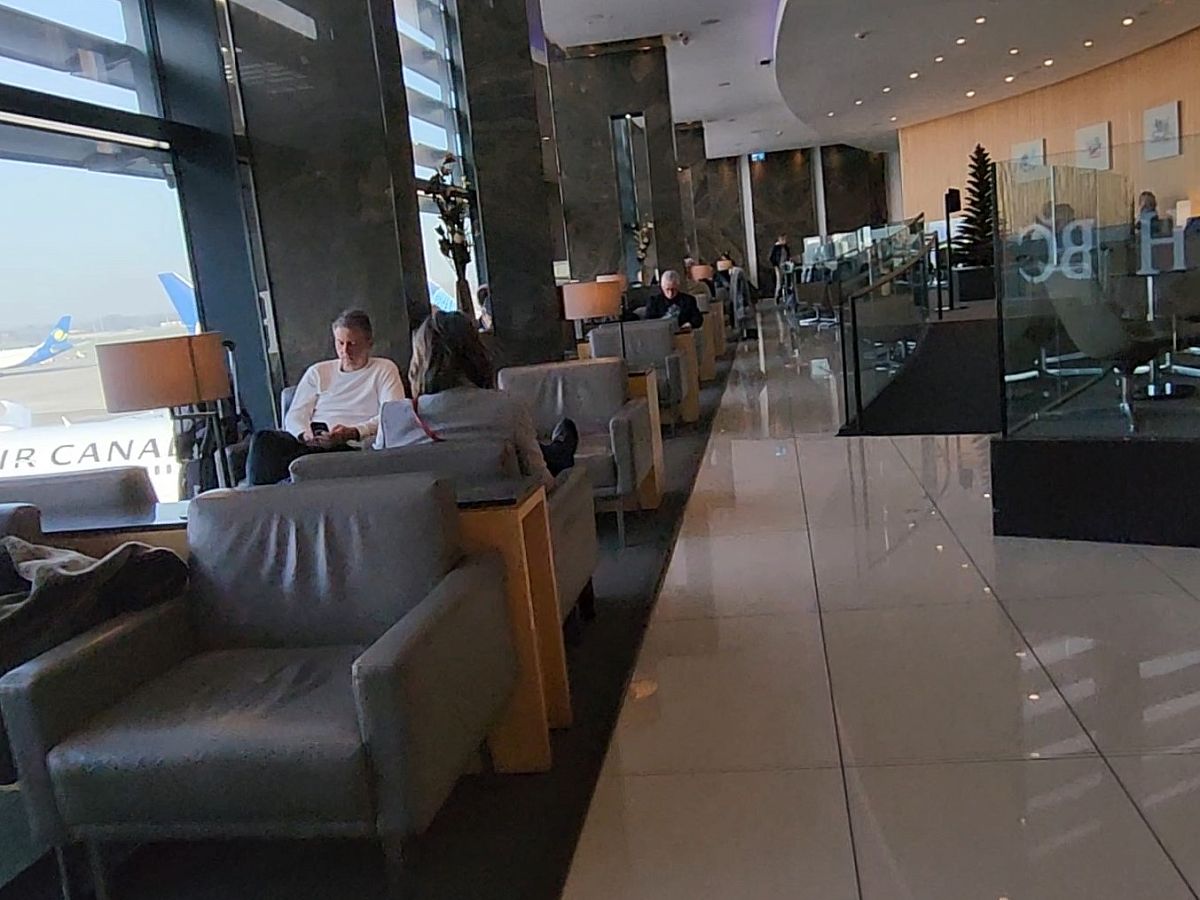 Where are Air Canada lounge locations?
There are dedicated Maple Leaf lounges at Toronto, Montreal, Ottawa, Calgary, Edmonton, Halifax, Québec, Regina, St. John's, Vancouver, and Winnipeg. There are also lounges at outstations including London Heathrow, Los Angeles, Frankfurt, and Paris (CDG).
Air Canada Maple Leaf Clubs
Lounge information from Loungeindex

Ottawa Maple Leaf Lounge
After security, extreem left, old terminal
Open 0600-2200
Access for Business Class (Executive First), Maple Leaf Club Members, Aeroplan Elite & SuperElite, Gold Star Alliance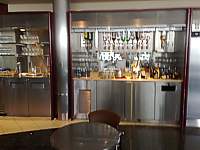 Ottawa Maple Leaf lounge bar

There is a lovely new terminal at Ottawa. It is full of lovely features like a twinkling waterfall, granite flagstones, and cool bars. Alas, the Maple Leaf lounge isn't in this section - it's a long cold hike away in the old bit. With cold sterile Wal-Mart style decor. The lounge is half way in the middle of the section now only used for Jazz flights.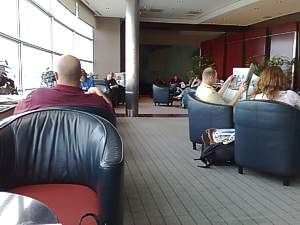 Ottawa Maple Leaf lounge

The lounge itself is OK, although it gets full to bursting when Ottawa's one daily international flights, to LHR, leaves in late-afternoon. It is a small box, admittedly with great views of the runway from the main section, with a bar on the left, and a business section right at the far end at the left via the strange screened off corridor. There are two TVs in a corner on the left.
The bar has a good wine and beer selection. The beer isn't immediately obvious: open the silver fronted fridge to the right of the bar, and you'll be presented with about racks of the stuff. There's everything from Boddingtons, Guinness, Blue, Canadian. There is a rack of spirits on optics. Being the Capitol, this place is used to hardened drinkers. The wine is equally good, with two whites in a bucket, and two reds on the counter. Beware though, that you aren't allowed to take any booze into the business centre.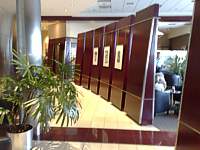 Ottawa Maple Leaf lounge

The magazine rack is to the right of the bar, and is very well stocked indeed. There are also larger numbers of newspapers (all Canadian).
Food is on the opposite side to the bar. There is Soup (the selection changes at 5pm) and a selection of dips with cucumber and carrots. And that's about it.
The business centre has 5 PCs which are all modern and fast with broadband access. There is also (paid-for) wifi access.
Next page: Air Canada Routes >>>
All images and content copyright airreview.com