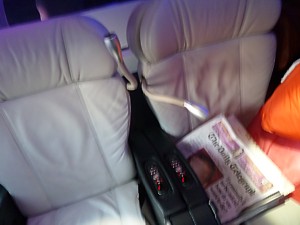 First Class Seat
Virgin America has quickly built up a small route network from the San Francisco hub, along with a smaller hub at Los Angeles. Both have several point-to-point transcontinental flights. However the lack of a decent route network on the East Coast is a major problem, as is the lack of some obvious point to point connections: as always, Virgin America say, they are growing, and these issues will be solved in time.
Airline schedules change regularly
This information is intended as a guide, but for up to the minute timetables, please consult Virgin America at www.virginamerica.com
From San Francisco there are three direct daytime flights to New York, at 0700, 0915 (the only flight at decent times, getting in a 1800) and 1455. There is also a flight that stops en-route, and a couple of redeyes, at 2125 and 2300.
Washington has also three daytime flights from San Francisco, as 0800 and 1050 (arrives 1855), and 1435 plus an overnight redeye.
Los Angeles also has flights to New York at 1040, 1320, 1430, and 1545. After this you are stuck on a redeye, with either the 2125, or 2345. Washington has just 2 daytime flights, at 0700 and 1220, or overnight at 1005.
From San Francisco there are also plenty of other longer haul flights, such as Philadelphia once a day at 0830, Boston three times a day at 0650, 0945 and 2240, Dallas thrice daily at 0730, 1330 and 1750, and Chicago at 0700, 1250, and 1745.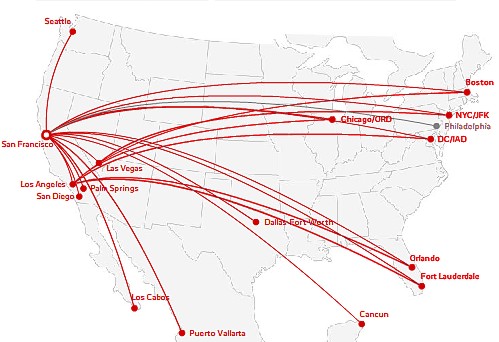 Virgin America Route Map
Indeed, Chicago was a major battle ground: Virgin America only gained access after the city took control of five gates away from Delta (in the US the tradition is that airlines own the gates, rather than the airport).
There are also a few of international services. From San Francisco there is Puerto Vallarta at 0930, and Los Cabos in Mexico at 1210. Plus from Los Angeles there are flights at to Cancún at 1105, arriving at 1750.