NEWS: Virgin America has a firm order for 60 new Airbus A320 aircraft (for delivery from 2013 to 2016), including 30 of the Airbus A320neo (first delivery in early 2016), making Virgin America the launch customer for the A320neo.
Virgin America operates a fleet of virtually brand new single aisle twin engine airbus aircraft: There were 46 at the last count, and they vary between the rather squat A319, and the larger A320. Virgin America's fleet is expected to reach over one hundred by 2018.
All of Virgin America's aircraft have names, which come from the public in a completion. There's everything from Jefferson Airplane (after the San Francisco band), California Dreaming, Air Colbert (named after comedian Stephen Colbert) and even a Steve Jobs (named in honour of the late Apple co-founder).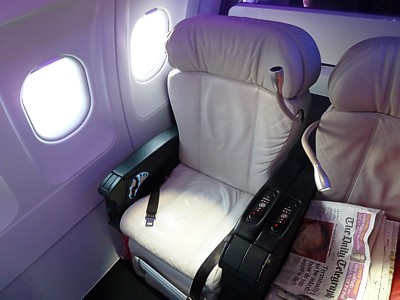 First Class Seats on Virgin America Airbus A320
Virgin America Seatback TV is fitted to every plane, and you will always get free Satellite TV at your seat in every class. Read more about Virgin America IFE.
When you board, take a look at the lights. All three cabins (First, economy plus, and economy) have mood lighting, which is very unusual on a short or medium-haul airlines. It is argued that it creates a more pleasant and relaxing environment for the passengers and crew, and certainly after a redeye from West to East coasts, it is pleasant to wake up to, although perhaps rather hyped. Also spot the way, the no smoking signs in the cabin have been replaced by turn off electronics lights: much more practical in a modern age. Virgin America has no hang-up about "we've always done it this way".
Virgin America classes
All of Virgin America's fleet are three cabin planes. First Class is up the front, while down the back is economy, divided into Main Cabin Select (a sort of premium economy) and Main Cabin.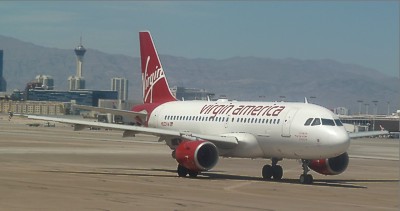 Las Vegas A Virgin America Airbus A320
At all seats in all cabins you will get a seatback TV on Virgin America: ... read more about Virgin America's inflight entertainment and seatback TV.
Virgin America First Class
Both the A319 and the A320 have two rows of First Class seats at the front of the cabin, separated from the hoy-paloy at the back by a dark coloured Perspex screen, and a similar screen at the front.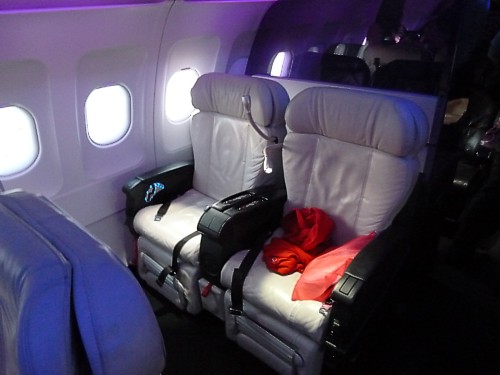 First Class Seats on Virgin America Airbus A320
Seats are in a 2-2 layout. Virgin America First Class offers a pitch of 55 inches (1.4 meters) and 21 inches wide (53 cm). They really are very comfortable, and look the part too, with light creamy leather, far removed from the 1980s style of seats on many US Airlines. The recline is electronic, with a six switches for all the seat functions: alas they don't go fully flat, but you can get a better night's sleep on these than on most. The adjustable headrests are pretty good. There is even a rather dubious massage function, which it must be said is rather ineffectual. There is a reading light (on a stalk between the seats), a power socket (US plugs only, 110 volts). The TV screen here is larger than at the back, and flips out from the seat on a stalk. It has free live satellite television, as well as complementary on-demand services, including movies, television programming and games.
In First Class on Virgin America you of course get a dedicated airport check-in lane, and sometimes access to the security fast track. What you don't get access to is any airport lounge.
Virgin America premium economy - Main Cabin Select
Virgin America offer a sort-of economy plus product, with extra space and free food.
Main Cabin Select is located at the front of the economy cabin, just behind First Class. The seats are normal economy seats, but stretched with a pitch of 38 inches (compare that with say United, at 35-36 inches): this really makes a difference, particularly on an overnight flight. The extra length means there's more space in the luggage bins too.
However the main perk is that meals, refreshments and alcohol are all complementary, as are all the premium television channels and movies. You also don't have to pay for the headphones. Is Main Cabin Select worth it? Yes, if you can get it at a decent price; this generally means booking some time in advance, or buying a cheapy upgrade at the airport, but on the whole you can definitely get your money's worth.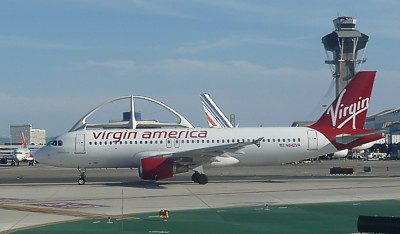 Los Angeles A Virgin America Airbus A320
Virgin America Economy - Main Cabin
Called Main Cabin, Virgin America Economy is the back of the bus, but it too compares pretty favourably with most other airlines. The seats are basic but offer 32 inches of pitch. There are power-ports (US plugs only) and adjustable headrests.
There is a seatback TV with free live satellite television, but it's pay-per-view for all the rest, like the films. Headphones are US$2 each (you can buy them at check in) but you can also take your own.
Virgin America Airbus A319 / A320
There are ten of the small A319, seating 8 up the front, and 99 in plain economy. The larger A320 seats 126. All aircraft also have 12 economy plus seats.
Have a look at the way there are American flags painted onto the inside of the wing tip winglets; Virgin is trying very hard to make the brand a little more American.