Hearty Meal (salami, crackers, cheddar, pretzels) $7
Protein Meal (tuna, chips, hummus, almonds) $7
Kids Meal (strawberry snacks, peanut butter) $7
Croissant breakfast $4
Popcorn $3
Cheddar Popchips $3
Wine $5 Sparkling Wine $10
Beer $5 Spirits (G+T/Vodka/Whisky/Rum) $5
Tea / Coffee free
Virgin America Food
Virgin America do not have free inflight meals for the economy cabin (called 'Main Cabin'), however in Premium Economy (called Main Cabin Select) food is free – but you need to order it quickly as soon as you can. Use the online ordering system which is part of the IFE. Of course each product has a price next to it, but you can select everything for free, and then the flight attendants push the trolley up the aisle and delivers everyone's orders as part of a quick food run.
In First Class, food is brought out individually to you - however in this case there may not be much of a choice.
If you need to buy food, there is Virgin America's Deli, which is Virgin America's pay as you eat service. Food consists of sandwiches, cakes and pastries. Snacks include Pringes, Peperami, and chocolate bars. Annoying, prices are never displayed online or in printed form, and can vary month by month: you'll only find out the cost of an item if you select it on the screen.
Basic drinks are free - including coffee, water, and soft drinks such as coke.
However beware that eating on Virgin America can be ruinously expensive if you are not from the US: Beware that the airline doesn't really cater for non-US passengers on domestic flights (and flights to Mexico). Cash is never accepted, and it only accept credit cards. A UK or Australian credit card will accordingly have a 'foreign transaction charge' added to this, often doubling the cost of the purchase.
Virgin America inflight food
Domestic First Class - Virgin America inflight food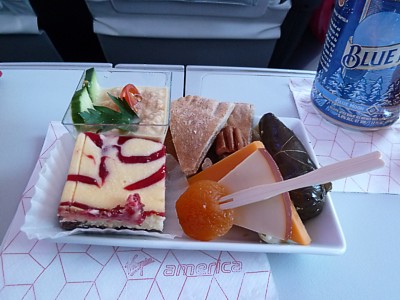 Tapas Plate
Three cheeses (Edam, cheddar, and cheeseball).
Hummus, crackers and dried breadsticks. Dolmades (Stuffed Vine Leaves).
Raspberry cheesecake.
Wow - this is really good, and even more surprising is the way it is provided on a 'short-hop' flight.
This is the typical Virgin America offering on flights of around an hour: on most airlines in the USA you would have to be sitting on a plane for nearly three times as long in First Class to get any food, however on Virgin America, it is provided free.
The hummus is creamy with a hint of garlic. The cheeses are good to nibble on. And the cheesecake to end is very much First Class. Really, it is hard to fault this.