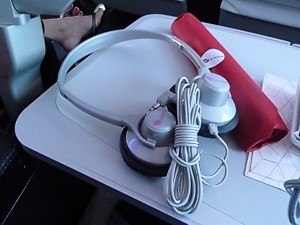 First Class headphones They aren't nearly as good as the seat
Every seat on Virgin America has inflight entertainment: either in the form of a flip-out screen (for First) or with a touch-screen Seatback TV. Virgin America's in-flight entertainment (IFE) is called Red, and comes from Panasonic Avionics' personal in-flight entertainment (IFE) system running a customised touch-screen GUI called Red.
The system has recently been updated, to version 2.0, which includes new features such as an updated position mapping system (the system may look familiar: it comes from Google Maps Terrain View), in-flight shopping, and Open Tab capabilities.
A newer update to Virgin America's IFE includes direct internet access, where you can surf the web on the seatback TV, rather than using a laptop.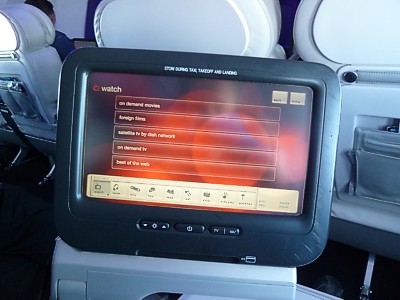 Inflight Entertainment othe flip out TV in First is large
So what channels are on Virgin America Red? Quite a lot actually: free live satellite television for a start, with 16 channels. There is CBS, NBC, Fox, ESPN, TNT, CNN, MSNBC, CNBC, E!, Bravo, and Disney, among others. There are a 21 on-demand movies (mainly latest box office hits) some on-demand television programmes such as comedy and dramas (Under the Premium TV section), and a few games, although these are slow and date back to the 80s.
And yet, while there are nuggets in here, there is a lot of dross too. Many made-forTV and forgotten about TV series have been shoved in, and unless you are up on your US couch-surfing, you may not have heard of many of the TV series. Certainly quite a few haven't made it to the UK, and nor are they likely to. The music video section is good, with 24 pretty current video session.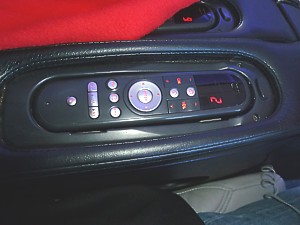 Inflight Entertainment on Virgin America Airbus A320
First Class and Main Cabin Select has its own special version of Red, which is completely free: all the movies, TV and games. Here the TV flips out from the seat on the usual Business Class bendy arm. Back in economy, there is only free live satellite television. Everything else is pay-per-view, including all but the most basic of games.
There is also a Radio section, but here it tends to be the usual pre-recorded sessions on a loop, which airlines have carried for years.
One other oddity about Virgin America: The Virgin America in-flight magazine doesn't exist: in the modern age, everything is presented online through the TV screen.