The inflight experience of Virgin America can be slightly different to what you expect from an Airline based in American. The long drawn out birth of the airline, when it had to fight the US regulators to allow it to fly, meant that the designers, in PR speak, 'looked at the whole customer experience.' What in effect this means is that once they had the basic business model, they had several years of sitting on aircraft which weren't in service, which gave them a chance to design the airline from scratch and work out what works, and what it too expensive.
This is also, it must be suspected, why the legacy carriers wanted to stop Virgin America: they didn't want a new young upstart that wouldn't have to pay for creaking fifty year old facilities, like the staff, not for out of date working practices, and ancient aeroplanes.
Which is why when you walk into check in – at least in the hubs like San Francisco – the check in area doesn't so much resemble an airport, as a bank crossed with trendy wine bar. Of course you don't have to go near the check in desks itself: there are check in machines which are new, work, and allow you to do everything from select your seat to buy and upgrade (See the hints and tips section on buying an upgrade).Alas, if you are at San Francisco, Washington, or New York, you do have to approach the desk to buy a ticket to the Virgin Clubhouse.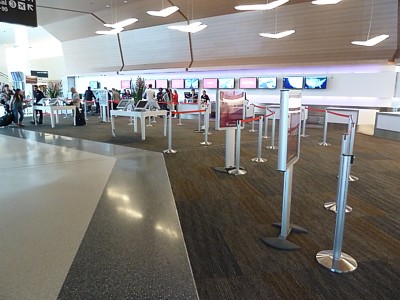 San Francisco the ultra-trendy checkin area
First Class - Virgin America inflight experience
In theory there is priority boarding for First Class. In reality, things are a little more complicated. At some locations it works well (such as the San Francisco hub), while at other outstations (like Las Vegas) it's a scrum. However once you board there is the satisfying (if purple) mood lighting, and trendy music: it is slightly more Ibiza than Atlanta.
In Virgin America First Class, the crew don't address you by name, but at least they do take your jacket, and offer you a drink from the bar, as well as a bottle of water. If you boarded first you then of course have the joy of watching everyone file past you. Once aloft you can bring out the IFE screen, and there is another drinks run (generally the crew offer you the same drink as you chose on the ground) with drinks brought out individually, rather than on a trolley. Food is offered, even on the shortest flights, and it comes straight from the galley either on small dishes in coloured plastic, or for longer flights on proper plates. There are generally two more drink runs before landing, and a coffee/tea run.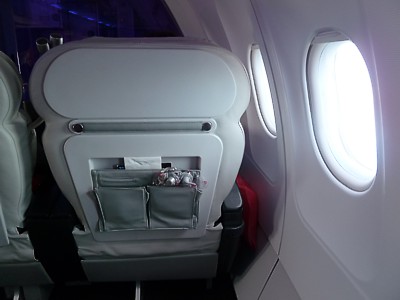 Virgin America clean clear seatback in First Class
Main Cabin Select - Virgin America Inflight experience
Premium Economy – or what is called Main Cabin Select (MCS) – in theory boards straight after First and quickly takes their seats. The reality is often that PE boards, and holds up the rest of the main cabin passengers, while everyone treads on each other's toes. It is often not very dignified.
The TV Screens are switched on and unlike First you don't have to flip them out. One thing you really need to know about Virgin America Main Cabin Select is that food is free – but you need to order it quickly as soon as you can. Use the online ordering system which is part of the IFE. Of course each product has a price next to it, but you can select everything for free, and then the flight attendants push the trolley up the aisle and delivers everyone's orders as part of a quick food run: this is the only part of the cabin where there is a traditional hike up the aisles. You can take your pickings of the offerings, and don't have to pay for them. If the tide has gone out in your glass later on, you need to go through the IFE screen to the beverage offerings, and then wait a fair while until your drink arrives.
Main Cabin - Virgin America inflight experience
Back in economy, the surprise is that there isn't the usual trolley service up the aisle. Instead, you buy snacks, meals, and alcoholic beverages from the seats via the IFE system Red. Flight attendants receive the orders via a tablet computer on the food trolley, and come to you, eliminating all that tedious waiting – or at least that's what the advertising says. In reality you have to wait for quite a while for the food and beverage service to come to you. On short flights in Virgin America Main Cabin, press your selection early, or it may not arrive before the flight lands.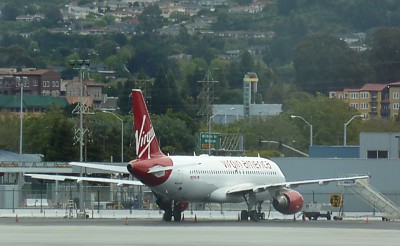 San Francisco Airbus A320 parked up
Virgin America Baggage Allowance
News: Virgin America has now axed all of the free baggage allowance for economy: the only bag you'll get on board free is the one you carry on.
The Virgin America baggage allowance is pretty standard for a no frills airline: there is no free baggage allowance. You must either buy it in advance, pay at the airport, or buy a Virgin America Economy Plus ticket.
Cabin Bags: Virgin America is quite odd: they don't mind how heavy your carry on bags are: all they ask is that you can lift it, and that it has a maximum outside linear dimension of 50", for example 10 inches in length inches x 16 inches in width x 24 inches in height. However, regardless of weight, you are only allowed one bag, even in First. Be warned that Virgin America used to be very lax about this one bag rule. Now, they're draconian, and check bags carefully – they insist that cabin baggage tags are used, and a baggage check is made during check in and at the gate. However, the lack of a weight check means that you see the opposite of United Airlines.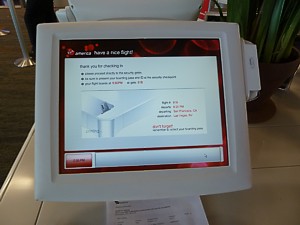 Virgin America Electronic check in
Instead of taking virtually everything out of their bags before passing the checkpoints, having stuffed their pockets full of everything small and heavy, Virgin America passengers do the opposite, often wearing jackets and so on, to get down to one bag, and then once in the cabin taking their other bag out of their 'one' and putting the jacket back into it. It's quite ammusing to watch.
Check in luggage: Virgin America charge US$25 per bag, with each bag weighing no more than 22kgs (50lbs). A Main Cabin Select ticket gives you one free bag, up to 22kgs (50lbs), and then you have to pay US$25 for each extra one. First Class passengers can check two bags up to 50 lbs free of charge. The only exceptions are to Mexico, where to San Jose Del Cabo (SJD), Cancun (CUN), or Puerto Vallarta (PVR) you can always check in one bag for free, even in the cheap seats.
Beware of the overweight fees: between 51 to 70 lbs you have to pay US$50, and 71 to 100 lbs its $100. This weight is carefully policed, and you won't be able to take even a couple of pounds over.
As always, these rules can change. Virgin America's website has details of exactly what you can take onto a flight.