NEWS: Virgin Atlantic has unveiled its new Clubhouse at New York-JFK Airport. The new space is inspired by the theme 'Understatedly Uptown, Unmistakably New York'. It has cost five million pounds to rebuild the 10,000 square feet facility at the Virgin Atlantic JFK Clubhouse, inside Terminal 4 at New York JFK International Airport.
Read the full story
.
It is often said that the downside of Virgin America is that it doesn't have any lounges. This technically is correct, however Virgin America 'claim' ownership of three lounges, by permitting Virgin America passengers to buy access to the Virgin Atlantic clubhouse.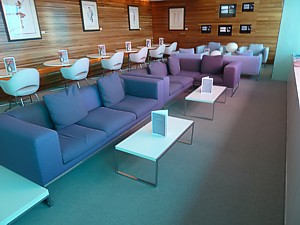 San Francisco Virgin Atlantic Clubhouse
However, very few people do. Despite the very large posters for this, and advertising all over the website, you'll find it very hard indeed to make use of this perk. There are quite a few reasons.
The first is access right. You can only buy access to the lounge if you are in full, paid (not upgraded) First Class. Then you have to buy a day-pass for the lounge, which costs US$35 (US credit cards only). And finally, you have to buy this pass at checkin, and not at the lounge itself: this means queuing, and then finding that the check in staff often don't even know that they can sell you a pass.
Secondly, there is Virgin America's lounge location: there are clubhouses at just three airports: New York, Washington, and San Francisco. You might also have thought that at the San Francisco hub it would be made easy for you to get to the clubhouse: oh no – the Clubhouse is in a different terminal about as far away from the Virgin America gates as it is possible to get. And then there is a question of timing: the lounge is only opens for 3 hours a day, and unless you hit this magic window, you will be out of luck.
And finally, Virgin America day passes to the Virgin Atlantic lounge are only valid for 90 minutes: that's quite a lot of food and drink you'll need to get through to make use of this perk.
San Francisco - SFO - Virgin Atlantic Clubhouse
Terminal A, landside, lifts in corridor by museum
1500 - 1815 (1600 - 1915 on Monday, Tuesday, Saturday)
Access for Virgin America if in First Class: Daypass $35
This clubhouse says it is "Very chic, very trendy, very Virgin", and so it is. The bright lights of the lounge shine out though floor to ceiling glazing and there are unrivalled views across the bay. The centrepieces of the lounge are the bar and coloured glass panels that move to create different atmospheres in the space. Five monitors display digital art in the lounge which showcase local talent.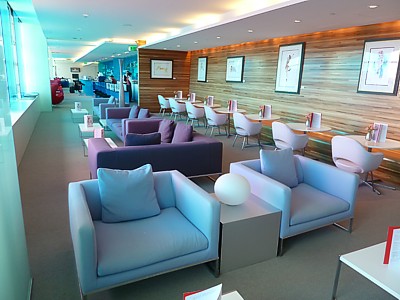 San Francisco Virgin Atlantic Clubhouse
The Virgin Atlantic Clubhouse in San Francisco is one of the best lounges in the world, without question. It even manages to slightly eclipse the master Clubhouse at Heathrow, but only just, and of course it doesn't have as many facilities or toys to play with. However for sheer subtle style, a great view, good food and an amazing bar, it wins hands down over many other airport lounges, and considering the lousy penny pinching quality of most US airline lounges, it stands head and shoulders over them, proving that while the US does many things well, it can't do airlines, and it certainly can't do airport lounges.
The lounge is airside, which is a bit of a pain, so you need to allow some extra time to get through security before the flight, and it is also in a funny location, up a corridor behind checkin, up in a very slow lift to the 5th floor, along the admin corridor, and it's there behind a metal shutter that rises on the dot of 3pm (or 4pm on Monday, Tuesday, Saturday).
The lounge often feels like a home away from home, plonked at the farthest part of the US, and with floor to ceiling windows that offer a great view of the airport and the distant Frisco hills. There are some blue and purple blinds over the windows, which give some parts of the lounge a lurid colour scheme, however they also help to keep the sun off.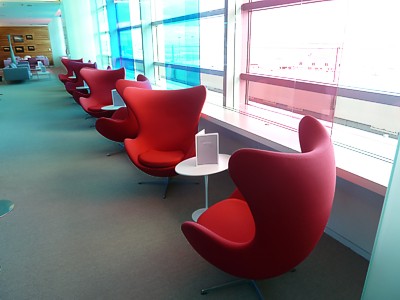 San Francisco Trendy red chairs in the Virgin Atlantic Clubhouse
As soon as you enter, the dining area is on your right, and the bar is on your left, then as you walk left there are vast red 1970s style chairs by the window, then further down there is an area with couches against the wall, and sofas overlooking the windows. On every table there are menus, and with the lounge rather overmanned with butlers, it doesn't take long before your order is taken, but it can take rather longer before your food arrives.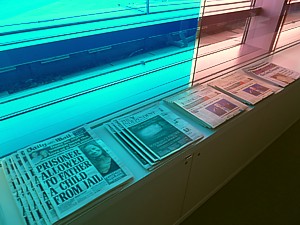 San Francisco The newspaper pile on the window ledge
And it is that food that many people come for: pre-flight dining is well catered, with a three course menu that varies every month, although it does tend towards American tastes, with Clam Chowder, and Burgers appearing more often than you may like. There is no self serve buffet: everything has to be ordered at the counter.
The bar is equally a delight: again, nothing is self serve, but the bar does offer some superb cocktails (again, the menu changes monthly). There is also an excellent wine list (alas no Sparkling Wine, it is Sonoma Country Brut), and there are also some local beers such Anchor Steam, Corona, Samuel Adams, Amstel Light, Heineken and Widmer Hefewizen. The rack of bottles behind the bar is worthy of note: Virgin know their customers, and their customers like a drink, and as such Virgin never want to be caught short without the right spirit, and accordingly have a vast rack of virtually every one known to man.
Newspapers are just left on the window ledge, and can sometimes be hard to come by, as there are just two copies of all of the main UK papers, plus some local US papers. Magazines are good, and are left on a stack (again on the windowsill) but you can take them onto flights – they all have stickers on saying "for use in the lounge only". There is everything from Conde Nast Traveller, to Wallpaper, the Spectator and the Economist.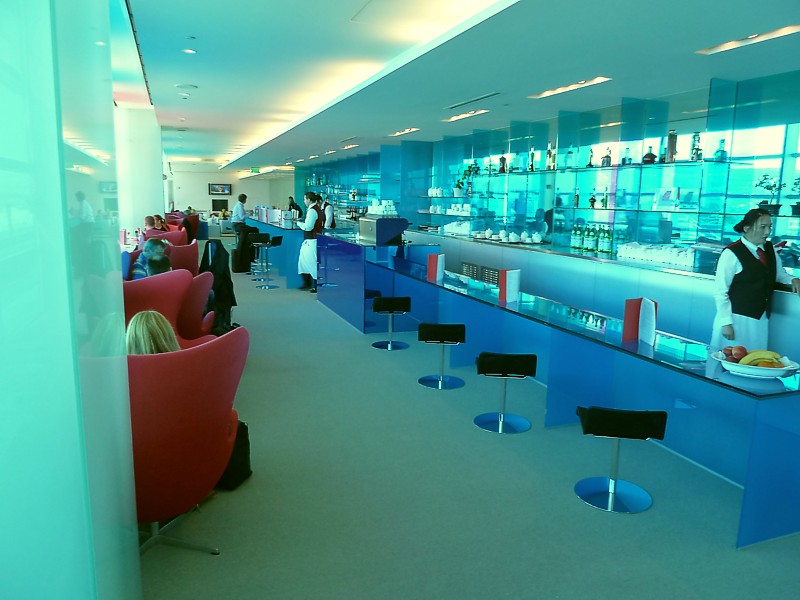 San Francisco The great bar in the Virgin Atlantic Clubhouse
There are just two computers in a small cubby hole next to reception, with a printer and a fax. They are fast and new, but some passengers tend to leave their children playing on the computers for hours before a flight, so it can be hard to get hold of one. Thankfully there is also free wifi. Next to the computers is the writing desk, with lots of Virgin logoed pens, pencils and paper. Alas, there aren't so many after a flight, as they do make very good souvenirs.
There are showers down the corridor next to the computers: ask at reception for a key and a towel.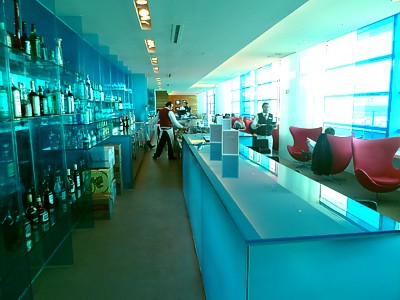 San Francisco Great spirit collection in the Virgin Atlantic Clubhouse
The Virgin Clubhouse is also, technically, the lounge for Virgin America at San Francisco. With such a superb lounge on the premises you'd have thought that Virgin would shout about it from the rooftops, and indeed they do on the website, but when you get to the airport you'll be met with blank stares when you ask about it at check in, and the ground staff will try and direct you to the American Airlines club (Terminal 3, Pier E, halfway down the concourse across from gate 62).
There are two reasons for this: the Virgin America gates have now moved to Terminal 3, and it's a long 15 minute walk to the lounge, which is also airside, so you need to leave the lounge a long time before your flight to clear security. Add to that, the lounge is only open at 3pm (4pm on 3 days a week) so you can only get in on the late evening flights, and even then at best you'll only get 90 minutes in the lounge. And then, you can only buy access to the lounge if are in full, paid First Class, and you pay an extra $35 fee. Plus, you can't pay this fee at the lounge: you need to buy it at check in (but no one at check in will tell you this). Therefore, you need nerves of steel and an iron will to get into the San Francisco Virgin Clubhouse. Or, you could do what everyone else on Virgin America does, and just use the American Airlines lounge (pay a fee US$50 at the door), which is admitedly more expensive, and much worse quality.
New York - JFK - Virgin Atlantic Clubhouse
Terminal 4, airside
Open 1400-2330
Access for Virgin America if in First Class: Daypass $35
Virgin Atlantic's new Clubhouse at New York-JFK Airport is inspired by the theme 'Understatedly Uptown, Unmistakably New York', and you can see why it costs five million pounds to rebuild the 10,000 square feet JFK Clubhouse.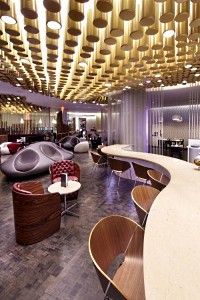 Virgin Atlantic New York Clubhouse
The lounge is big – really big – with more than double the space of the existing Clubhouse. As you walk in you are first struck by the walls, with curved shimmering stainless steel rods and walnut fins hanging from the ceiling creating lots of much smaller spaces within the lounge, while at the same time allowing you to see the whole area. On the ceiling are gold pods with down lights which soak up a lot of noise and vibration: a good idea considering most of the surfaces are reflective, including the polished hardwood floor. There isn't much of a view in the lounge, except at the far end where floor to ceiling windows give decent views of the runway. Alas most of Virgins flights leave after dark, so you won't get to see much of the view, unless you are here for the 6pm flight.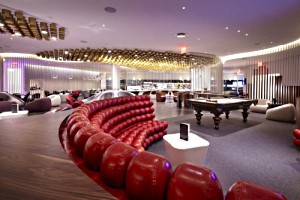 Virgin Atlantic New York Clubhouse
The seats are on the cutting edge of art, with quite a few of the strange four-way squashy seats, as well as some small patent-leather stools with low backs – they scream achingly trendy, but there are woefully impractical. At most seats there are no places to put drinks, or indeed plug in a laptop. To complete the eye-popping look, there is a sofa made from red balls in the entertainment zone.
In the quiet corner of the JFK Clubhouse, passenger sized round cavities have been carved in the walls, lined with wool, with intimate lighting, in case you have had a hard day and you want to retreat into your own private zone.
Naturally, the heart of the the Virgin Atlantic Clubhouse JFK is the bar; it is mocked up as what Virgin call a 'sultry, uptown cocktail bar'. There is a resident mixologist (barman) who will pour cocktails. The range of spirits has to be seen to be believed: not only with your usual premium brands, but also with some more obscure bottles, including a large range from Mexico. There is also Sparkling Wine, and some of New Yorks microbrewery ales. Alas, if you're hunting for some beer from the UK, you may be out of luck.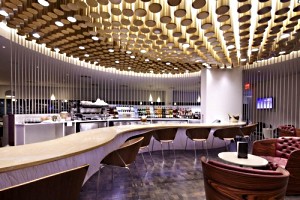 Virgin Atlantic New York Clubhouse
Food is as you would expect good, but again there is no self-serve snackbar. Now, just as the bar is great if you've got plenty of time to wait and you don't mind hanging around for the butlers, if you are in a hurry this can be a real downside. The moral is, allow plenty of time. There are menus on all the tables, and there is a more formal brassiere area, with proper dining tables. Here, you can order a full five course meal á la carte. The desserts are especially good, as are the clubhouse burgers. There is a strong New York bent on the menu, including pork sliders, tin baked steak and Brooklyn Ale pie.
There are of course computers in the work area, with a meeting room with high-backed chairs. There is of course free wifi. There are also newspapers here, with a good set from the UK, including the Telegraph and the Daily Mail, but no Guardian or Independent.
There is one final delight in the lounge – it has a Clubhouse Spa, with steam rooms. This is the first Virgin have offered outside of London. There is also the usual hairdresser, offered by New York City salon Bumble and Bumble: for haircuts you normally have to book in advance.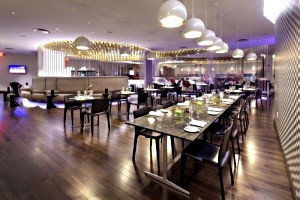 Virgin Atlantic New York Clubhouse
Finally, if you really want to embarrass yourself, you can slip into the usual Virgin Atlantic sleeper suit in the Clubhouse: you're given a hanger for your suit so you can carry it on board.
The new airside space has been designed by Slade Architecture in collaboration with the Virgin Atlantic in house design team.
Be warned that this lounge gets rammed to the gills at around 6pm when there plenty of people waiting for the late evening flights back to London. Occasionally, it is standing room only, which isn't a good look in a flagship lounge. Around Christmas and Easter peak times, you'll often find people sitting on the floor.
There is an obscure method of entry to the Clubhouse if you are on Virgin America in full, paid first class (not upgraded). You can buy a daypass for entry to the Virgin Atlantic New York Clubhouse for an extra fee of US$35 (payable at the Virgin America check in desk only, not at the lounge). bmi Diamond Club members have no access to this clubhouse – only the LHR Terminal 3 clubhouse.
Washington Dulles - IAD - Virgin Atlantic Clubhouse
Terminal A landside
Open 1440 – 2200
Access for Virgin America if in First Class: Daypass $35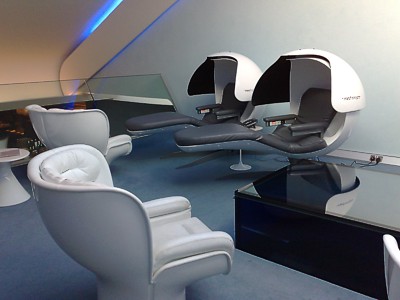 Virgin Atlantic Clubhouse great chairs

After the delights of other Clubhouses on the network, the Virgin Atlantic Clubhouse in Washington DC is, well, a bit underwhelming for Virgin. It's in an old 1950s building, and Virgin have tried hard to keep that 1950s styling, but while the lounge is designed to fit in to the design of this classic fifties terminal, it does have a bit of a makeshift feeling.
The lounge is on two levels, and has a curving spiral staircase through the lounge. There is a Wurlitzer jukebox at the foot of the stairs, which is right by the snackbar with wooden chairs overlooking the bar.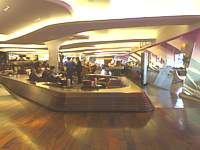 Virgin Atlantic Clubhouse

There is a great bar, but food is not available after the last UK flight leaves; however there are playstations, a DVD library, computers, and even a dart board. There are also a couple of showers.
If you are on Virgin America you can also buy access to this lounge, but you have to buy them at check in. Day passes cost US$35.