Booking Flights
Oddly, the most annoying thing about Finnair (other than the seats and the champers that is) is trying to book a seat on the thing! It's really odd - but Finnair try very very hard to make it the most frustrating process imaginable.
The website does a pretty good job of showing general point-to-point booking options, and indeed will generally show all of the available flights. It's when you want to book multi stop or flights involving codeshares that the real problems occur: quite simply on the classic Finnair London Heathrow to Sydney flights, you'll only get a small selection of the available flights, and it is impossible to select the flights you want, as the Finnair website will only show option to a maximum of 8 variants
The website will also insist - to the point of being really dogmatic - that you can only have a short 40 minute transfer at Helsinki. No matter how hard you try, you will just not be offered the options for a more leisurely 2 hour transfer, even if there are flights and seats available, and even worse if they are cheaper.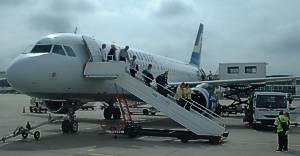 Finnair A320 Paris CDG Airport
You can of course try booking it by putting your 'stops' in as a multi-stop journey, but then the website, instead of showing all options, will just show a few random flights - again, the ones with the shortest possible stopover.
And forget trying to book a 'mixed class itinerary'. Finnair make much in their advertising of the mixed class flights, where you fly premium economy (or even economy) to Asia, and swap onto a Business Class flight to Helsinki. Alas, these are impossible to book online.
The way to get around such bizarre inefficiencies is to phone the airline direct: in this day and age it is odd that the only way to book a seat on the airline is to use the phone, but there you go. Welcome to Finnair.
But then you have to deal with the agents. They will tell you there is no cheap availability - even when there is, if you are prepared to hang around at Helsinki for hours until there is a cheap seat.
However the worst is that they will never, ever, look at anything other than the shortest possible connection at Helsinki. This is a nightmare when you try and book connections from Europe to Asia. The only connection they will look at is a heart-pounding inducing 40 minute one, even if the connection before this giving you a decent 2 hour gap is wide open. If that seat is booked, tough. You'll just have to suck it up.
Also beware, that if you book flights via their worldwide service centre numbers, you will have to pay in the local currency of where you are phoning from. This can work out much more expensive than being at your origin point. For example a flight from London from to Sydney, booked via the Australian number, has to be paid for in AU dollars, even if you have a UK credit card. So converted twice, from GBP to AUD and then back again to GBP (at Finnair's less than great exchange rates). Then, when you pay with a GBP credit card, you get stung for foreign transaction fees. The only way around this particular nasty is to buy the ticket by phoning up the UK number, and paying international call rates.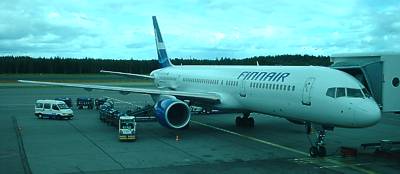 Finnair A321 Helsinki Airport
Booking Finnair combination fares from Australia to Europe
Booking Finnair combination fares to Europe from Australia is a right pain. However, they are advertised as a bargain - you fly premium economy from Australia (or even economy) to Asia, and swap onto a Business Class flight to Helsinki, and save big. Alas, these are impossible to book online, and Finnair themselves via the call centre number often come up with fare prices that are well above discounted business class flights for the whole route, as they book the economy segment into full fare economy.
However a bug in another online ticket site unintentionally offer these fare. In Australia, go to the UK version of the Travelocity website, select Business Class, SYDNEY to LONDON Heathrow, and just Finnair as an alternate.
When the results come up, the first option is the combo fare - with a pretty much invisible warning that the first segment is in economy. Forget trying to use this bug to get Premium Economy however - it's just not occurring.
It is worthwhile noting however, that the cost of SYD-HKG-HEL-LHR return with the first/last segments in economy, is oddly pretty much the same cost as flying the whole route in Business, but booking your flight out of London via the London call centre. If you do this route more than once, a nested ticket (UK-SYD inside a SYD-UK, UK-SYD) can work out much cheaper, and you get to fly in Business all the way.
Operational Upgrades
One of the common questions is "How do I get an upgrade on Finnair to Business or Club class?". Alas, getting upgraded to business class on Finnair really isn't that easy. The airline has the Western, rather than American, model for upgrades longhaul. Which is to say you'll only get an upgrade if your paid for class is full, and then upgrades are processed accordingly to a pecking order of elite frequent flyer status. You are very unlikely to ever get an upgrade unless you are at least an Emerald oneWorld member.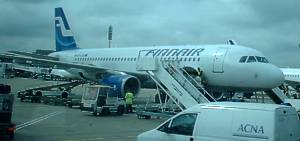 Finnair A320 Paris CDG Airport
To start with, make sure you are a frequent flyer, and you do fly frequently: after all, if Finnair are going to upgrade anyone, they will upgrade those passengers who fly with them pretty regularly, and hence will enjoy the upgrade enough to put more business Finnair's way. Then if the flight is full in economy, and someone needs to be moved up, the check in staff will first look at Platinum or Gold Finnair Plus members, and then Silver level, and then at other Oneworld/Star Alliance members at the equivalent levels (Emerald, and then Saphire). Another thing that Finnair look at is how much you paid for your ticket: it's much more likely to happen with a full fare ticket (although occasionally you can get lucky with a discounted economy ticket). On Finnair the airline has heard - probably hundreds of times a day - requests for an upgrade: the general consensus seems to be that if you ask for an upgrade, you're less likely to get it, although opinions differ on an upgrade strategy for Finnair.
As always, my advice on dressing properly in the pages on how to get an upgrade applies.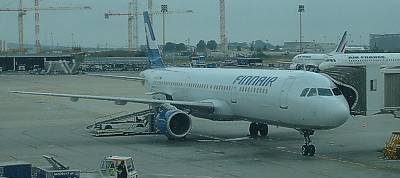 Finnair A321 Paris CDG Airport
Finnair Hints & Tips
If you are a member of the BA Executive Club and travelling in Business, it may be better to book flights under the BA codeshare, to get the class of service bonus. Remember you can travel to Helsinki via Stockholm if you want more Tier Points.
Oddly, for most long haul economy tickets changes are allowed, and refund are paid for unused tickets. A bargain. But then Finnair tickets can be much more expensive than other airlines which don't allow changes.
Finnair stripes
Finnair has codes to indicate the rank of crew member: one stripe in the sleeve means normal cabin attendant, two stripes means a service chef and three stripes a purser. Male cabin crew wear ties with plane symbols on them and the pilots wear ties with compass symbols. Yellow ties and scarfs are worn on leisure flights.
Finnair special fares
Finnair occasionally have regular Business Class special fares from London to Bangkok at 2000 euro return (min stay one week): it may sound hefty, but these are actually a bit of a bargain, and should be taken quickly (they go on sale in the winter). Date changes are permitted for a nominal fee, so it can pay to book them as soon as they appear, and pay a few euro to fly when you want to fly.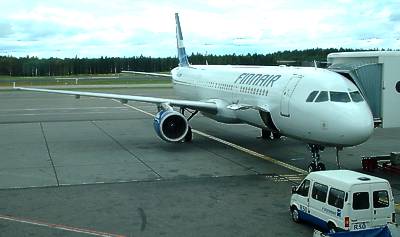 Finnair A321 Helsinki Airport
Finnair website
The Finnair website is pretty basic. It is possible to book fares ok, and the site will list the prices for alternative flights that day (but doesn't check other days). You can now even
Select your seat online
. however there is very little information on the what else Finnair does, the routes, or the planes. There are plenty of "extras" on the right hand side though, with Car Hire and Gift Vouchers, although sadly the "book a lounge" option has gone.
More worrying the main Finnair logo changes from page to page, font sizes can be a little wild, and some pages contain pretty much no information at all. However the truly woeful part of the website is the slow loading. Bad design, and poor performance.
Main Website: www.Finnair.com
Information on Frequent Flyer