NEWS: Finnair Plus members now earn points on Finnair flights based on zones and new ticket types. There are two business and three economy class fare types.
Finnair Plus is Finnair's frequent flier programme, and is part of the OneWorld Alliance.
Joining is easy; it's possible to do it online. 450,000 people are members of the scheme.
Finnair operates a point system, and the points you are dependent on the fare type you buy. There are six ticket types in Finnair business and economy, with two business and three economy class fares.
The three economy class offerings are Saver & Basic (both earn 50% miles) and Value (100 miles), while Business class is split into Saver and Business (both earn 200% miles).
There is also the unusual Pro class (earns 150% miles), which is economy, but which is fully-flexible, allows unlimited changes and includes seat selection, priority check in, security and boarding, an extra piece of hold luggage. It is designed for long haul, where you sit in economy for the long flight, but subject to availability upgrade to the Finnair's Eurobusiness class for the European legs. This is generally reguarded as poor value, so the extra miles are worthwhile.
You also use points to progress through the tiers of membership, from initially joining, to silver, gold, then platinum.
Finnair Plus Platinum, Gold and Silver members have the right to use the Lounge facilities regardless of travel class. A priority label is also attached to your bags to ensure that you receive them quickly after your flight.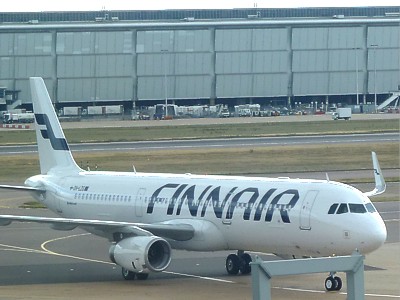 Finnair A320 at London Heathrow
If you buy anything on board, you get 5 Plus points per euro. On a flight to a destination outside the EU, Finnair Plus Platinum, Gold and Silver members receive a 10% discount from purchases onboard, as well as 5 Plus points per euro when the total amount exceeds 15 euros.
Finnair Plus points are valid for five years from the date of transaction. Finnair does not offer an enrolment bonus. Although few and far between, the promotional bonuses offered by Finnair have been very generous. For the past few years, Finnair has offered limited-time bonuses such as quadruple points for business class, triple points for full-fare economy, and double points for travel on all other fares.
Note that although Finnair is a member of the oneWorld alliance, you won't get any points or miles if you buy a cheap economy ticket on another one-world member airline and try to claim them on Finnair. For this reason it is often worth joining Qantas, and putting point on that card - even cheap Finnair flights earn full Qantas points. Interestingly Finnair Plus and Lufthansa Miles & More were once one and the same - now they are rivals.
Ticket type

Finland

Northern Europe**

Rest of Europe and Middle East
Thailand, Vietnam, China, India, South Korea and North America
Japan, Hongkong and Singapore

Business

200%

-

2 000

4 000

15 000

17 000

Business Saver

200%

-

2 000

4 000

15 000

17 000

Pro

150%

1 500

1 500

3 000
11 250
12 750

Value

100%

1 000
1 000
2 000
7 500
8 500

Basic

50%

500
500
1 000
3 750
4 250
*Booking classes A, W & G earn always 25%. **Copenhagen, Gothenburg, Krakaw, Moskow, Oslo, Riga, St Petersburg, Stockholm, Tallinn, Vilnius, Warsaw
Earning Miles

You get roughly one point for each kilometer you fly. However you also get a minimum number of points. Business class gets double the number of points.

Helsinki to London gets 1,825 points (3,650 in business class). To Hong Kong you get 7,863 points (15,726 in business). To Frankfurt and Amsterdam there is, oddly, a basic level of 2,000 points, and to Stockholm 1,500 points. Bangkok is 7878 points, while NewYork is 6610. On cheap tickets (what Finnair still quaintly refers to as "leisure flights", or N class tickets) you only get half the number of points.

Spending Miles

A domestic flight costs 20,000 points. A flight from Helsinki to anywhere in Europe will cost 40,000 points, or 60,000 in business class (and an upgrade costs 20,000). Helsinki to the US is 120,000 points (170 in business, an upgrade is 70,000). The far east is 150,000 points (220,000 in business, or 70,000 for an upgrade).

Other miscellaneous awards include a safety information course for air passengers for 35,000 points or excess luggage charges for up to 10 kg can be redeemed from 5,000 to 20,000 miles depending on the destination

Finnair Plus Silver

Silver is equivalent to One World Ruby Level. It can be achieved at 60,000 points when flying Finnair or other oneworld partners or flown 18 return Finnair or other oneworld flights in a 12-month period. Flights within Finland are excluded from the count and at least four one-way flights should be on Finnair during the tracking period.

On getting to this level benefits include business class check-in, and rather surprisingly Finnair lounge facilities. There is also an express check-in service at Helsinki, and 40 kg of baggage free of charge plus the ability to pay for any excess baggage with points. Membership at this level equates oneworld Ruby status and members can use oneworld business class check-in worldwide.

Finnair Plus Gold

Gold is equivalent to One World Saphire Level. It can be achieved at 120,000 points or flying 42 flights based on the same criteria used to achieve Silver status.

In addition to Silver benefits such as lounge access, members are privy to confirmed seating 48 hours prior to departure in business class, check-in at the Gold Desk in Helsinki and two free upgrades on a scheduled European Finnair flight. At this level members are also entitled to use oneWorld business class lounge facilities.