Finnair Food
Inflight Meals
News: For economy flights around Europe, Finnair is introducing a 'pre-order meal service'. To get a hot meal onboard the Finnair flight, you have to pre-book it when you book the flight, and pay 10euro. Finnair inflight meals offer five meal options for €10: Salmon Salad, Tomato Enchilada, Beef Burgundy, Pasta Bolognese and Chicken Korma.
Finnair have scrapped free inflight meals in economy for short flights around Europe (Helsinki to Copenhagen, Gothenberg, Krakow, Oslow, Vilnius, Warsaw). Instead there is Finnair's pay as you eat service.
You can also buy snacks on longer flights, and flights to Dubai. However on these flights a basic meal service is also provided in Economy, or you can pre-order a a hot meal onboard the Finnair flight, when you buy and pay 10euro. Finnair inflight meals offer five meal options for €10 (see box, right). The Finnair snack Menu is in the seat pocket infront of you, whereas the pre-order meal menu is online. In economy short haul there are normally two trolleys on the plane, one which starts at the front, and the other at the back. Hence, if you want to get your food first, and have some chance of eating it before you get off the plane, you'll need to sit either right at the front, or right at the back.
In Business short haul a hot meal is provided at all times.
Domestic & short EU flights Rye Bread with gouda Cheese €6
Chicken Curry sandwich €6
Pot Noodle (Veggie) €3

---
EU flights - Meal pre-order Fresh Salad with Smoked Salmon €10
Enchilada with Tomato Sauce €10
Beef Burgundy €10
Pasta Bolognese €10
Chicken Korma €10

Finnair Economy Food
Finnair inflight meals - Business Class food
In business class all meal service is by trolley, which can make the meal service agonisingly slow, and the meal times aren't ideal either. Long haul in Business you place your orders before takeoff - but it then takes until you are woken up about 2 hours into the fright by table cloths being laid, and then two trolleys which both start
at the front of the right hand isle
, and work their way down the whole of this aisle, before starting on the left hand aisle. 1L gets served first, 5A gets served last, a good 3 hours into the flight. For this reason alone, the right hand aisle is much more popular on night flights, however it in turn has the downside that you'll be woken first for breakfast, 2 hours before landing.
In business class you can order a meal in advance of the flight, on the manage your booking section of the Finnair website.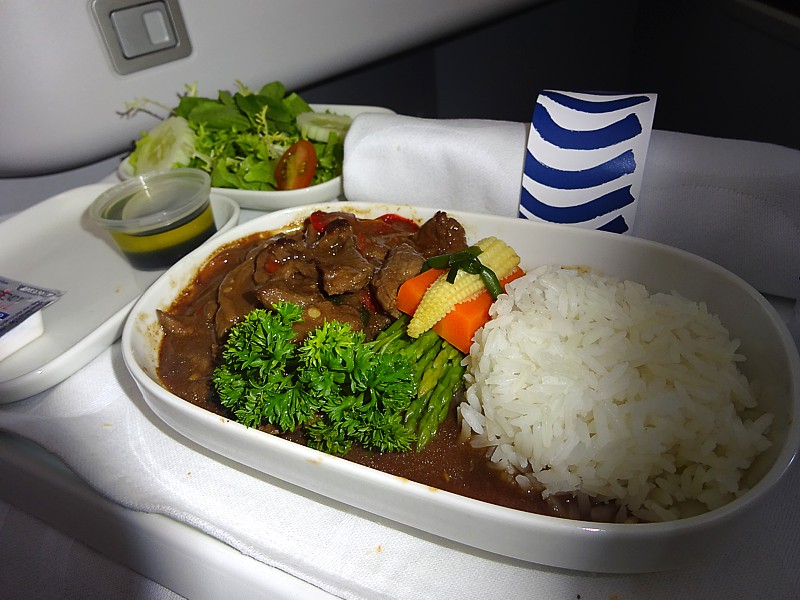 Reindeer and rice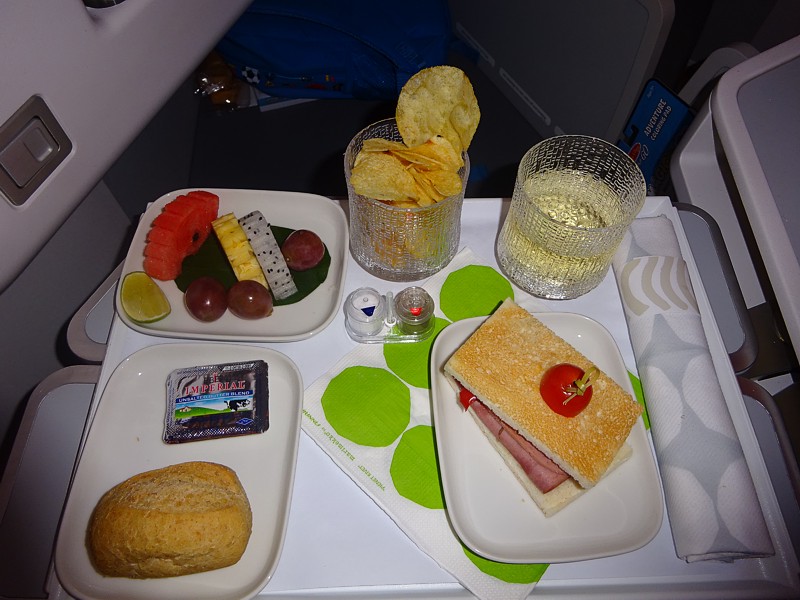 Club sandwich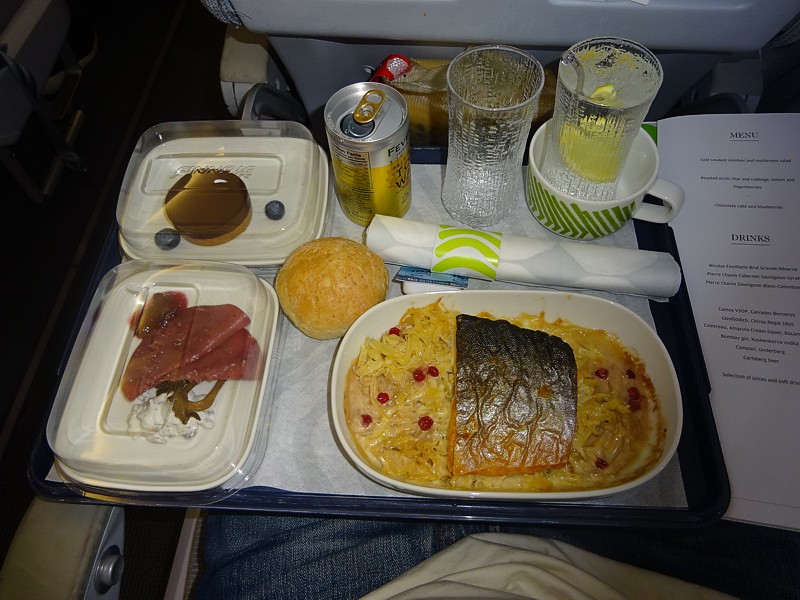 Fish and reindeer
Roasted artic char and cabbage curdled with lingonberries.
Cold smoked reindeer and mushroom salad.
Chocolate cake.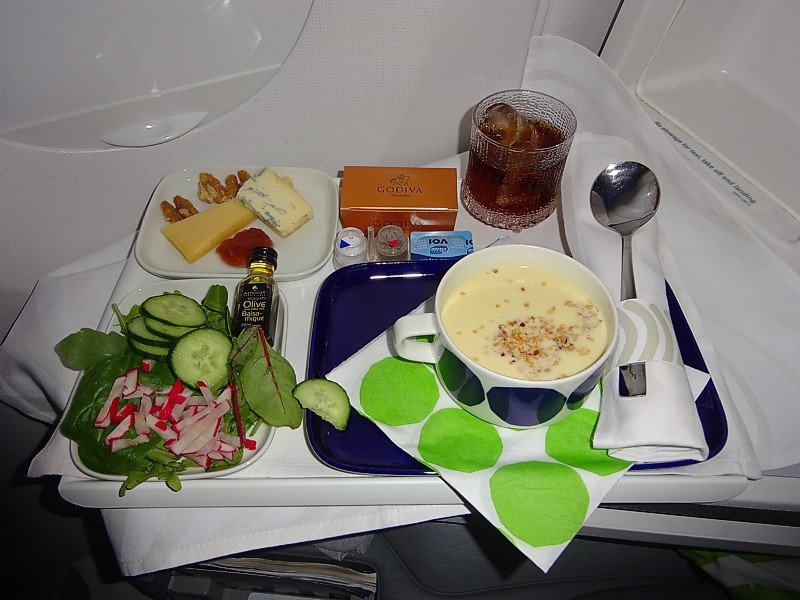 Mushroom soup
Roasted mshroom soup in nuts and brown butter.
Finnish cheese, with peltolan blue, viinitarhulr reeking strong, rubarb jam.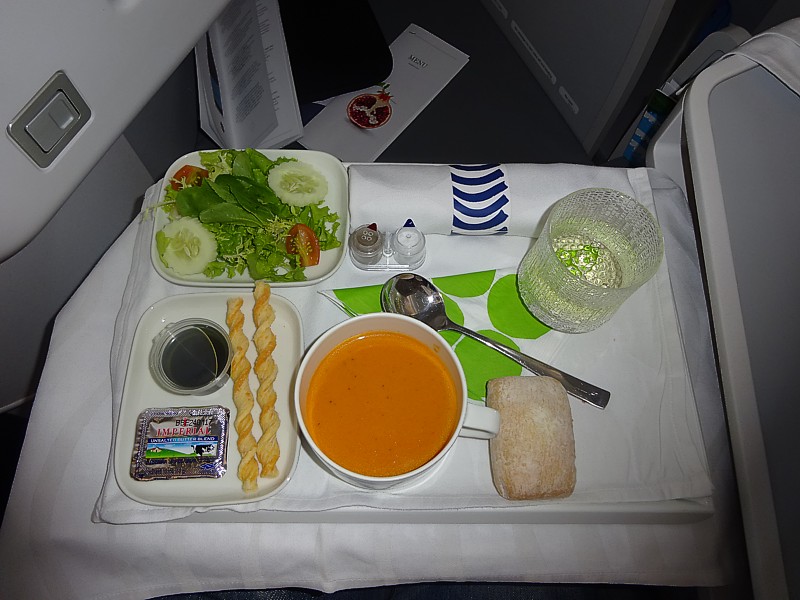 Tomato soup
Creamy tomato soup with cheese sticks.
Green salad.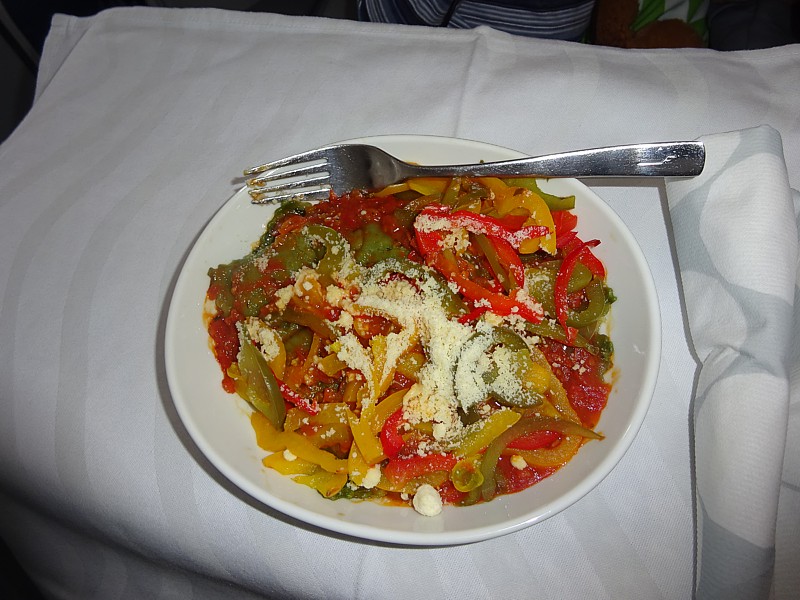 Pepper pasta
Mushroom ravioli with romato and bell peppers.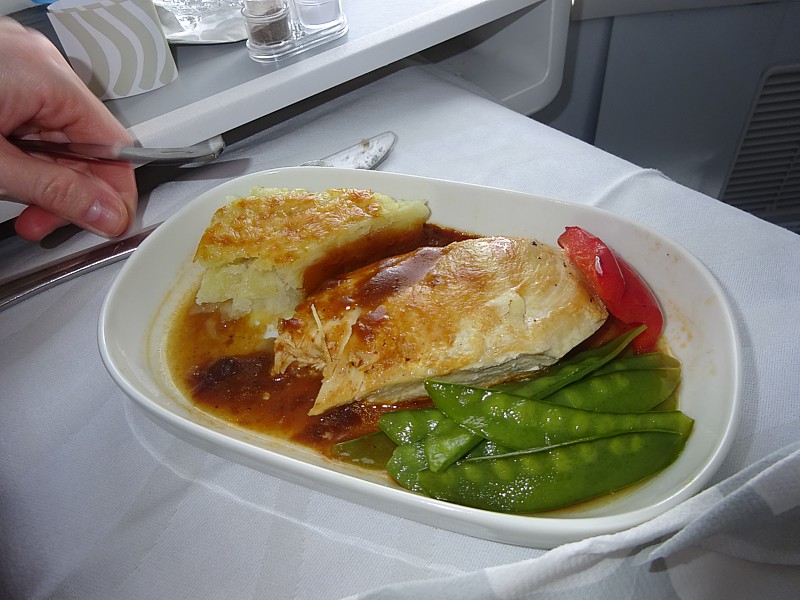 Chicken mash and beans
Grilled chicken breast in gravy with grilled bell peppers and snow peas.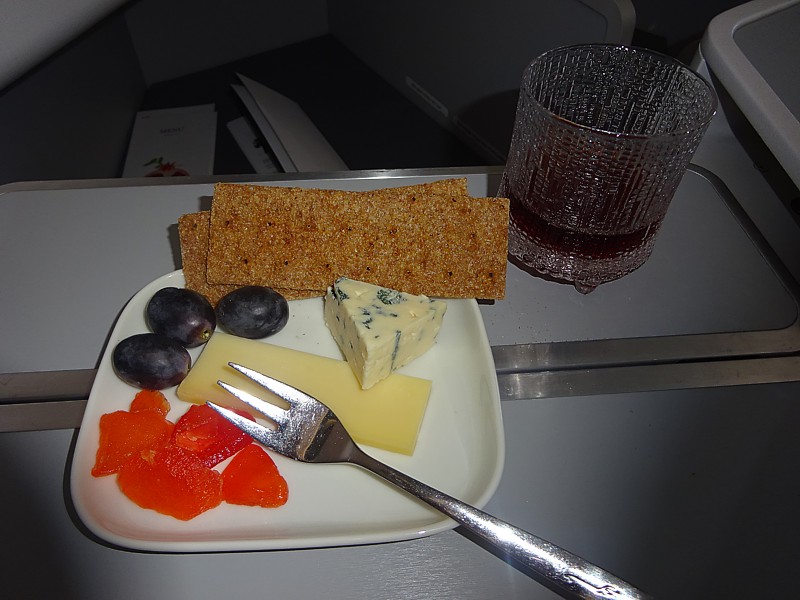 Cheese plate
Finnish cheeses with Gruyere and danish blue.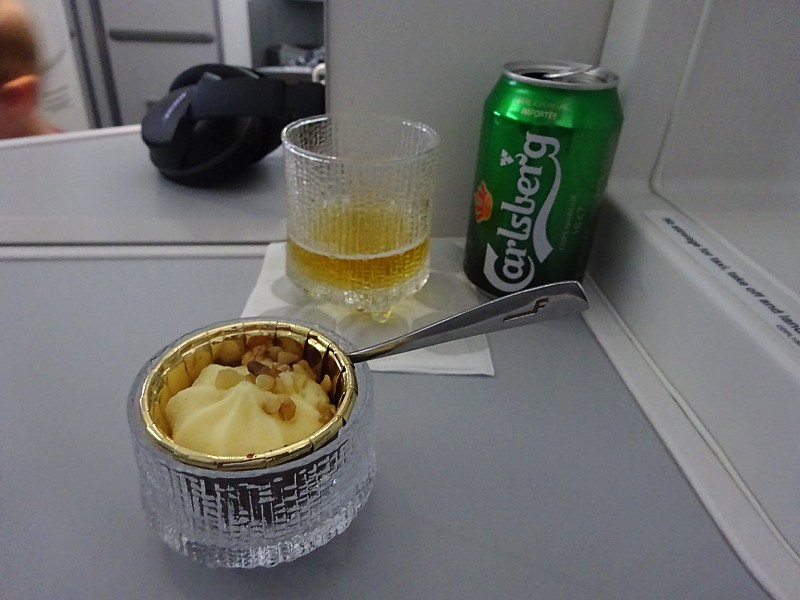 Dessert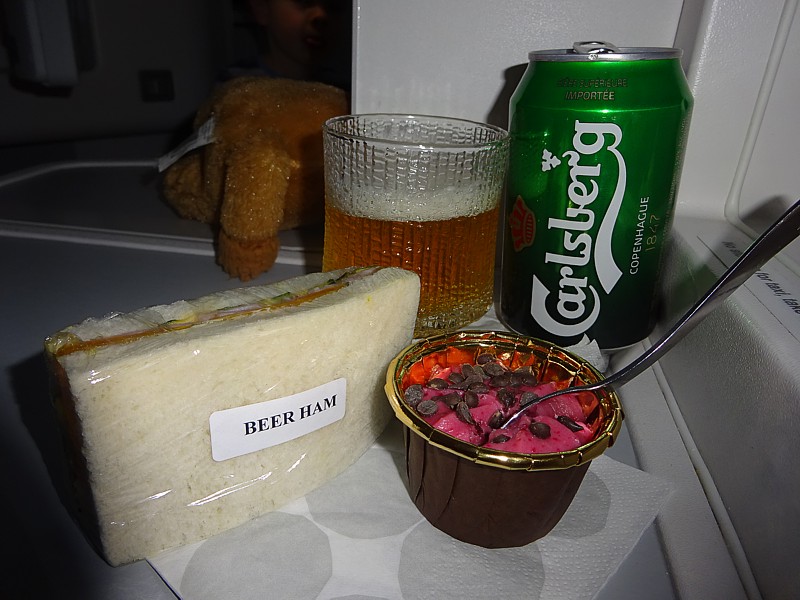 Midflight snack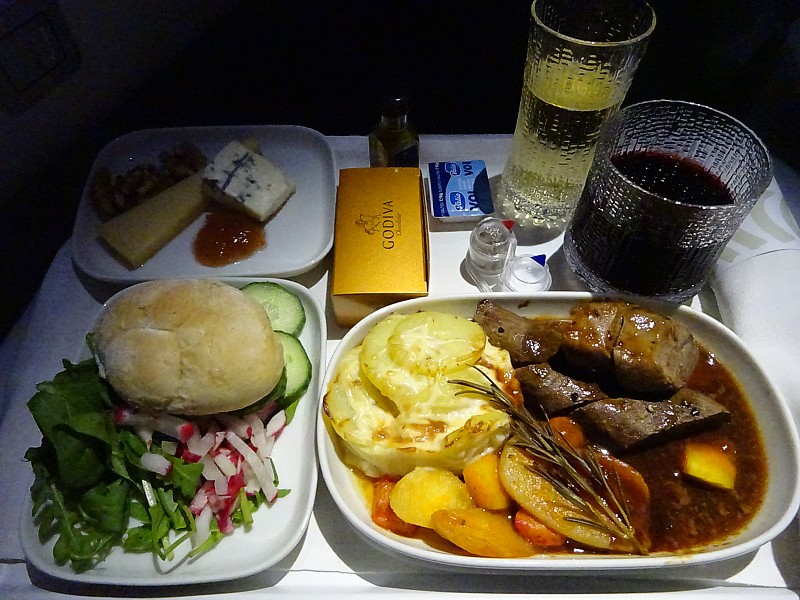 Rump steak
Beef in oyster sause, vegitables and rice.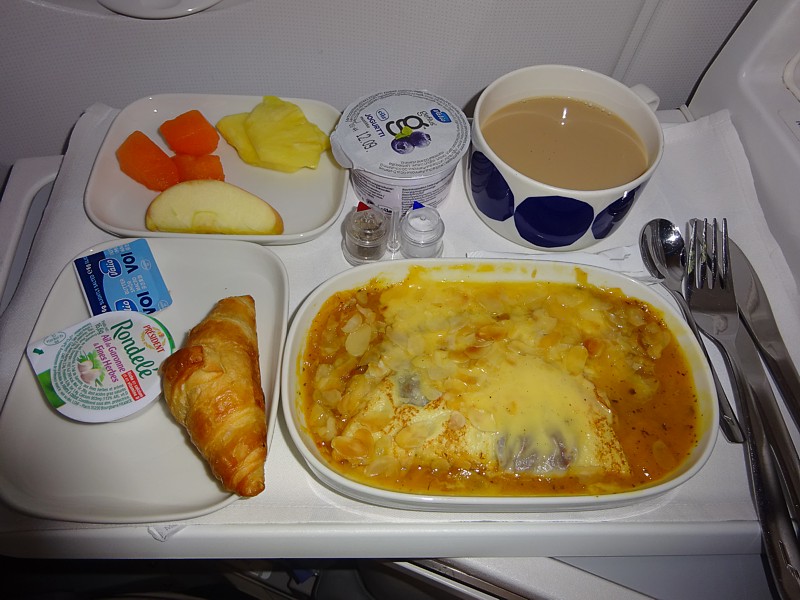 Cheese in lard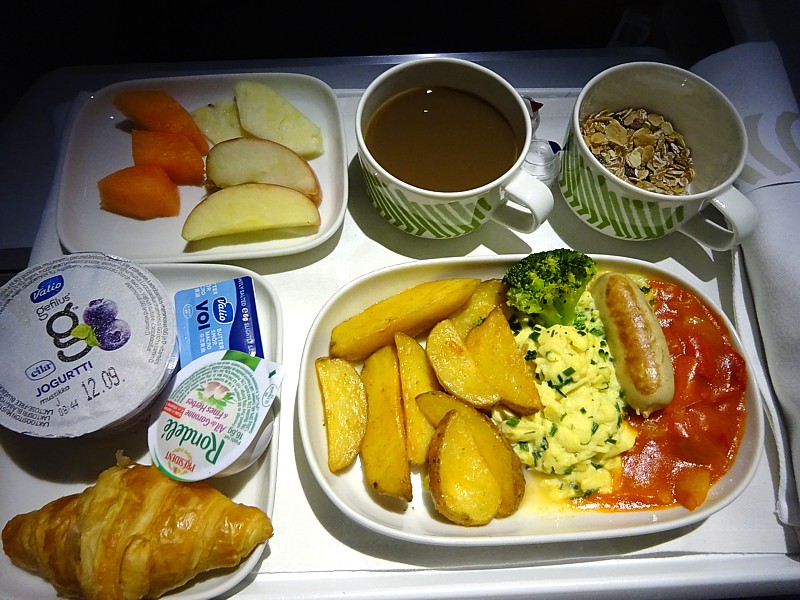 Hot breakfast
American style breakfast, with scrambled eggs, chicken sausage, wedges, and bell peppers.
Fresh fruit and yoghurt.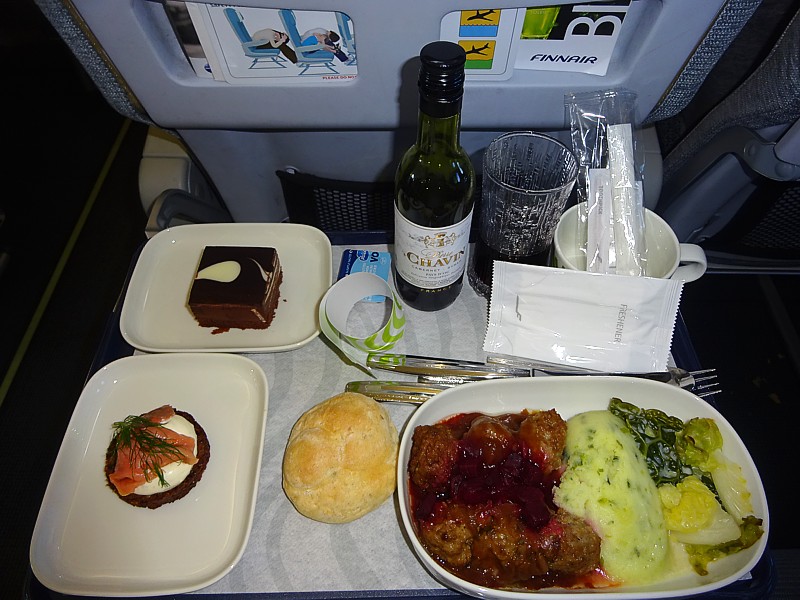 Adult meatballs
Childs Meals - Finnair inflight food - Business Class
Finnair have a full selection of child meals. However, you have to know you must order these in advance, by phoning Finnair. Even if you have a child on your booking, Finnair child meals are not automatically loaded.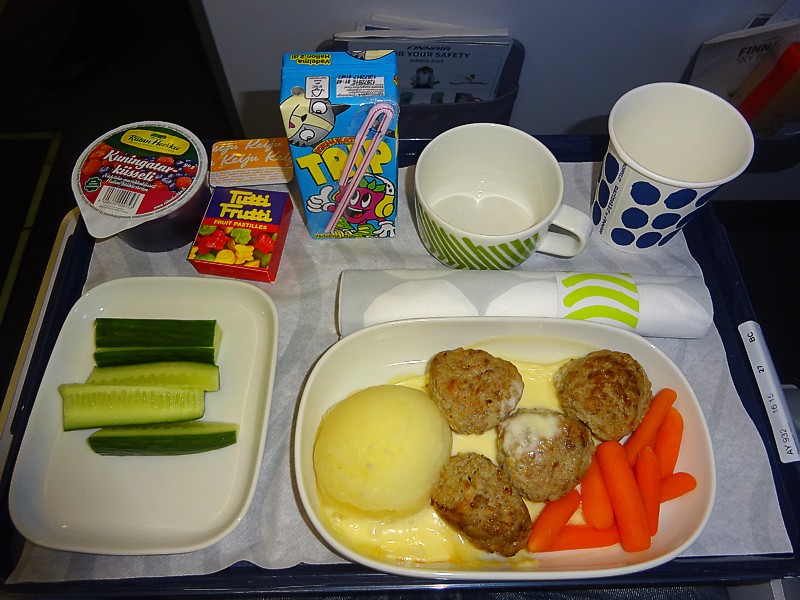 Meatballs - Childs Meal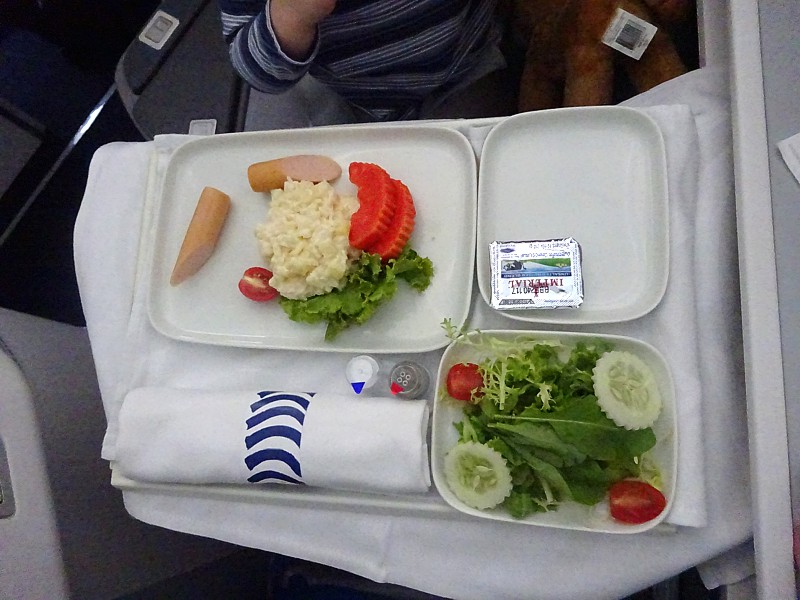 Childs Meal - sausage and egg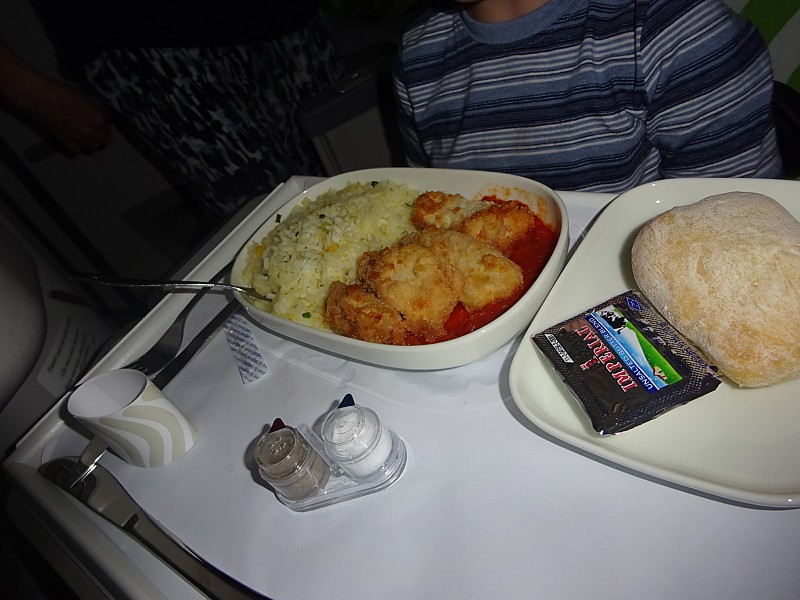 Chicken Nuggets - Childs Meal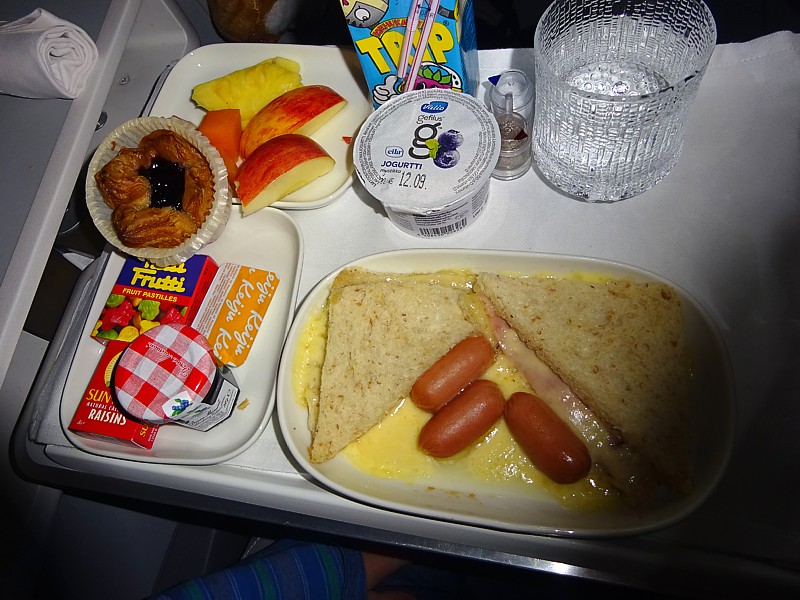 Sausage, egg and ham toasty - Childs Meal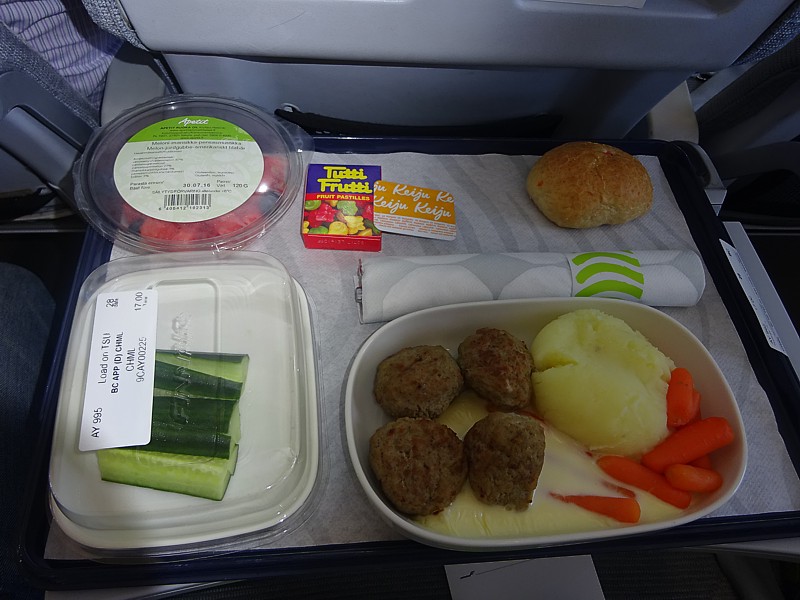 Meatballs - Childs Meal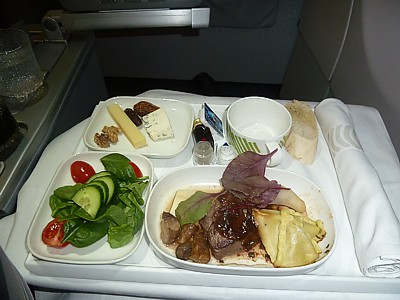 Reindeer Pasta
Pan fried reindeer fillet steak in game sauce, mushroom ravioli and fried ceps.
Garden salad. Cheeses - aura blue cheese, black label Emmental.
Tiny tiny portion sizes are the go on Finnair at the moment: the assumption is that you will eat on the ground, and will want maximum sleeping time on board.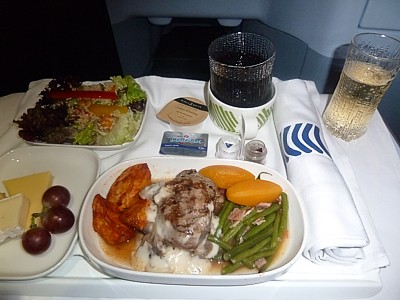 Steak and veggies
Petit rump steak, with mushroom sauce, string beans, and sweet potatoes.
Feta cheese salad.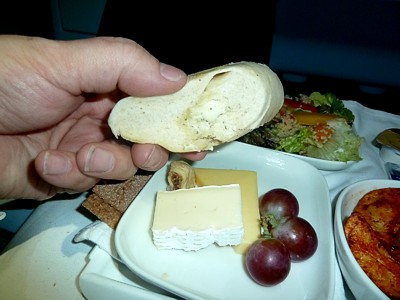 Cheese platter
Cheeses - Finish blue cheese, cheddar.
Garlic bread.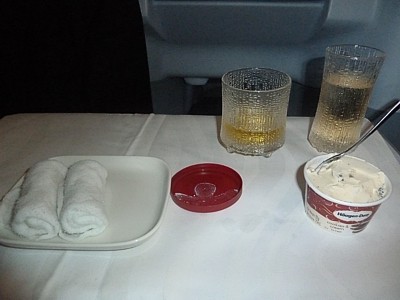 Ice cream desert
Haagen-Dazs chocolate chip ice cream.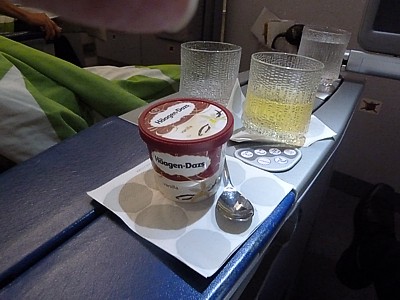 Ice cream desert
Haagen-Dazs vanilla ice cream.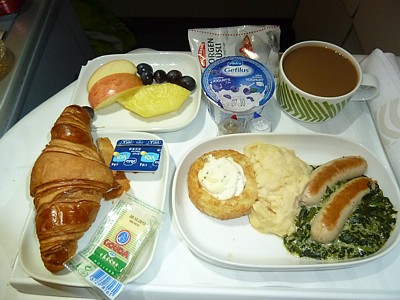 Full cooked breakfast
Chicken sausages, scrambled eggs, mini has browns, and creamed spinach.
Warm croissant with marmalade. Bowl of fresh fruit. Muesli and yoghurt.
Wow, this is good, and almost makes up for the minute portions served at dinner 12 hours before.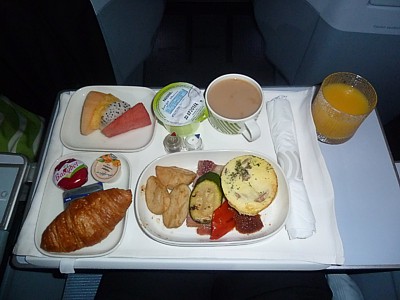 Light, healthy breakfast
two strips of bacon with veggies. Mushroom tart.
Warm croissant with jam and cheese.
Bowl of fresh melon. Muesli and yoghurt.
Trans-Europe Business Class - Finnair inflight food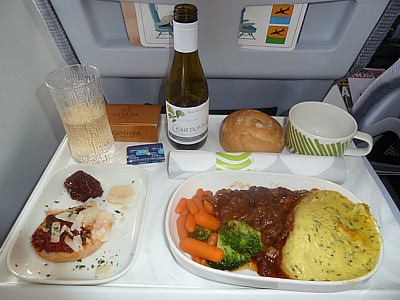 Deer Goulash
Reindeer goulash with turnips puree, cranberries, and curly kale.
Appetizer of sun dried tomatoes and parmesan cheese.
Godiva pralines.
It's bambi. With Potatoes.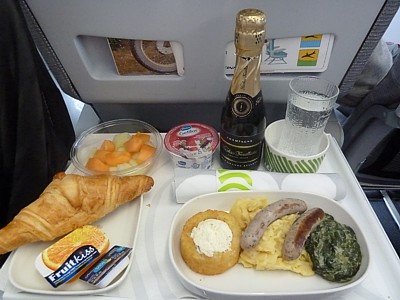 Cooked breakfast
Two chicken sausages. Scrambled eggs.
Spinach dollop. Cream cheese and potato tartlet.
Croissant with marmalade. Yoghurt. Plastic fruit bowl.
Trans-Europe Economy Class - Finnair inflight food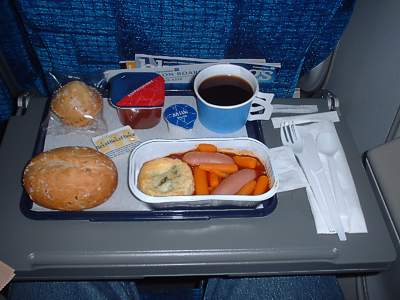 Sausage Breakfast
Two pork sausages with nine miniture carrots, with a small round herb and cheese omelette awash with gravy.
A hard brown wholemeal roll. A tub of Becel butter. A faircake. A tub of Karpalojuoma juice. A pot of milk, sugar, pepper and salt.
A lovely breakfast, which is probably totally unhealthy, but which tastes great. This is very much a breakfast of the old school, before airlines started doing away with warm food, and arrived piping hot. Even the omelette worked well, although it was an unusual combination.
To follow though, the fairycake was just too odd. Alas Finnair have joined Singapore airlines in serving these up. And the roll was very hard.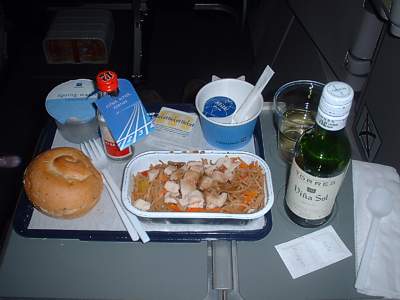 Chicken Noodles Lunch
Chunks of chicken, in noodles with miniture carrots washed with Soy Sauce.
A hot roll (with poppy seeds) and a pot of butter. A tub of water. Milk and sugar.
This is pretty good, for just a short flight around Europe. The chicken is lovely and tender, and despite the rather odd addition of carrots in the mix of noodles, it works well.
The roll is worthy of particular mention. It has loads of flavour, was hot, and yet also arrived wonderfully soft. If only all airlines did them this way.


Next page: Finnair Drinks and Bar >>>