NEWS: Finnair has started to fly to Phuket in Thailand, and Ho Chi Minh City in Vietnam, however Finnair has cancelled Guangzhou-Helsinki, and continues to operate its new route to Tel Aviv also during the winter season.
Finnair's main hub is at Helsinki, although there is also a smaller hub a Stockholm (Arlanda). Curiously, but rather typical of Finnair, trying to find information about Finnair routes is very difficult - Finnair no longer put this information on their website, and a printed version of the timetable is very hard to come by. Indeed, if you click on Timetable or Destination on the Finnair website, all you get is a trite précis on the destination - not route timings.
From London LHR there are 4 flights a day to Helsinki at 0730 (arrives 1225) 1020 (arrives 1515) 1610 (arrives 2105) and 1805 (arrives 2300) all of which use an A320 or A321. There are also BA codeshare flights at 1130 and 1825, bizarrely just 20 minutes after the 1805 has left, and which often tailgate each other on the runway.
From Manchester there are 2 flights a day to Helsinki at 0825 (arrives 0925) and 1600 (arrives 1700) operated by the Flybe offshoot. From Birmingham the only flights are codeshares on Sabina via Brussels, and from Glasgow flights are BA codeshares.
From Dublin there are flights to Helsinki on Tuesday, Friday and Sunday at 1805 (arrives 2300) and on the alternate days at 1005 (returning at 1500).
There are twelve flights a day from Helsinki to Copehnhagen, ten to Stockholm, and five to Oslo all using A320 (or A321 at peak times).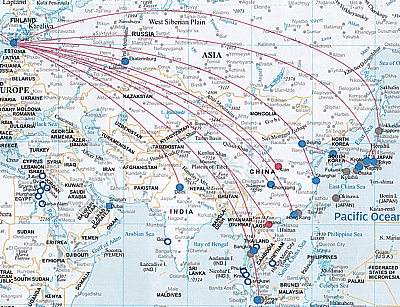 Finnair Asian Route map
There are four flights to Paris (A320), four to Brussels (A320), three to Moscow, Dusseldorf and Hamburg (A320) two to Frankfurt (A320), two to Munich, two to Amsterdam, one to Madrid (although there is also another route via Stockholm), one to Barcelona at 1725, one to Prague (and another as a Czech Airlines CSA codeshare) and one to Rome (on an A320), Warsaw and St Petersburg.
There are tourists flights with the 757s flying an erratic itinerary to Las Palmas on Gran Canaria through the winter, with a regular shuttle.
From Helsinki there is a daily flight to New York JFK (using an A330) at 1410 (arrives 1550) returning at 1740 (lands 0850 the next day) and a seasonal service to Toronto (YYZ) at 1700 (arrives 1845) using an A330.
There is a daily flight (using an A330) to Bangkok at 1710 (arrives 0715). There is no longer an evening flight calling into Bangkok before Singapore, and Singapore now gets its own direct flight daily at 2355 (arrives 1640) with an A340. Beware - the ex-Air France A340s tend to hog this route.
There is a Hong Kong flight at 2340 arriving at 1430, which now flies direct using one of the new A340. This returns at 0025 (Arrives Helsinki at 0610). Four days a week there is also a 1640 from Helsinki, arriving Hong Kong at 0725, and usually it's on a brand new A330 with the new business seating - a real joy. In turn there is also a return at 0930 from Hong Kong, arriving Helsinki at 1510. This is on the new A330, and is such a vastly better service at better times, it is a wonder more people don't take it.
The Hong Kong flight technically carries on to Sydney as a codeshare using the regular Qantas services, and occasionally on Cathay Pacific ones: if you are buying the ultra-cheap Finnair codeshare, always go for the Cathay options.
Beijing gets a flight at 1750 (arriving 0735 the next day) while Shanghai has a flight at 1700 (arrives 0650), and there are also flights to Seoul and Delhi.
Airline schedules change regularly
This information is intended as a guide, but for up to the minute timetables, please consult Finnair at www.Finnair.com
Japan is oddly served, with Tokyo only getting a flight at 1720 (arrives 0955) on Tuesday and Saturdays (and in the summer on Thursdays), while Osaka gets a flights on the five other days of the week at 1720 (arrives 0950). Flights to Nagoya have just started.
Between Helsinki and Bergen, Budapest, Dublin, Murmansk, Prague, Riga, St. Petersburg, Tallinn, Vilnius and Warsaw Finnair are one class (Economy) only - because on most of these you end up on a route actually operated by FlyBE.