Virgin Australia Routes
News: Virgin Australia have axed all flights to Abu Dhabi and South Africa. The small fleet of 777s are now used exclusively to Los Angeles. Meanwhile the A330s are being switched from the Perth-Sydney route, to Hong Kong
Long Haul International Routes on Virgin Australia are easy to list: there are only three, to a grand total of two destinations! Don't be mislead by the huge Virgin Australia route map at the back of the inflight magazine: almost all of these are codeshares, and don't really exist as Virgin Australia destinations.
Sydney to Los Angeles is the core route - VA1 no less - seven days a week leaving Sydney at 1030 and arriving in LAX at 6am the same day, but 14 hours later, using the Boeing 777, seven days a week. There is a codeshare on Delta running just five minutes before it.
Melbourne to Los Angeles also has a Boeing 777, leaving at 1235, arriving at 0900, every day except Wednesday and Friday, is much less core, with direct flights on a Saturday, taking nearly 15 hours.
Brisbane to Los Angeles is a Boeing 777, leaving at 1105, arriving at 0700, every day except Sunday and Monday. This is the shortest ex-V-Australia route, taking a mere 13 hours 15 minutes.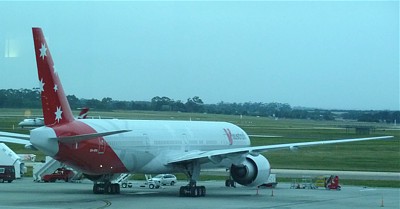 Boeing 777ER Virgin Australia at Melbourne
Sydney to Hong Kong is a bit of a weird one, with the A330 from Perth moved onto the route, at 1120 arriving 1740.
Melbourne to Hong Kong has the A330 at 1045 arriving 1720, every day except Thursday.
Trans-Tasman there aren't many 'real' Virgin Australia flights either: from Sydney to Auckland there are just two a day, with just the 1105 (arr1610) the great daytime flight at 3:40 PM -> 8:45 PM, and the 1930 (arr 0035) both on a 737. There are also SYD-WLG 0900-1415, and SYD-ZQN 1.35-3.30pm, but no longer codeshares on Air New Zealand, following the airlines dramatic falling out.
Brisbane to New Zealand has BNE-AKL 0930-1545 or 1840-0055, plus BNE-WLG 1800-0025, BNE-CHC 1820-0045 and BNE-ZQN 0925-1600.
Domestically, Virgin Australia's core route is between the East and West Coasts, on which it puts the flagship A330. Alas, it's quite hard to get onto this plane, which has great seats in Business Class, and instead you may end up on the much poorer 737 - which due to it's better inflight entertainment, may actually be better in economy.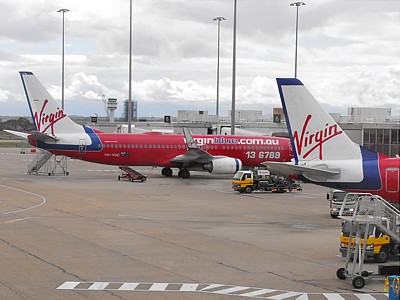 Virgin Australia 737s at Melbourne
Sydney to Perth is the core domestic route - although there aren't that many flights, and fewer still on a A330. The main morning flight is the daily 0700 to Perth, arriving at 0900 with an A330, then there is the 1040 arriving 1240 with an A330. Neither flight serves lunch. There is then a huge gap until 1730 (arrives 1930) with a 737: dinner is served, but the business seats are the old 737 style. Finally at 2000 (arrives 2200) there is another A330. With no afternoon flights, and with the best evening service served by the worst plane, many passengers end up going via Melbourne. Flying back from Perth, there is the 737 appearing on the 0600, then A330s at 1015, 1500, and the woeful 2315 redeye.
Melbourne to Perth is an equally mixed bunch, but at least flight times are shorter, and every flight gets an A330. There is the 0700, 0900, 1330 (arrives 1435 - lunch is properly served), 1730 (arr 1835) and 2000. Flying back there is the quite frankly painful 0545, 0930, 1200 (good flight - arrives 1825) 1600 ad 2245.
Virgin Australia route map
Next: Virgin Australia history >>>
All images and content copyright airreview.com