News: Virgin Australia will now offer free meals and drinks in economy class. Initially these will only be on flights from Sydney to Melbourne & Brisbane, but free meals and drinks on all domestic Virgin Australia flights will shortly be introduced.
Virgin Australia make much of their exciting new onboard menu with signature Luke Mangan items.
Alas, what this basically means is that on domestic and Trans-Tasman flights there is a pay-as-you-eat service: you can buy packets of sandwiches on board from the V-Licious menu, and that's it.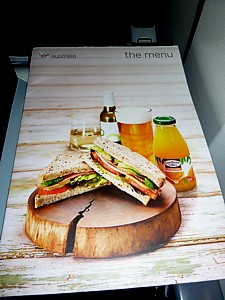 Trans-Tasman in economy it gets more complicated, with the same dodgy sandwiches for sale, unless you buy a Flexi fare, in which case you get a free hot meal (two on offer).
However in Business Class Domestic & Trans-Tasman there is a decent hot meal, and on flights over 3 hours there is a three-course lunch and dinner (but make sure you are on one of these flights – not one class as a mid-morning or afternoon).
On the three remaining long-haul international flights to Abu-Dhabi and Los Angeles, economy meals are free, with two served on the flight, and there are also free drinks throughout the flight.
Domestic Economy Class - Virgin Australia inflight food
Virgin are still a low cost carrier on
domestic routes
, and still offer no free onboard catering. However, it is as much a mixed bag as the aircraft, with some flights giving some free food, and others showing there is such as thing as free beer.
Ham Sandwich
$7.00
Egg Sandwich
$7.00
Chicken Sandwich
$10.00
Beef pie
$10.00
Vegie Pie
$10.00
Nuts
$5.00
Wine (red/white)
$8.00
Beer
$7.00
Spirits (Gin/Vodka/Whisky)
$7.00
Tea / Coffee
Free
Virgin Australia Domestic Food
However on East-West coast transcontinental services, from Brisbane, Sydney or Melbourne to Perth there is a free hot meal and one free beer or wine (after midday).
Also on flights from Canberra to Sydney or Melbourne (called Capital Connect flights) there IS a free snack, which is also offered on rural flights in Western Australia (but no beer).
And on flights between the state capitals (Melbourne, Sydney, Brisbane) there is one free beer or wine offered between 4pm and 7pm.
The Virgin Australia Menu is in the seat pocket infront of you, however it is not available online, so you can't check out prices before hand.
There are normally two trolleys on the plane, one which starts at the front, and the other at the back. Hence, if you want to get your food first, and have some chance of eating it before you get off the plane, you'll need to sit either right at the front, or right at the back.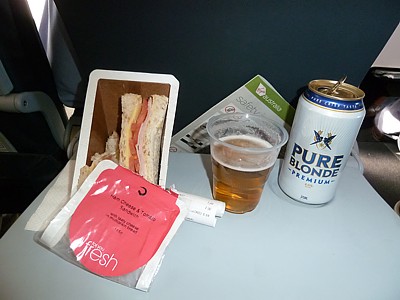 Ham Sandwich
Ham, Cheese and Tomato sandwich.
Welcome to British Rail catering on Virgin: yes it doesn't get much better than this. This is the famous basic sandwich selection of Virgin Australia: it's pretty grim.
AU$7.00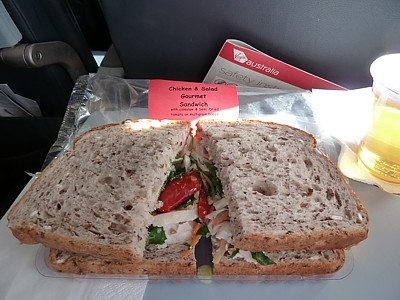 Chicken Sandwich
Chicken and Salad Gourmet Sandwich
If you want to splash out, you can of course go for the Gourmet selection: this really isn't much of an improvement, but at least it looks a lot better.
There is a real bit coleslaw in the sandwich, and the bread is marginally better, with all of $3 added flavour.
AU$10.00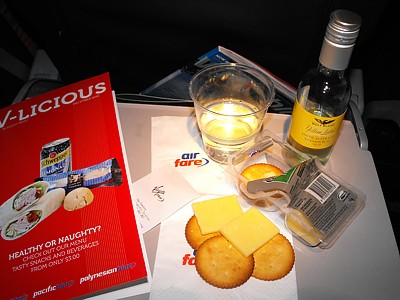 Cheesy snacks
AU$5.00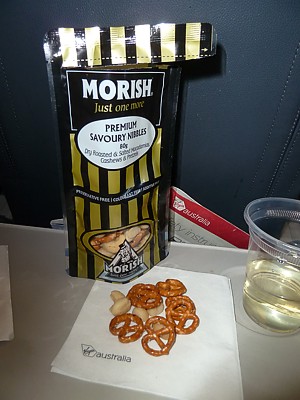 Morish Nuts Premium Savoury Mix
Morish Nuts
with Macadamias, cashews, and over baked pretzels dusted with organic salt.
AU$5.00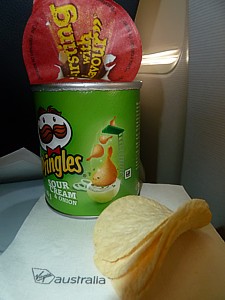 Pringles
A packet of Virgin Australia Pringles.
AU$5.00