Virgin Australia Fleet & Seats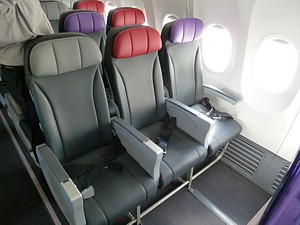 Domestic Economy Class Virgin Australia Boeing 737
Virgin Australia have again bucked the low-cost trend of just using one aircraft type, by using three different manufactures. The airline has a pretty new fleet of Boeings, Embraers, and Airbus.
It wasn't always this way: when Virgin Australia started, it was called Virgin Blue and took on a couple of old Boeing 737 leased from then-sister airline Virgin Express. Now it has a fleet of mostly new Boeings for the mainline routes, Embraers for the smaller low density flights, and to mix the fleet thoroughly, it also has Airbus widebodies for medium-haul trans-Tasman & trans-continental, and large Boeing 777s for the run to the United States. A mixed fleet it definitely is.
As for classes... there used to be a choice of just one. Economy, in the low-cost model. However from 2007, Virgin Blue has introduced Premium Economy on all domestic flights, and from 2010 that was phased out for true Business Class as part of the move to the new upmarket Virgin Australia.
Virgin Australia Cabin Classes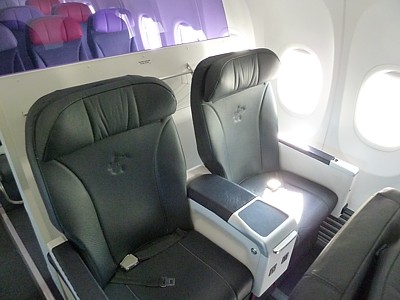 Business Class Virgin Australia Boeing 737

There are three cabin classes in domestic - Business, Economy X, and economy. Economy X is the same as Premium Economy, which used to be sold by Virgin Australia under its Virgin Blue guise. Effectively just economy with more legroom.
Virgin Australia Domestic Economy Class
Virgin Australia Economy Class is just that. You get the seat, but little else. Pitch is 31 inches, but at least the seat has seatback entertainment on the new A330 aircraft.

At least there are free drinks on Virgin Australia, including beer and wine after 4 pm on what are called Capital Connect services.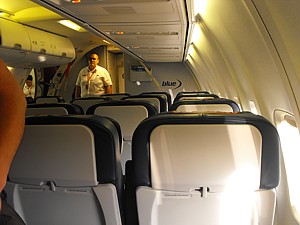 Domestic Economy Class Virgin Australia economy class in the 737 - with no seatback TV
Virgin Australia Domestic Business Class
Most airlines have a little variation with their fleet and premium cabins, but with Virgin it can be extreme. The business cabin on the A330 is superb for example - but if you miss this plane and get a Boeing737, it can be disappointing, and woeful on an Embraer.

Virgin Australia offers a business class service on all its jet aircraft. On the Boeing 737 the seats come with a little flip down table between them, in rather garish red leather, and a 38 inch pitch.

The Embraers are narrower, so here there are fewer perks with just normal 2+2 seating, and a 34 inch pitch.

The best seats on Virgin Australia Domestic Business Class are found on the new Airbus A330s which fly east to west coast: here the seats are almost - but not quite - up to international standards, with large leather seats and a 60 inch pitch. There is a large 10.6 inch in-seat TV screen. They don't lie flat, but you do get a blanket, pillow and a basic amenity kit.
Virgin Australia Domestic Premium Economy
Premium Economy seats was available on Virgin Australia under its Virgin Blue guise, with a 34 inch seat pitch, however it was called Premium-Economy rather than Business, to ensure that company accountants don't stop their staff from flying in what is defacto business: the seats are bigger, food & drinks became free, and there's entertainment. Few flights still offer Premium Economy on domestic flights.
Virgin Australia International cabin classes
Virgin Australia offers a 3-class service on its fleet of five Boeing 777s which shuttle between Los Angeles, Sydney, and Abu Dhabi. At all seats in all cabins you will get a seatback TV on Virgin Australia: Virgin Australia's inflight entertainment and seatback TV.
Virgin Australia International Business Class
International Business class on the Virgin Australia Boeing 777s is well up to modern international standards, with fully horizontal flat beds that are 188 cm (6 feet 2 inches) long and seat pitch of 77inches, using a 2-3-2 configuration.

Seatback TV is quite good, with a 12inch TV Screen which has AVOD video on demand, plus laptop and USB power.
Virgin Australia International Premium Economy Class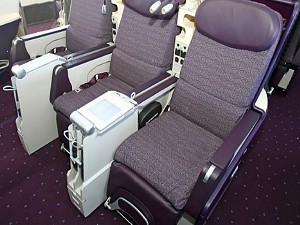 Virgin Australia International Business Class.

Premium Economy class on the Virgin Australia Boeing 777 is a pretty standard economy-plus class. Seats are the new defacto standard for PE with a 38" seat pitch, 20" seat width and a 9" seat recline, in a 2-4-2 configuration. It is very similar to what you would get on Virgin Atlantic, with a 10.6 inch touchscreen TV, with laptop and USB power.
Virgin Australia International Economy Class
The Virgin Australia 777-300ER economy class is far better than you would get on many other airlines by virtue of the fact that it only has 9 abreast: Airlines like Emirates and United put in 10, with a much narrower seat.

By contrast, International Virgin Australia Economy Class has a 3-3-3 configuration, a 32" seat pitch which is isn't bad at all, a 18.8" seat width and seat recline up to 6". There is a 9 inch touchscreen seatback TV (in the armrest in emergency exits) with AVOD and USB power, but no mainstream laptop power.
Virgin Australia Fleet
Virgin Australia Boeing 777-300ER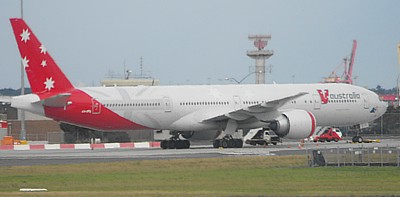 Virgin Australia Boeing 777 at Sydney still in V-Australia livery.
NEWS: Virgin Australia's fleet of international Boeing 777-300ER are gaining new cabins, with new fabric to replace the old V Australia brand, although seats remain the same. They are also being repainted in the new Virgin Australia livery. On some flights Samsung Galaxy tablets are handed out in Business Class, with a much greater selection of films than on the AVOD system.
There are grand total of just five Virgin Australia Boeing 777-300ER in the fleet, which shuttle to the sole remaining Virgin Australia destination: Los Angeles. All five are needed to complete the dance to these ultra-long haul destinations, leaving none spare should one need heavy inspection or maintenance: as a result when one needs to go 'into the shop' your carefully laid seat plans can go majorly astray.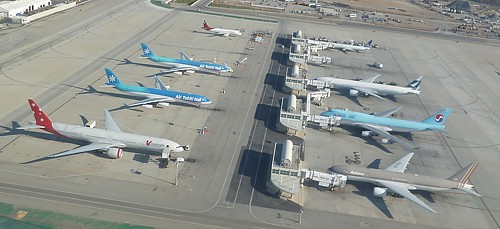 Boeing 777 Virgin Australia's long range Boeing laid up at Los Angeles
Then are the occasional incidents: One of Virgin Australia's 777 was hit by a truck on the ground at LAX in 2010, which caused delays of several days as Virgin had no other spare aircraft. On another occasion in 2011 when another airline's crew reported they saw a "fireball out of your number one engine" Virgin was forced to hire a 747 from Air New Zealand to get the passengers home a day late.
In any event, the Virgin Australia Boeing 777 seating plan takes some getting used to, with an unusual split business cabin, and acres of economy.
Each seat has a seatback TV with AVOD - Audio and Video OnDemand - which means you can play and pause films and TV at will. The system is totally free, and has 6 box office current hits, and 6 'recurrent' movies (popular films of the past few years) of a US/Australia mix. All three classes also feature ambient Mood Lighting relative to the time of day or night, which really does help on the ultra long haul over the Pacific.
Business Class on the Virgin Australia Boeing 777 is up the nose - just where it should be. However Virgin Australia Business Class is actually split over two cabins - and where you sit makes a real difference to how quiet it is. The main cabin has 4 rows of 2-3-2 seating. Then there is the odd 'mini cabin': row 5, which is right behind the bar. Great if you are drinking, not so if you want a decent night's sleep. Make no mistake, these seats are not the lovely diagonal beds you get on Virgin Atlantic. They are instead just fairly standard recliners, and with 2 seat pairs. Not ideal if you are travelling on your own.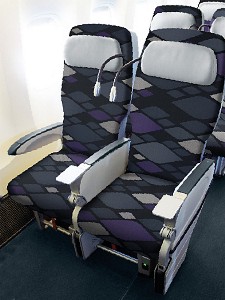 Virgin Australia Boeing 777 Premium Economy.
Virgin Australia Business Class seats use up all of the available seat pitch when in lie-flat mode, and so you should avoid the middle seat. But at least every seat has both USB power, and a power socket which takes Australian and UK three in plugs, but at the US standard of 110 volts. The seat has two reading lights -- the standard overhead light, as well as an adjustable white LED lamp on the side of the seat. The bar incidentally is fabulous: you can take a seat at the bar and spend several hours drinking the flight away. The bar opens after the first meal service (about two hours into the flight) and closes just before breakfast.
The Virgin Australia Boeing 777 Premium Economy is a very standard 2-4-2 layout, with the main perk being the walk up bar. There is a 10.6 inch touchscreen TV, with laptop and USB power, and in Premium Economy there is also a power socket beneath the seat at 110volts. There are also fairly good noise-cancelling earphones. Premium Economy on Virgin Australia has five rows, 10 to 14, with row 10 just in front of the bar. The bar is much poorer than the Business version, with just a think narrow corridor, but you can at least walk up and pour yourself a drink.
Virgin Australia Boeing 777-300ER International Economy Class is as basic as it comes, in three long cabins. At least the seats are only has 9 abreast with a a 3-3-3 configuration, a 32" seat pitch, and a 18.8" seat width. There is a 9 inch touchscreen seatback and USB power. Bulkheads are at row 20, while 26 and 39 are the emergency exits.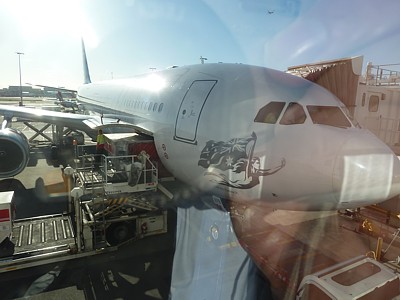 Virgin Australia Airbus A330 at Sydney
Virgin Australia Airbus A330
If you are flying coast to coast, the A330 is definitely the plane of choice, particularly in business class. Some of the older Virgin Australia A330s were second hand from either Singapore or Emirates, and the seats have been refurbished but are still pretty much the same standard recliners that Emirates were using. There are only five in the fleet, so you have to get pretty lucky to get one of these planes.

The Virgin Australia Airbus A330 in Business Class has much more legroom than you would expect. The seat itself is a plain Emirates version, though Virgin has updated it with leather and a logo. The Virgin Australia A330 seat plan is a 2-3-2 layout and 62 inches of pitch, which even at full recline means you can step over the person next to you. Recline control is pretty basic, controlled by a complicated panel on the armrest, and has a soft, dark green leather surface, topped by white plastic. There is a seatback TV screen in the seat in front of you, or on the wall in the front row - but it seems a very long way away from you (prepare to squint) and you'll also notice the lack of power points for laptops: there is no at seat power.

Economy Class on the Virgin Australia Airbus A330 is a somewhat more basic affair, but there are good seatback TV screens, with a 6 inch screen, and the remote for it stowed under the screen. As a result, the tray table is a flimsy bi-fold arrangement, totally unsuited for working on a laptop: not that there is any power for one either. Seat pitch is a rather poor 31 inches, and the Virgin Australia economy seat plan is a 2-4-2 layout. There is a decent headrest with adjustable wings. Exit row seat have much more legroom, but cost an extra $70 for each flight.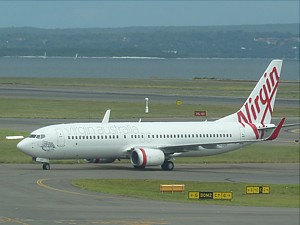 Virgin Australia 737-700 at Sydney
Virgin Australia Boeing 737
NEWS: The Virgin Australia Boeing 737-700 will be phased out by early 2014 in favour of the Boeing 737-800.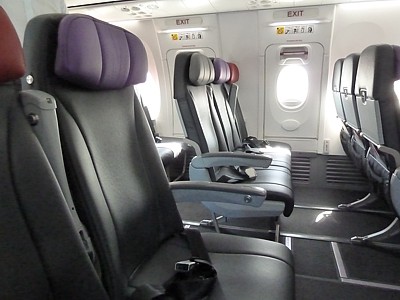 Virgin Australia Boeing 737 emergency exit row 13

Almost all routes still use the Boeing 737 on Virgin Australia, and indeed many of the East-West coast flights are still on this narrowbody.

There are no less than 58 in the fleet, and a few of them have the new 'Sky Interior' which Virgin say 'embraces organic curves and soft colours to make the cabin lighter and brighter'. Look up to the ceiling and you'll see the big curve front and rear, and the purple & blue lights which really do seem to help.

Although initially they were used mainly for domestic routes, many are now finding their way onto the Trans-Tasman routes too.

It's good to see the airline has ditched 'variable seating' for business: instead the Virgin Australia Boeing 737 business class has two rows of business class in a 2-2 configuration, with a proper business class seat and a 38 inch seat pitch. There is also a pleasant purple plexiglass screen between business and economy.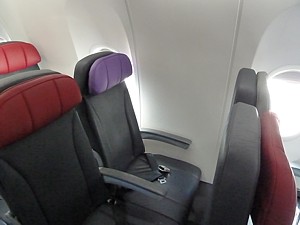 Boeing 737 Avoid Row 10 - it has no window
Back in economy, and there is nothing so innovative: instead there are 168 economy seats, but they are not called 'next generation' for nothing. The seats use a slim-line construction to maximise legroom, and quite frankly they need to, as they have a 31 inch pitch.
There are three different variants of the Virgin Australia's Boeing 737s: these are marked via their code letter on the timetable when you are booking flights or seats.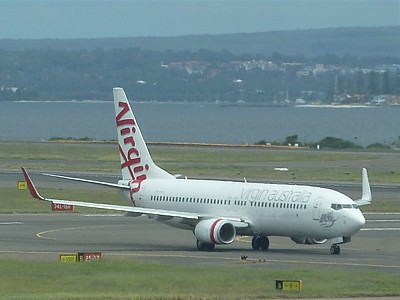 Virgin Australia The latest Boeing 737-800 at Sydney
Virgin Australia 737 aircraft codes:
73G - 737-700 is the older, shorter aircraft. These are being phased out.
738 - the older 737-800 - older seats with Live2Air still fitted and have 29 rows. No row 13.
73H - the latest 737-800 - the new seats and new business class. The leather slimline seats give a little more legroom than the older aircraft, and the luggage bins are larger.

If you are picking an aircraft, and if you want to watch TV, take the 738, otherwise the 73H is a better bet. If you are taking on board a giant sized rollaboard (up to 114cms) take the 73H, which have the Sky Interior which also has a larger, swivel-type luggage bins similar to those on the 777s.

In economy avoid row 10 if you'd like to look out: the seat has no window. ~Row 3 however has lots of legroom (it is right behind business) but on newer aircraft the cutout in the plexiglass screen is missing. Row 3 is generally reserved for Gold or Platinum Frequent Flyers.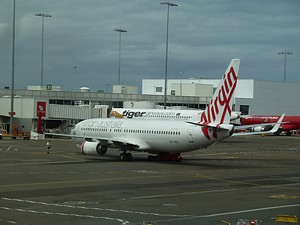 Boeing 737 At Sydney
On the 737-700 the best seats are row 13 and row 14: these are the emergency exit rows. Row 13 can be booked for free by Gold Velocity members, but row 14 is available for a fee - AU$35 no less. However there is a lot of legroom. By contrast on the 737-800 there is no row 13, and row 14 and 15 are the emergency exits.
A few 737 aircraft still have the Live2Air system, with Foxtel live at your seat, but it is in the process of being phased out.
Virgin Australia ATR-72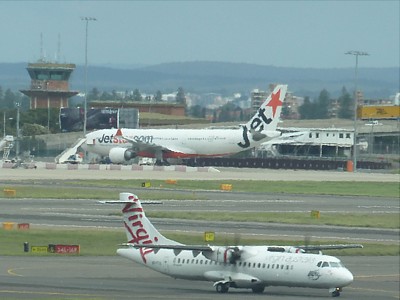 ATR-72 Passing a Jetstar A330 at Sydney

As part of Virgin Australia's regional expansion, it also has a small fleet of turbo-props, altough it doesn't actually operate them. The turboprops are actually operated by Skywest Airlines under a wet lease agreement.

You'll find these rather quaint aeroplanes shuttling between Sydney and Canberra, and out of Brisbane, up the coast to Gladstone, Proserpine, Rockhampton and Cairns, on what in Ansett's day was called the 'milk run' flights.

Seats are all economy, with 68 people on board, in a 2-2 layout.

Boarding is rather unusually via the rear door of the plane, so if you want to exit first, sit at row 17.

Seat pitch is 31 inches, except for rows 9 to 11, which have with only 30 inches of legroom, and row 1 which has loads of legroom: but you'll be last off the plane and last served when the snack trolley comes round: again, sit in row 17 to get food before the plane is in the decent.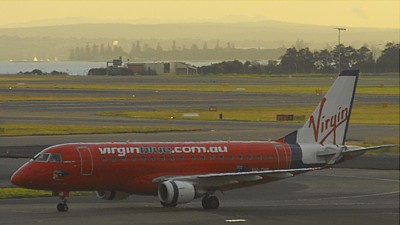 Virgin Australia Embraer E-190 at Sydney
Virgin Australia Embraer E-190AR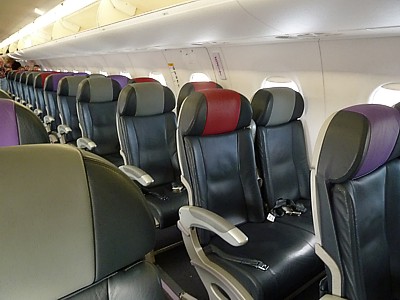 Embraer E-190AR Embraer seats are small, but not uncomfortable

Virgin Australia have 18 Embraer E-190AR.

They are used on some of the small or less popular routes, such as to Cairns from Brisbane, or to Hobart from Sydney.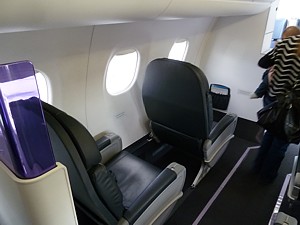 Embraer E-190 Business Class seats
Economy Class is a bit crampt in a 2+2 configuration.
Most of Virgin Australia Embraer E-190 have been reconfigured to a 1+2 business class seating configuration, which is just a bit smaller than on the 737.
Next page: Virgin Australia IFE inflight entertainment >>>
All images and content copyright airreview.com