Virgin Australia IFE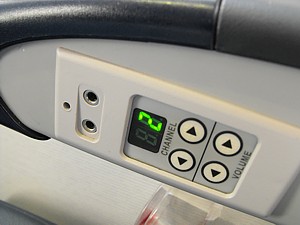 Virgin Australia IFE on a 737

Inflight entertainment on Virgin Australia is a bit of a mixed bunch: it really makes sense to pay attention to which aircraft you are booked on, as this can make the difference between getting live films, streamed to your iPad, an AVOD system, films on a loop, Foxtel on the seatback, or no entertainment at all.

As a rule, all international flights get AVOD, the A330s have films on a loop, while the 737s have a total mix of all the variants, or nothing at all.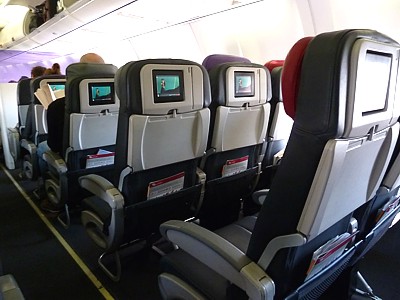 Virgin Live2air 737 fitted with Foxtel TV
Virgin Australia Domestic Inflight entertainment
A few of the very latest Boeing 737 aircraft on Virgin Australia – which are generally used Trans-Tasman – have an inflight wireless system which can broadcast films, TV programmes and music straight to a traveller's own tablet, laptop or smart phone.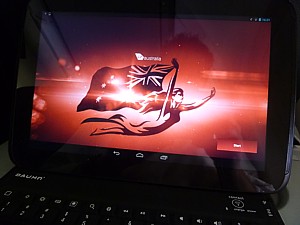 Virgin IFE on a wifi tablet
This only works if you have an iPad or an Android tablet, and not with Android phones, or a laptop with the very latest version of Silverlight. A few Samsung Galaxy tablets which are carried on board in limited numbers for Business Class.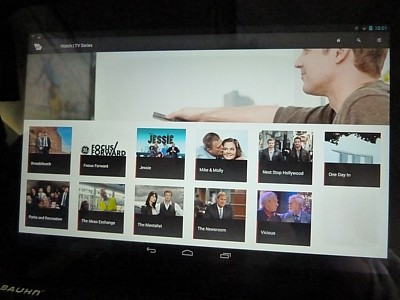 Virgin IFE list of films on a Nexus 10 tablet
However this system - when it works - is brilliant. So long as you remember to download the free app to play it before getting on board, the system works really well, and these is a huge shoice of films, TV shows, and doccos to watch. However the wifi system, which uses Lufthansa's BoardConnect technology, doesn't include Internet access.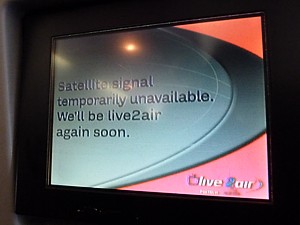 Virgin Australia Live2air is being removed
Most Boeing 737 aircraft on Virgin Australia on domestic flights have Live2air seatback TV, a live in-flight entertainment system connected to Foxtel, with the Sky New Channel, Fox8, Lifestyle, Discovery, History, V, Max, and ESPN. It was previously a 'charged for' service, but it is now total complimentary for all flights, as it will shortly be removed. This is a real shame, as Virgin's Live2air seatback TV really shows the way to go: there are 25 channels, and some good ones that are usually subscription only on Foxtel. As many passengers on domestic flights miss their favourite shows, it's really odd that this perk is being removed.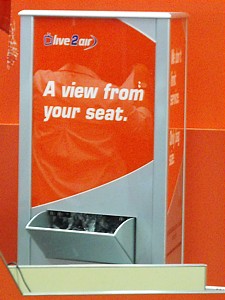 Virgin Australia Live to air headphones
Live2Air also includes some films – but they are not AVOD, and instead are streamed on a loop. There is a very complicated chart at the back of the Voyeur magazine with the city pair you are flying between, and which films are shown at which times at which point in the cycle.
On Trans-Tasman flights using the early versions of the Boeing 737 there is the DigEPlayer, which costs AU$15 to hire, and which plays many more films, and this time it is AVOD.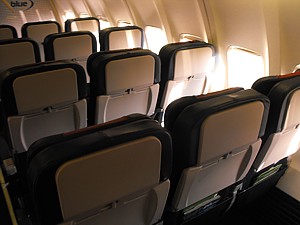 Virgin Australia No IFE on early 737
Virgin Australia on domestic flights using the Airbus A330 has neither AVOD nor Live Foxtel TV. Instead it has six films on a loop, nine TV channels, and a channel of music videos.
Virgin Australia International Inflight entertainment
Virgin Australia International Inflight entertainment has what are called 'Red Movies' and 'Red TV'. On the Boeing 777 Each seat has a seatback TV with AVOD - Audio and Video OnDemand – which means you can play and pause films and TV at will.

The system is totally free, however the content is pretty basic and limited. It has 6 box office current hits, and 6 'recurrent' movies (popular films of the past few years) of a US/Australia mix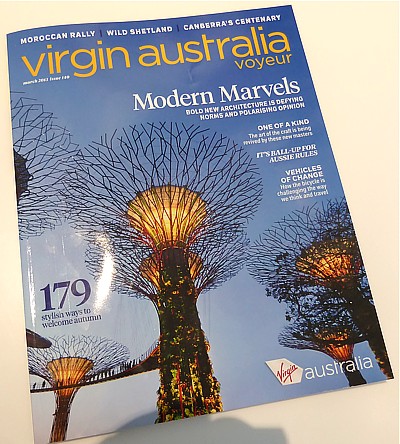 Virgin Australia Voyeur - Inflight Magazine
Virgin Australia Inflight Magazine - Voyeur
The Virgin Australia Inflight Magazine is called quite simply Voyeur, and a pretty good read it is too.

Thick and chunky, it's like a younger more upmarket version of the Qantas inflight magazine. There are the usual travel articles about Virgin Australia destinations, and a predicable mix of syndicated guest interviews, travel gismos, and a quite lengthy company news.

The most useful part of the magazine is the guide in the back, showing the entertainment options, and the inflight menu.

The magazine is in all the seatback pockets, and also available online.

Next page: Virgin Australia inflight experience >>>
All images and content copyright airreview.com