Alitalia Buy Upgrade at checkin
Alitalia have a regular process for buying upgrades before your flight, or on board. Often this can be quite a bit cheaper than buying a regular business class ticket.
An upgrade at checkin from economy to business for a trans-Europe flight comes to 99euro (120 euro if above 2 hours 50 minutes). For a flight from the US to Europe economy to Business is 519USD (you can also get premium economy for 299USD, but its a waste considering what else is on offer). You don't get access to the lounges with this upgrade - simply a better seat on board.
You can also upgrade on board, but it's much more expensive. From Economy to Business longhaul comes in at a whopping 1,200 euro. You do get the miles for the upgraded class.
The moral is, always upgrade at checkin if you can.
Operational Upgrades
One of the common questions is "How do I get an upgrade on Alitalia to Business or Club class?". Alas, getting upgraded to business class (Magnifica or Ottima) class on Alitalia really isn't that easy. The airline has the Western, rather than American, model for upgrades longhaul. Which is to say you'll only get an upgrade if your paid for class is full, and then upgrades are processed accordingly to a pecking order of elite frequent flyer status. You are very unlikely to ever get an upgrade unless you are at least a Skyteam Elite Plus member.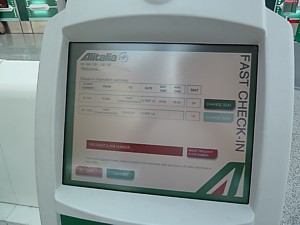 Alitalia Rome Checkin Machine.
To start with, make sure you are a frequent flyer, and you do fly frequently: after all, if Alitalia are going to upgrade anyone, they will upgrade those passengers who fly with them pretty regularly, and hence will enjoy the upgrade enough to put more business Alitalia's way. Then if the flight is full in economy, and someone needs to be moved up, the check in staff will first look at Gold members, and then Silver level, and then at other Skyteam members at the equivalent levels. Another thing that Alitalia look at is how much you paid for your ticket: it's much more likely to happen with a full fare ticket (although occasionally you can get lucky with a discounted economy ticket). On Alitalia the airline has heard - probably hundreds of times a day - requests for an upgrade: the general consensus seems to be that if you ask for a free upgrade, you're less likely to get it, but you are much more likely to be sold an upgrade.
As always, my advice on dressing properly in the pages on how to get an upgrade applies.
Alitalia website
The Alitalia website is pretty basic. It is possible to book fares ok, and the site will list the prices for alternative flights that day (but doesn't check other days). You can now even
Select your seat online
. However the Alitalia website is a master of hiding moreinformation. For example, if you ask for the rulles on checked bags, you are told you can have "one or two pieces weighing either 23 or 32 kg." That's clear then.
Main Website: www.Alitalia.com
Information on Upgrade at check in
Information on Baggage allowances