NEWS: Alitalia is planning to buy three new Airbus A330-200 aircraft, to increase longhaul routes.
Alitalia Cabin Classes
Alitalia has a very standard two classes of service short-haul (around Europe) and three long haul on wide-body aircraft (trans-Atlantic etc).On a very few small aircraft on domestic routes, there is only one class of service.
At all seats in all cabins you will get a seatback TV on Alitalia on longhaul routes: Alitalia's inflight entertainment and seatback TV.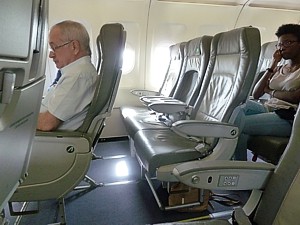 Alitalia Economy class on the A320
Alitalia Business Class shorthaul - Ottima
Around Europe, Alitalia Business Class is a typical 'Euro-Business', with convertible Airbus seating, whereby the middle of the seat flips down, giving you somewhere to rest your work, or cocktails. The A320 seats aren't especially comfortable, but they do the job. Occassionally on some longer trans-Europe flights, such as to Moscow, you may get an A320 which has had seatback TVs fitted.
There are also decent, complementary, inflight meals on all flights; even on such short flights you won't get a chance to eat them properly, and of course a free bar service.
Alitalia Economy Class shorthaul - Classica
Alitalia offers a with-frills service around Europe, although those frills in economy are fast vanishing. What you get is a standard Airbus seat, on a pretty standard airbus.
However, in the basic Classic service - or Economy shorthall - Alitalia still offer free drinks and on longer flights a snack or a small meal service. There is also free luggage.
On some of the longest 'medium haul' services still flown by narrow body planes, there are seatback TV screens on some Airbus A320 and A319 planes, however it is pretty rare to get one of the these, and on others the screens have been removed to save weight.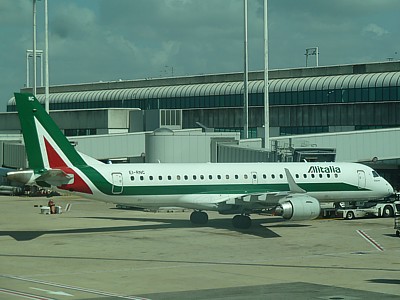 Embraer E-175 The tiny Embraer E-175 at Rome
Alitalia Economy Class longhaul - Classica
Alitalia International Economy Class seats are not always that good, but come with a marginally better pitch that you'd expect. Pitch comes in at 31 inches on the Boeing 777 and the Airbus A330.
In my Alitalia economy class reviews I do however commend that Alitalia (unlike Emirates, Etihad, and the like) try not to cram in so many seats across the cabin on their 777s, having a 3-3-3 layout (others are 3-4-3), and this gives a respectable width of 18 inches. Width, rather than pitch, often defines seat comfort in economy, and here Alitalia are good.
Other perks on Alitalia include a seatback TV at every seat with AVOD. It't not a very remarkable AVOD, but there are a dozen or so mostly current films, and some Italian movies, plus rafts of TV programmes, many of which you may never have heard of.
Alitalia Premium Economy Class longhaul - Classica Plus
Alitalia Premium Economy is only available long-haul, and is really all about the seat. You get an extra 8 inches of legroom, plus a few other benefits such as a dedicated check-in desk and a higher baggage allowance (typically two bags to 23kg, not one). However the meals are the same, and there is no lounge access.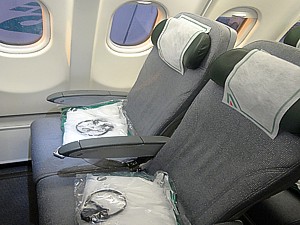 Alitalia Business class on the A330
Alitalia Business Class longhaul - Magnifica
Not to confuse you by being consistent, Alitalia has two different types of Business Class for longhaul flights. On most aircraft you'll get the new flat-bed Magnifica Class seats on Alitalia's Airbus A330-200 and 777 aircraft. However a few of the older Boeing 777s haven't been converted as yet, and you'll be stuck with an old fashioned reclining seat.
However on all aircraft, you get the perks of the new blankets, duvets, cushions, plus the amenity kits by Bulgari and the full three course meal served on China.
Alitalia Fleet
Alitalia mainly use Airbus aircraft shorthaul, while longhaul the fleet is evenly split between large Boeing 777s for the mainstream routes to the US, and Airbus A330s for less well used routes.
Alitalia Airbus A330
NEWS: Alitalia is changing the configuration of its A330s, reducing business class to only 20 seats instead of the current 28, and Premium Economy to 13 from the current 21.
Alitalia has twelve of the twin engine A330-200, and another three on order. These were never ordered by Alitalia. Instead, in 2008 Air One ordered 12 A330s with deliveries beginning in 2010. By that point however Air One had ceased to exist, and they were taken on post merger for long-haul Alitalia routes. And so, for a while you ended up with totally different aircraft and different seats on different routes.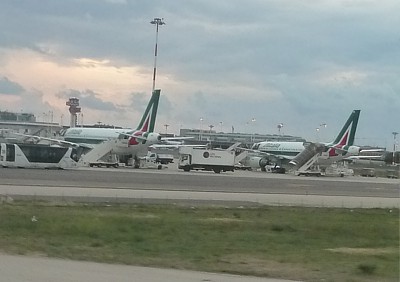 Boeing 777-200ER Alitalia Airbus A330 & Boeing 777 at Rome
Alitalia A330 Business Class
Business Class
on the Alitalia A330 (or the Magnifica Business Class cabin, if you stick to Alitalia's names) is split over two cabins: a forward cabin with five rows, and a mini-cabin with two rows.
All business class seats are arranged in a 1-2-1 layout, with the middle 'pairs' either facing each other, or out into the aisle: rows 1, 3 and 5 are best for couples. Indeed, these seats are know as honeymoon seats because they are really close together, to the point that they almost feel like being back in economy. Avoid if you are on your own.
The seats convert to fully flat-beds 21 inches wide, and with a pitch of 43 inches. There is PC and USB power, and a large 15.4" TV screen with AVOD.
The smaller cabin at the back is with just two rows is highly prized, as it seems like a small little private jet, however it is cursed by backing onto premium economy, and here you will get the noise of children in premium economy, as the bassinette (or screamer) baby cots are screwed to the back of the business class seats.
However longhaul on the Alitalia Business Class A330 - or Magnifica as Alitalia call its long haul business class - is a major player and a good beast, with real benefits since a recent upgrade. There is better catering which is regionally focused, changing monthly and served on china, and including a new selection of wines including the unique Alitalia spumante. There are at last decent duvets and cushions compared to the old scrappy rags that used to be on the old retired 767s. However the major perk of the Alitalia Airbus A330 is the great new flat-bed. It reclines totally flat, but most passengers on day flights reclineit into a z frame formation, which sits up with good rest for your legs.
Alitalia A330 Economy Class
Economy Class
is in a 2+4+2 formation, giving a marginally narrower seat than the 777, however it is ideal if you are flying as a couple, as it means the end of clambering over two people when you want to leave the window seat. Alitalia reviews always show that although not very notable, the extra pitch (slightly better than on the Boeing 777) of 31 inches really does help longhaul.
The seats have a video screen, and have the remote clamped into the arm. In the A330s row 5 gets a bulkhead, while row 22 gets an emergency exit, but it is blighted by light spill from the toilets ahead of this seat.
Alitalia Boeing 777-200ER
Long haul, Alitalia generally use the Boeing 777 for their flagship routes to the United States. However not all the Alitalia Boeing 777 have the new Business Class seats, and some still retain the old recliner. Never the less, as part of its fleet refurbishment project, Alitalia has virtually completed reconfiguring its fleet of ten Boeing 777 aircraft, all with the same layout and amenities as the Magnifica business class on the A330.
The normal variant of the Alitalia Boeing 777-200ER has no First Class, but 30 in business class, 24 in Premium Economy, and 239 in economy down the back, giving a total of 293.
All versions of Alitalia Boeing 777-200ER do however have the great delight of Premium Economy. An Alitalia Classica Plus review has to mention that the seats are in a 2-3-2 layout, which makes them seem far less cramp than usual economy - plus of course there is all that legroom, or an extra 8 inches (to 39 inches) over normal economy.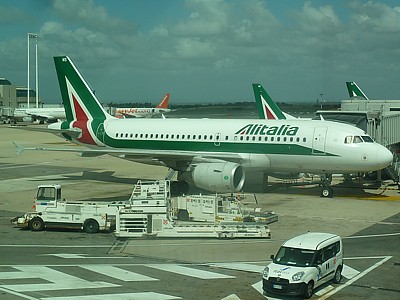 Airbus A319 The short squat Alitalia A319 at Rome
Alitalia Airbus A319 / A320 / A321
For most of your flights around Europe and Middle East, Alitalia use the single aisle Airbus, in three variants. Alitalia has 22 of the small Airbus A319, a whopping 48 of the midsized A320, seating 34 in business class and 114 in economy, and 12 again of the big long A321, seating 28 in business and 158 in economy.
The A320s seat 135, in economy with a 3-3 layout. Row 17 and Row 18 are the over wing emergency exit - if you ask to sit here, you will get 2 inches more legroom. Row 18 is highly prized, as the seat here reclines fully. Pitch is 32" and width is 17".
All models have large 14 inch fold down LCD TV screen under the overhead lockers for both classes. A very few of the A320s have been reconfigured with TV screens at every seat.
As is usual, Alitalia haven't fitted special seats for the business class on the Airbus 320 - instead, the seats use the Lufthansa style variant with a flip-down console in the middle seat, which makes a small cocktail table for business class in a 2-2 cabin layout, and then beyond the curtain can be flipped up again for the 3-3-3 of economy. Other than that, in Business Class the seats are identical.