Alitalia inflight meals & food
Alitalia have a good reputation for inflight food, however on the shortest of flights it has scrapped free inflight meals for all flights in economy. Trans-Europe there are still basic snacks offered.
Long Haul, you'll get two meals (at the start and end of the flight) and for the first service, there is a choice of two hot dishes, which are put on the same tray (with antipasto, fruit and dessert).
Trans-Europe Business Class - Alitalia inflight food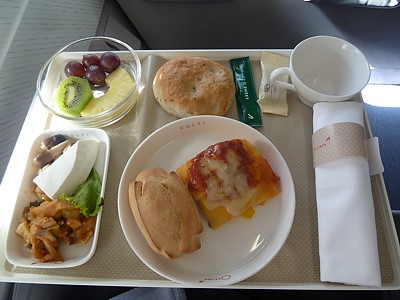 Lasagne
Beef Lasagne. Antipasto plate.
Fruit bowl. Hot roll. Cold roll.
This is a pretty decent meal for an hour long flight trans-Europe in business class.
The lasagne isn't that good - half cold, with very stiff pasta - but the anti-pasta plate has some very good mushrooms and a slice of great soft cheese.
Basic fruit bowl, with just one tiny kiwi fruit, four grapes and a slice of pineapple.
Next Page: Alitalia Bar & Inflight Drinks