Alitalia's inflight entertainment system is pretty consistent throughout the fleet, and you are guaranteed a seatback TV with AVOD on-demand entertainment in all classes on all aircraft, regardless of whether they are Airbus or Boeing: if only the same could be said about the seat.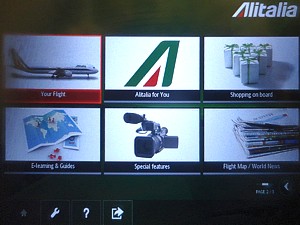 Alitalia AVOD inflight entertainment
The airline however falls down when it comes to the Alitalia inflight Movie selection: it is pretty poor, with only 40 films, and the selection is not advertised online. It is mainly based around Hollywood 'recurrent' films from the past 12 months, and obscure Italian films. On flights to Japan there is also a Japanese film loaded.
Alitalia Business Class IFE
Alitalia Business Class inflight entertainment features a 15.4 TV screen, with AVOD: you can stop, play and pause films at will. However the selection is quite poor compared to other airlines. There is USB charging and play-back, a power socket at your seat (US/euro plug only: UK plugs do not fit). There are also excellent noise-cancelling headphones.
Via the USB port you can connect your iPhone or iPod to play back films.
There is an external camera to watch landings, however this is only available on the A330 fleet.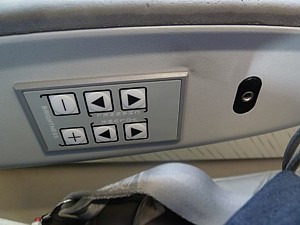 Alitalia A320 inflight entertainment controller
Alitalia Economy Class IFE
On the Boeing 777 and Airbus A330 there is a similar seatback TV on Alitalia Economy. It also has on-demand entertainment, with the same poor selection of films.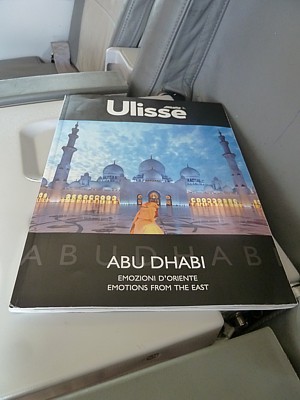 Alitalia Inflight Magazine
Alitalia Inflight Magazine - Ulisse
There are two inflight magazines in the seat pockes: Ulisse, the usual inflight read, and Griffair, for inflight shopping.
Ulisse is surprisingly thick, with lots of advertising. All articles are in both English and Italian. There are some good travel articles, and somewhat poorer articles showing interviews with celebrities you've never heard of.