Codeshares
The Qatar booking engine won't offer it, but a seasoned travel agent can sometimes find bargains in First Class to the US on Qatar code shares, so long as you are prepared to fly a very roundabout route with long stopovers in odd places. Casablanca to Seattle via Doha and London Heathrow and Dallas (with a 23 hour stopover in each) in a combination of Business and First can rack up a vast frequent flyer total for little cost, although it is both risky and exhausting.
Operational Upgrades
One of the common questions is "How do I get an upgrade on Qatar Airways to Business or Club class?". Alas, getting upgraded to business class on Qatar Airways really isn't that easy. The airline has the Western, rather than American, model for upgrades longhaul. Which is to say you'll only get an upgrade if your paid for class is full, and then upgrades are processed accordingly to a pecking order of elite frequent flyer status. You are very unlikely to ever get an upgrade unless you are at least a Gold Star Alliance member / Emerald oneWorld member.
To start with, make sure you are a frequent flyer, and you do fly frequently: after all, if Qatar Airways are going to upgrade anyone, they will upgrade those passengers who fly with them pretty regularly, and hence will enjoy the upgrade enough to put more business Qatar Airways's way. Then if the flight is full in economy, and someone needs to be moved up, the check in staff will first look at Gold Privilidge Club members, and then Silver level, and then at other Oneworld members at the equivalent levels (Emerald, and then Saphire).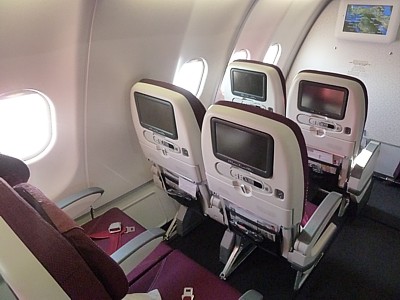 Economy Class Bulkhead seat on a Qatar Airways A330
Another thing that Qatar Airways look at is how much you paid for your ticket: it's much more likely to happen with a full fare ticket (although occasionally you can get lucky with a discounted economy ticket). On Qatar Airways the airline has heard - probably hundreds of times a day - requests for an upgrade: the general consensus seems to be that if you ask for an upgrade, you're less likely to get it, although opinions differ on an upgrade strategy for Qatar Airways.
As always, my advice on dressing properly in the pages on how to get an upgrade applies.
Roundabout routes to Australia
The Qatar website and booking engine is generally useless for offering you 'inventive' routings in Business Class around the world to maximise your frequent flyer miles. One bizare thing it does though is always offer routes from Doha to Sydney via Perth. Now, this makes no sense if you actually want to, say, get to Sydney quickly. However it is amazing for Frequent Flyer miles in Business, particularly if you want routes over 2000 miles to put on a British Airways executive club card, which gains 140 Tier Points.
If you force it, instead of flying to Australia direct from Doha, you can also nip up to Hong Kong for an extra 8 hour flight, and back on the Cathay code share, normally to Sydney. You can see where this is going can't you? Combine the two.
With a very good travel agent, a routing from Europe to Doha, then Hong Kong, Perth, and finally Sydney can be gained for only a fiver over the direct Doha to Melbourne, netting 140*4=560 Tier Points on British Airways. Have an origin of Norway, and pay in Krone at the ticket desk in Oslo, and you get over a thousand Tier Points for less than two grand, depending on the exchange rate. Mind you, the flights take four days there and back, with appalling connections (and a nightmare terminal trek in Perth) so it's not for the faint hearted.
Changing bookings made by travel agents
A real curiosity of the Qatar 'manage my flights' section is that you can change flights if they are booked direct with Qatar, but if they are booked by a 3rd party (such as on Expedia), the 'change flights' button is missing or blanked out.
However, you can get it to appear by modifying your Frequent Flyer card, and then hit the back button on your browser. Very odd.
Qatar Airways website
The Qatar Airways booking site looks great - alas it is a huge pain to use, and frequently won't show you the best options - or any at all when you want to book a flight.
It has avoid written all over it.
Some problems are, when you want to book a flight it will decide which options to offer for what cities are available, and there is no manual override. Also when you want to book from one city and just enter the airport code, it will decide what is the best city option for you. Travelling from Istanbul on Qatar and enter the airport code IST? It changes this to Islamabad. Want to travel on a Qatar codeshare? It'll select the most stupid roundabout option.
Main Website: www.Qatar Airways.com
Information on Frequent Flyer