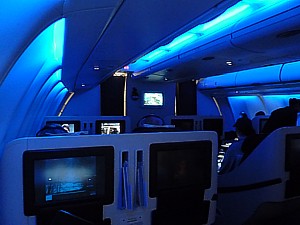 A330 mood lighting Qatar Airways have soft lighting in the cabin
The Qatar Airways experience is, you are always told, five star in every class. It's not, but it is better than many airlines offer. However, don't be taken in by the PR gumf. Qatar Airways is a hub and spoke airline, flying fairly standard equipment, with a few more frills than you'd expect, particularly in Business Class.
Qatar Airways Business Class reviews also either rave or moan about the excessively fussy service. There is an awful lot of fuss about slowly handing you each item, folding the table cloth, and making a little ceremony of each event. For a first time premium flyer it seems amazing. For passengers who just want to get to sleep on an overnight flight, it is a huge amount of faff.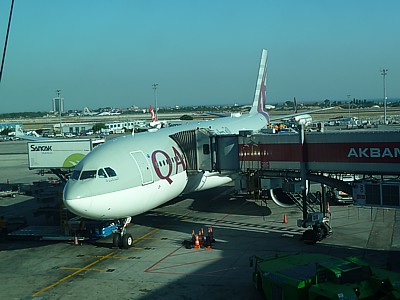 Qatar Airways A330 At Istanbul
The Qatar Airways experience starts with booking - and it isn't always pleasant. While the Qatar Airways booking site is OK enough for standard point to point journeys, if you want to do anything somewhat unusual - or even just stop off en-route, or say take the Melbourne over the Perth options on the way to Sydney, you'll be completely out of luck on the Qatar site. True, in booking it does (in fact, always shows, with no way of avoiding it) firstly the prices over a week, you then go into the main select flights option. The flights are always sorted in order of shortest time; this may not be what you want, but there is no way of changing it. Full marks on Qatar though for showing in the booking class (ticket bucket) when you book. You can't book seats when you book, but you can straight afterwards by going into manage a booking.
On the ground Qatar Airways try their best to manage queue jumpers at check in, however they do seem to attract a lot of the economy but try their luck in the business queue. Although you can bypass some of this by printing your own boarding pass and taking hand luggage, to many destinations (Australia, UK, US) you'll then be called to the gate to have your passport checked and also, your hand luggage weighted. Qatar are very strict on this.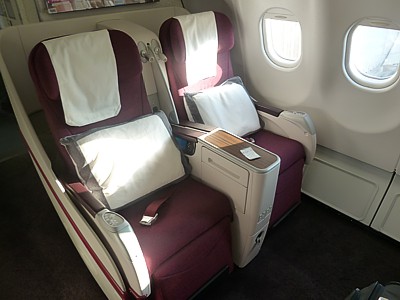 Business Class Seats Qatar Airways old-style Airbus A330
Qatar Airways Business Class Experience
In Business Class there - should be - the delight of Qatar Airways lounge to start the flight. However they are only at two locations, the Doha Hub and at London Heathrow. And at both locations Frequent Flyers aren't permitted into the 'real' lounges. Instead, you are shuffled off contract lounges. Never mind - at every other airport, the only option is a contract lounge anyway.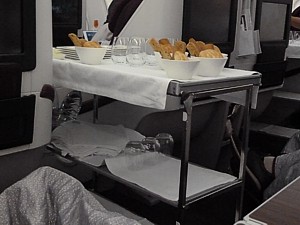 Business Class Service on Qatar Airways
At boarding there are separate queues for Business and Economy: there is however never any policing of this, with the result that there is a massive crush as soon as the gate is open: for some reason, many Qatar passengers feel the need to get on board as soon as they possibly can, rather than have another half hour stretching their legs.
However once on board in the Qatar Airways Business Class cabin, there is a general feeling of calm once you are shown to your seat. Or at least there should be, until every few minutes before take-off the crew come around, introduce themselves, and offer you menus, then the drinks list, then an amenity kit, pyjamas, a pre-flight drink, hot towels, and an explanation of how the IFE works, then the seat, and an explanation of the turn down service. Finally, meal orders are taken. Each time you are addressed by name, but at the same time your name is read off a list from the galley print out - it's not as if the crew remember you.
There is the same amount of hassle over dinner. Pretty soon after the cruise your table is lowered, and spread with a table cloth. You can safely put it away again, because it can sometime be up to an hour before drinks or any food appear. Then your napkin is unfurled for you, with a great ceremony, and neatly folded into a triangle and placed reverently on your lap. Finally, the bread course starts to appear; and here you will notice that the crew put everything in front of you with a little bow, and say 'enjoy'. This is a most annoying thing about Qatar Airways - everything is announced with an 'enjoy', even if it is just the salt and pepper pots. There can sometimes be five courses for a simple dinner, and whole rigmarole can take upwards of three hours: not the best plan on a late night flight where you want to sleep.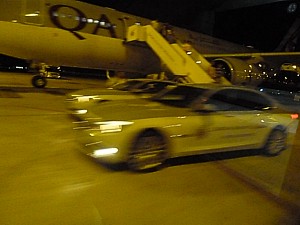 Al-Haha Elite Arrivals Car at the Plane on Qatar Airways
The only thing that happens slowly is getting a drink in Business Class. Of course, your choice of wine is taken before take-off, but you'll only see that when the main course is delivered some hours into the flight. If you would like to avoid dehydration - or just enjoy the flight -say to the crew at the first sign of the tablecloth 'can I have a glass of this (point at the menu) now. With the bread.' Woe betide you if you change from say champers to white to red, as the crew have you marked up as one type of drink throughout the flight, and it can cause major head scratching if you swap to ensure you match your wine with your food.
Breakfast is again another delight in differing service - or a right load of hassle if you want to sleep. The problem here is the crew ask what option you would like. On most airlines, this means either the full cooked English or the fruit. However on Qatar if you just ask for one option - that is all you get. You have to know to spell out everything you want (say, bread for example. Or tea) otherwise it just won't arrive.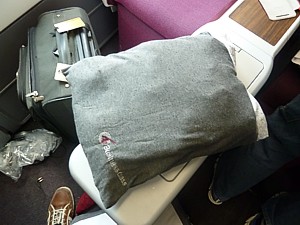 Business Class Pyjamas on Qatar Airways
One other thing you should look out for in Business is the 'car to your plane' service at Doha Airport. Which is notable because you don't get it, but everyone on the aircraft - particularlly those in Business - are held up, while the drivers look for those who have paid for it, via the Al-Haha service. If you pay for the Elite Arrivals package, at 300QAR, you get a ride for five minutes in a new BMW to the terminal building.
In short, the Qatar Airways Business Class experience drifts upwards from what you may expect in business: it approaches First Class with some of its frills, which can be very attractive. However if you are actually on business, these frills rapidly become less attractive to the point of just becoming an annoyance. Mind you, the food is generally very good, and a cut above the rest.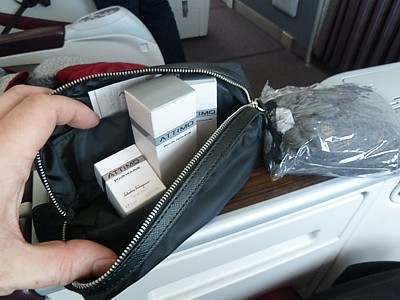 Business Class Amenity Kit Ferragamo Attimo on Qatar Airways
Qatar Airways Amenity Kit
Qatar Airways Amenity Kit is very good.
It comes in a large grey wash-bag, designed by Ferragamo Attimo. Inside there are three boxes with Attimo amenities, with a box of moisturiser, eye-cream, and lip gel.
There is also a toothbrush and toothpaste set, with Colgate toothpaste, and a comb.
Qatar Airways Baggage Allowance
Qatar Airways has a larger than normal Luggage allowance, with 30kg in economy (except to the US) instead of the usual 20kg in economy.
Cabin Bags: The carry-on Baggage Allowance for Economy Class is just one bag, to a maximum of 7kg (15lbs), while Business and First Class are allowed 2 bags to a total of 15kg. The maximum size of each one is 50x37x25cm (annoying, just smaller than the airline average of 55cmx40cm). It's unclear why there is this subtle difference in carry on bags on Qatas, but you'll certainly notice if you try and take a normal sized 'wheely' on board: it won't quite fit in the gauge, and you'll have to check it in.
Check in luggage: Economy class can check in bags to 30kg, Business class to 40kg, and First class can check in a whopping 50kg. However flights to and from the United States of America, Canada, and Argentina use the piece concept. Here, Economy can check in 2 bags to 23kgs (46kg total), while business and first class check in 2 bags to 32kgs.
Be warned that Qatar Airways are now very strict about the hand baggage, and on some flights, particularly to Africa, weigh everything.
As always, these rules can change. Qatar Airways's website has details of exactly what you can take onto a flight.