NEWS: Qatar Airways has started flying the new Airbus A350. The new XWB (which stands for Extra Wide Body) seats 36 in Business and 247 in economy. The business class seats are the new angled seats, as used on the Airbus A380, and Boeing 787.
Read the full story here:
New Qatar A350 seats in Business and Economy
.
Qatar Airways now has a fleet of over 134 aircraft - 90 of which are long haul. Virtually all of them have a right-out-of-the-factory brand new paint smell too.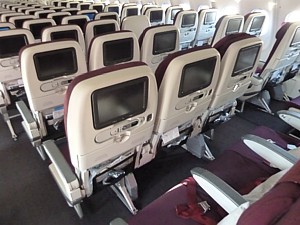 Qatar Economy Class Qatar Airways A340
If ever there was an airline which has seen the latest generation of airliner that is available from the two main suppliers, and grasped them with both hands, it is Qatar Airways. Not many airlines can boast a fleet with both the new A350 and the new Boeing 787, plus brand new Airbus A380 in the stable, along with pretty much every other aircraft flying at the moment.
Qatar Airways Cabin Classes
There are just three classes on board Qatar Airways - First, Business, and economy.
Qatar Airways Premium Economy has been rumoured for many years, but has never been implemented, as it is unpopular in the Gulf States.
Qatar Airways First Class
First Class is being abandoned, except on the new A380 services. Qatar have reasoned that few passengers actually pay for first class, and just treat it as a 'nice' extra when it is offered as an upgrade for miles. Indeed, Qatar Business is pretty good - meal quality especially - therefore there is little point in forking out the extra by putting First Class seats in planes few people pay for.
There are two types of First Class seat, and the difference makes a difference because the older version is no looking distinctly second rate compared to competitors offerings.
The old style Qatar Airways First Class seat is offered on all Boeing 777s and the remaining Airbus A330/A340s which still have a First cabin. The seat is a classic flatbed, in a 1-2-1 arrangement with moveable divider screens between the centre seats. The Qatar First Class seat is 79 inches long and has a 22 inch width. There is an ottoman ahead of you, and this gives 'couples dining' if you want to sit opposite someone you are flying with.
Three Class aircraft operating two class routes with heavy loadings often see a cosmetic configuration used with the First Class cabin being utilised for high tier frequent flyers on Business Class tickets.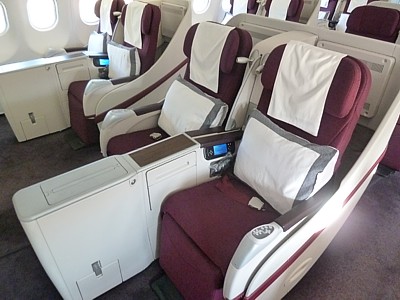 New (flat) Business Class Qatar Airways A330
Qatar Airways Business Class
There are no less than five different variants of Qatar Business Class. They can be narrowed down to latest, new (flat), new (angle), recliner, and basic (short-haul).
The latest version of Qatar Business Class is on the A380, and the Airbus A350 - however they are slightly different, with the A350 actually being an inch wider. The seat folds down into an 80 inch (205cm) long bed. When in reclined mode your feet stick into the small hole that is the side-seat table of the seat in front. There is a great small table beside your hand. The new Qatar Business Class seats are at a 30 degree angle. At the window they look into it, making the most of the view, but the pairs of seats in the middle of cabin look inwards. There is a privacy screen for single passengers stuck in the middle seats. These seats have a 17 inch HD TV AVOD personal video monitor.
Older Boeing 777 (both types) aircraft have a much more conventional seat in a 2-2-2 layout which reclines into a true lie flat bed, with a 78 inch pitch and 22 inch width.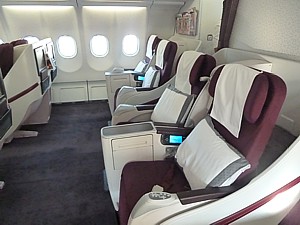 New (angle) Business Class Qatar Airways A340
All Airbus A330 have a similar looking seat, however on new A330s it is a lie flat bed similar to the 777s, but on older A330s and the A340 it only lies flat at an angle with a 60 inch pitch and 22 inch width, which reclines 180 degrees. Older A330s and the A340 have an angled lie flat seat in 2-2-2 configuration with a 60 inch pitch and 20 inch width. These seats are also fitted to the rare London Heathrow A319LR special.
The small narrowbody A320/A321 have just a basic recliner in Business Class with a 45 inch seat pitch and 21 inch width in a 2-2 configuration. Half of these have a seatback TV with AVOD, and half of them don't.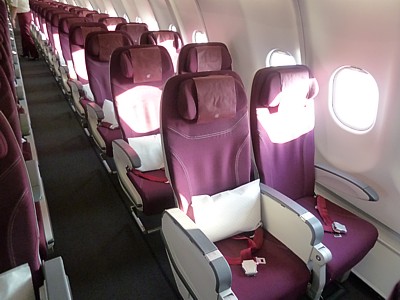 Economy Class Qatar Airways A330
Qatar Airways Economy Class
Economy Class is a pretty standard beast on Qatar Airways, and all widebody aircraft have a seatback TV. Pitch is 32 inches on long haul economy Boeing 777s Qatar airways have only 9 seats abreast, and thus avoiding a very narrow small seat (as flown by Emirates). Instead the seat, like British Airways, is wider, but with a 32 inch pitch, and with a whopping 18.9 inch width. This large wide seat is also fitted to the A350. However on the Airbus A330s and A380 width comes down to only 17.5 inches.
Qatar Airways Fleet
Qatar has ordered 80 A350s, with 38 of them the smaller A350-900 model. Eight of the aircraft will be delivered during 2015.
Qatar Airways has a decidely 'mixed fleet', with pretty much all variants of both Boeing and Airbus on offer. Confusingly on many routes, several different type of aircraft fly, and this can really impact the quality on board. As always, it plans to check the aircraft type on Qatar before making a booking.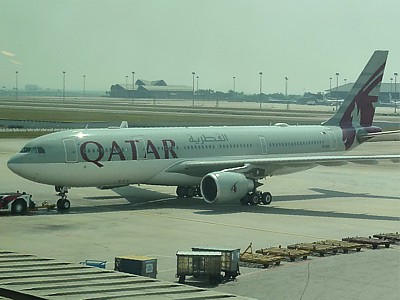 Airbus A330 Qatar Airways older style Airbus A330 pushing back at Kuala Lumpur
Qatar Airways Airbus A330 / A340
If you thought that the number of different types of Business Class seat on Qatar was putting you off, then be prepared to get confused with Qatar's vast fleet of the classic Airbus wide-bodies: there are no less than seven different variants of the A330 and A340, with 33 in the fleet.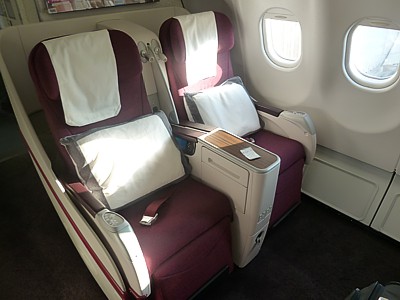 Qatar Business Class Qatar Airways A340
There are 16 of the A330-200 and 13 of the larger A330-300, however it's more helpful to split these into the 'old' A330s (with and without first class) and the 'new' A330s, and the four oddball A340s.
Most of the new Qatar A330 do not have a First class, and as such the Business cabin is at the front, with 24 business class seats, in four rows. The standard Qatar A330 Business Class comes with four rows of 2-2-2 seats. On older A330s and all the A340s it lies flat at an angle with a 60 inch pitch and 22 inch width. On the newer A330s it is a true lie flat bed, and is much better, with a 78 inch pitch and 22 inch width.
Row 1 gets a bulkhead with loads of legroom - and unfortunately bassinette fittings. If you don't want to be blighted by sitting next to a couple with a crying baby, ask if there are any children on board before asking for this seat. Mind you Qatar Business Class service is always from the front, and always very slow, so if you want to maximise sleep, get as far to the front as you can.
Qatar Airways Economy Class on the A330/A340 is in a 2+4+2 formation, which is ideal if you are flying as a couple; there is no clambering over two people if you need to leave the window seat. Qatar Airways reviews always show that although not very notable, the extra pitch (slightly better than some other airlines) of 32 inches really does help long-haul. The seats have a video screen, and have the remote under the TV screen, rather than clamped into the arm as it is on many planes. In the A330s row 10 gets a bulkhead, while row 30 gets an emergency exit, but it is blighted by light spill from the toilets ahead of this seat.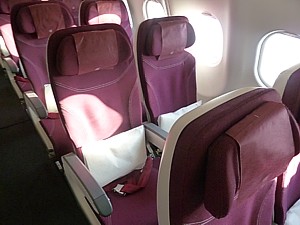 Qatar Economy Class Qatar Airways A330
There are six of the four-engined A340s, which are due to be retired. These are A340-600, the longest of the wide-body Airbus planes, and are used where the route is very long. Seating 8 in First, and no less than 32 in Business, there is a lot of seating 'up front', however all of it uses the old style business class seat.
There is a detailed Qatar A330 seatmap with pictures of each seat.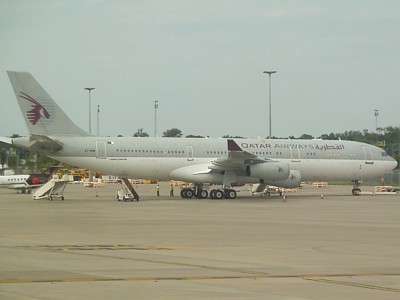 Airbus A340 Qatar Airways older Airbus A340 at London Gatwick
Qatar Airways Airbus A350
The Qatar Airways A350 is the newest, brightest, jet on Qatar Airways. It is the plane of choice, with the best seats, the newest inflight entertainment, and gives a vastly better flight than the old A340. Indeed, the Qatar A350 is eighteen inches wider than the Boeing 787 Dreamliner. Always take it over other options.
Qatar Airways' A350XWB seats 36 passengers in business and 247 in economy. It has a wide oval-shaped cabin with the initials standing for "Extra Wide Body", giving extra room along the line from the hip to shoulder, where it really matters. Also the A350's cabin altitude is set at a higher pressure than the A380, and it is equivalent to 6000 feet above sea level. You can step off the plane in Doha and not feel quite so dehydrated.
Qatar A350 business class has seats of the latest design in a 1-2-1 layout, which folds down into an 80 inch (205cm) long bed. They are an inch wider than on the 787. The seats are the same as fitted on Qatar's Airbus A380 but have an extra inch of width. The seats however may appear a little odd: they are at a 30 degree angle into the window, making the most of the view, but the pairs of seats in the middle of cabin look inwards, which is great if you are travelling as a couple: for single passengers stuck in the middle seats, there is a privacy screen.
Qatar Business Class reviews are good. When in reclined mode your feet stick into the small hole that is the side-seat table of the seat in front. If you are right handed, choose the right hand aisle, where your champagne glass is close at hand. Controls for the seat are on the panel inset into the smaller cocktail table in front of the side-seat table. IFE comes in the form of a 17 inch HD TV personal video monitor, with a full AVOD system.
The business class cabin on the Qatar A350 has a small stand up bar at the entrance doors, but it just has some snacks and drinks placed on the worktop.
Qatar A350 economy class has a 3-3-3 cabin layout. The Qatar airways economy class seat pitch is 32 inches and with an 18 inch width. There is a 10 inch seatback TV screen.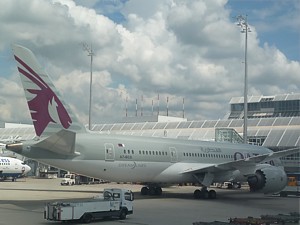 Boeing 787 Qatar Airways 787 at Munich
Qatar Airways Boeing 777
Qatar Airways have 37 Boeing 777 in the fleet. It is by far the most numerous of Qatar's aircraft, however with all the attention on the vastly better Airbus A350, little attention is given to the Boeing 777s. This is a shame, as they aren't bad aircraft, with a decent cabin in both Business and Economy.
Qatar Boeing 777-300ERs have a two class configuration. Most aircraft have Business Class with the 42 seats are all of the (new) lie-flat style, in a 2-2-2 layout. There are 293 economy seats. A few of the 777-300s have been converted to only 24 business class seats, and 356 in economy.
Qatar 777 Business Class comes in two sub-cabins, with four rows, the toilet block, and then three rows. Service is from the front, which means that service from row 5 onwards can be a little slow, but then the smaller business class cabin (row 5-7) is quieter, and children are not seated here, so it is preferred by passengers who would rather sleep.
In economy, Qatar Airways seating is vastly better than Emirates or Etihad, with a spacious nine abreast seating, unlike the ten abreast seating of its main rivals. There are three sub-cabins, with a small front cabin (row 10 is a bulkhead), a large middle one (row 18 is an emergency exit), and then another one (row 30 is again the one to go for with more legroom). All seats have a seatback TV screen, with AVOD IFE (Video on demand - you can start and stop films at will).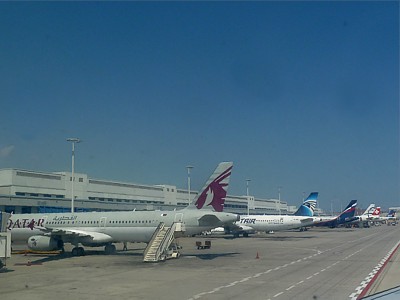 Airbus A320 Qatar Airways small Airbus A320 at Athens
Qatar Airways Airbus A320
Qatar Airways use the single aisle Airbus A320 for some quite long flights around the Gulf area. There are 31 in the fleet, with three rows of Business Class.
Qatar Airways A320s seat 132, in economy with a 3-3 layout. Row 17 and Row 18 are the overwing emergency exit - if you ask to sit here, you will get 2 inches more legroom. Row 18 is highly prized, as the seat here reclines fully. Pitch is 32" and width is 17".
Twenty eight of the A320 have at seat video screens, with AVOD, however the remainder have 14 inch fold down LCD TV screen under the overhead lockers for both classes. However there is no way of knowing what you'll get before you get on board. Service can be a bit slow, with only a single aisle for service.
Qatar Airways have a basic business class seat on the Airbus A320.– It is marginally better than the convertable euro-business seat, but it it nowhere are good as the A330 business class seat. As a result, on routes where both A330s and A320 operate, you should always choose the A330.