Qatar Airways has been rapidly expanding its route network, against tough competition from the other more established Gulf carriers such as Emirates at Etihad. As a result, it's selected some slightly odd destinations and schedules, flying say to Geneva, but not Amsterdam. It now has routes or codeshares to 140 destinations around the globe.
Alas, when you are booking flights which aren't point to point, it can be hard to select the flights you know exist, but the Qatar Booking Engine won't show unless you select the book multi city option. This is the same price, but a right pain to book.
The flagship route of Qatar Airways is from Doha to London Heathrow, with no less than five flights a day. All these flights are very different, with different equipment, and hence you need to choose carefully to get the best equipment and best on board experience. Two use an A380, one had a 787, and the rest are stuck on either an old A330 or worse, and A340.
In the middle of the night is the 0340 from Doha to Heathrow (arr 0905) in a dreadful old A340. Alas, this is the one which connects with the Australian flights, so you don't have a lot of options. The 0645 from Doha to London (arr midday) is on a fantastic new Dreamliner, with the best inflight experience. Just an hour later the 0755 is an A380, which is pretty good too. Finally at 1635 is an A330 which rolls into London at 2200 just before Heathrow shuts for the night.
Manchester gets two daily flights, at 0135 (arr 0710) and 0740 (arr 1315), both on A330-200s.
Other flights to the UK include the new Edinburgh Route, four days a week (Mo,We Fr, Sa) at 0800 (arr 1315) on the Boeing 787 Dreamliner. Oddly, prices can be a lot lower to Scotland than London if you're looking at short notice.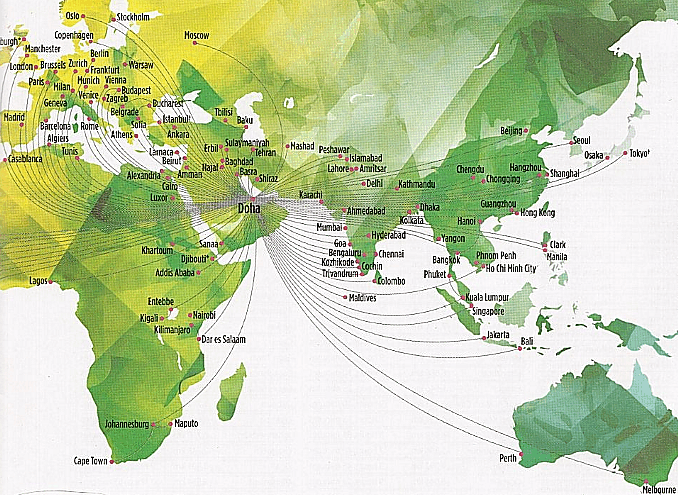 Route Map Qatar Airways routes in Asia.
Australia has flights to only Perth and Melbourne: Qatar have fought shy of Sydney and Melbourne thanks to stiff competition from Emirates and Etihad on the kangaroo route. You can book via the Qatar site to Sydney, however you'll end up on the Perth flight at dreadful hours, unless you force the booking engine to route you via Melbourne (choose the multi-city option).
There is one flight a day from Doha to Perth at 0200 (arr 1755) which then turns around to leave at 2330 (arr DOH at 0550). There's just one daily flight a day to Melbourne too, at 0055 (with a very late arrival at 2225. This turns around in just half an hour (sometimes) to leave at 2255 (arr 0610). However Qatar codeshare on Cathay Pacific, and while this doubles the length of the journey, the flights are at much better times (and rake in a rack of Frequent Flyer miles to boot). The Melbourne-Hong Kong-Doha codeshare at 1420 (3 ½ hours in HKG) arrives into Doha at 0450, with perfect timing for the 0645 to London on the Dreamliner.
Airline schedules change regularly
This information is intended as a guide, but for up to the minute timetables, please consult Qatar Airways at www.qatarairways.com
Indeed, this is part of the problem about flying from the UK to Australia on Qatar: you are stuck with one flight a day to Melbourne if you want the east coast, and that flight has a very tight 45 minute connection onto the early flight to London. Flying back it's even worse, with Qatar only offering one decent option, leaving London at 1505 with a very tight one hour connection, and getting to Victoria at half past ten at night. You could leave London at 11am, but that gives five and a half hours at Doha: neither hit the sweet spot of two and a half hours for a refresh in the Lounge.
Other routes to Europe include Doha to Frankfurt twice a day at 0140 and 0815 (both 787), Munich daily at 0150, Paris CDG three times a day at 0125, 0810 and 1415, Berlin at 1315 and Barcelona daily at 0820 (arr 1415).
If you are cash strapped and want to fly Business, Istanbul can be good if you pay in Turkish Lira. There are twice daily flights, but beware the 1320 (arr 1735) is an A320. Only the 0750 (arr 1220) is an A330. Oddly, the two flights return within an hour of each other at 1835 (A320) and 1935 (A330 - arr 2345).
Casablanca also offers some real bargains, particularly in Business to the US, with daily flights at 0245, arr 0845, returning at 2015, arrive back at Doha 0520.
To the United States, Qatar fly to New York JFK once a day at 0815 (arr 1550) and also via LHR on an AA codeshare (which can be a lot cheaper in First Class). Chicago at 0800 on a 777-300ER (arr 1400) and Dallas at 0810 (arr 1555).