From
London LHR
Malaysia fly to
Kuala Lumpur
daily at 1050 and 2200 on a 747.
Manchester
gets a flight leaving on Tuesday, Thursday, Friday and Sunday at 2000 on a 747.
From LHR there are also direct flights to Penang on a 747 on Saturday at 1805 and on Tuesday at 2100. Langkawi also gets a flight from LHR on a 747 at 2100 on Wednesday and Sunday.
Amsterdam to KL is daily on a 747 at 1200, and every day except Tuesday and Thursday at 2035. There are codeshare flights to the Nordic countries which link to these flights. Frankfurt is daily at 1200 with a 777. Paris CDG is daily except Wednesday and Thursday at 1200 on a 747. Rome gets a 777 on Tuesday, Thursday and Sunday. Zurich gets a 777 on Wednesday, Friday and Sunday at 1250.
From Vienna there is a flight on Monday and Saturday at 1230 in a 777, plus codeshares on Austrian Airline's 777s at 1100 (arrives 0355). Cairo gets a flight to KL on a Thursday and Sunday in a 777. Cape Town gets a flight on Monday and Friday on a 747.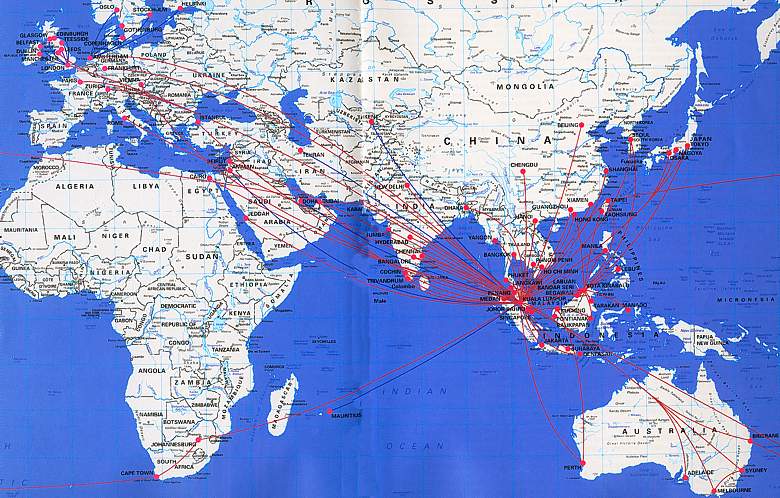 From KL there are flights to Adelaide on Monday, Wednesday, Friday and Saturday at 2145 on a 777. Auckland is daily on a 777 at 2040 (exchanged for a 747 on Friday). Brisbane is daily except Tuesday at 0920 (on a 777), Melbourne is twice at day, with a 747 at 1000, and a 777 at 2115, and two times a day to Sydney at 2045 (in a 747) and 0945 (777, no service on Tuesday and Friday).
Los Angeles gets a flight every day except Tuesday and Thursday at 1515. New York is Monday, Thursday and Saturday at 2245 in a 777.
Twice a day to Tokyo at 1100 and 2350 (777), Osaka is daily at 2345 (2140 on Saturday) in a A330 and Seoul is twice a day (no service on Thursday). Hanoi gets a daily 737 flight and a second flight four times a week in an A330.
Airline schedules change regularly
This information is intended as a guide, but for up to the minute timetables, please consult Malaysia Airlines at www.MalaysianAirlines.com
Ho Chi Minh gets a daily 737 at 0730 and 1420, Hong Kong gets a flight five times a day (at 0915 in a 747), and Shanghai is twice a day in a 777 at 0140 and 0850
Singapore gets a shuttle five times a day (A330, 737 at 2315), and Bangkok gets a shuttle five times a day, while Phuket is twice a day at 1135 and 1805 on a 737. This is a codeshare with Thai.